How Steve King Could Turn Iowa Blue
For J. D. Scholten to have a real chance in Iowa's Fourth District, he'll need the incendiary congressman to win his Republican primary.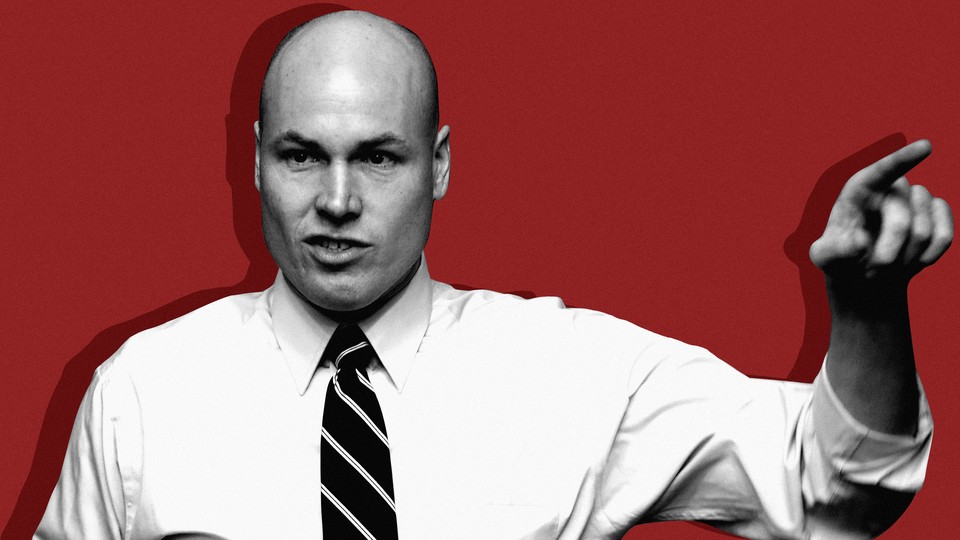 SIOUX CITY, IOWA—J. D. Scholten is back for round two.
The 39-year-old former baseball player announced early this morning—in a dreamy, nostalgia-laced video narrated by the Field of Dreams actor Kevin Costner—that he's running for Representative Steve King's congressional seat in Northwest Iowa. Scholten has tried this before: In last year's midterms, the Democrat proved capable competition for King—a Republican whose name, for many Americans, has become synonymous with racism and xenophobia—by driving to every corner of the district in his Winnebago, called Sioux City Sue, and aggressively courting voters. Scholten ultimately lost by a thin 3 percent margin, the closest race King has ever had.
"We almost did it," Scholten told me in an interview before his announcement, noting that he performed 24 points better against King in the district than Hillary Clinton did against Donald Trump in 2016. Scholten is running again, he said, to address this "unfinished business." And when he does, he'll have the power of his party behind him: Nothing would give the Democrats more pleasure than ousting King and flipping Iowa's last red congressional district blue.
But this time around, circumstances will be different. Institutional support for King has waned somewhat in the heavily Republican district, and the congressman has attracted at least three viable Republican challengers, none of whom appears to share his penchant for nativism. If one of them beats King for their party's nomination, it's likely to kill Scholten's chances in the general election. Put another way: It would take nothing short of a miracle for a Democrat to beat a Republican here in Iowa's Fourth Congressional District. Scholten could be that Democrat—as long as King is that Republican.
King, who was first elected to Congress in 2002, has won reelection nine consecutive times, mostly by healthy margins. But while many of King's voters have pointed to his likability when explaining their support, the Republican lawmaker has a long history of inflammatory and racist remarks, from his infamous 2013 comment in which he compared undocumented immigrants' calves to "cantaloupes" to his tweeted assertion in 2017 that "we can't restore our civilization with somebody else's babies." More recently, congressional Republicans stripped King of his House committee assignments for comments he made to The New York Times about white supremacy. "White nationalist, white supremacist, Western civilization—how did that language become offensive?" King told the Times. "Why did I sit in classes teaching me about the merits of our history and our civilization?"
To understand why King keeps getting reelected, it helps to understand just how conservative Iowa's Fourth Congressional District is. Stretching from Ames to Rock Rapids, the large, mostly rural region hasn't been represented by a Democrat in Congress since 1986. Its residents—who are mostly white—are both highly religious and highly suspicious of the federal government. Even if they don't agree with King's most incendiary comments (although, of course, many do), as I reported last year, they see him as otherwise ideologically aligned with the district.
"We'd elect Attila the Hun if he was pro-life and had Republican behind his name," Art Cullen, the editor of The Storm Lake Times, a small newspaper in the district, told me in an interview.
In 2018, as the controversy surrounding King grew, Scholten saw an opening. The 6-foot-6-inch young Democrat, promising to "stand tall for all," ran against King as a kind of midwestern populist, and struck a middle-ground approach on several social issues, including abortion (he is against a federal ban but, gesturing to his Catholic faith, said he would like to reduce the number of unplanned pregnancies) and gun control.
We spoke yesterday following the weekend's two mass shootings: one in El Paso, Texas, where at least 20 people died, and another, hours later, in Dayton, Ohio, where nine people were killed. Asked how the government should address the prevalence of this violence, Scholten told me that gun bans aren't the answer, but that strict background checks should be required.
The suspect in the El Paso shooting allegedly posted a manifesto in which he described "the Hispanic invasion of Texas" as his reason for the killings. Racist rhetoric from elected officials such as Trump and King has been criticized for promoting this kind of white-supremacist ideology. "Words have consequences," Scholten told me yesterday. "The hatred and racism that has become too commonplace in our country does fuel violence."
In the 2018 campaign, Scholten did relatively well. He out-raised King two to one over the course of the race, including a last-minute surge in fundraising before Election Day, right as King was being chastised by his party for comments he made in the wake of the Pittsburgh synagogue shooting. Ultimately, however, Scholten lost by roughly 10,000 votes.
In some ways, a 2020 challenge could work out better for Scholten, who is so far the only Democrat in the race. He'll have much wider name recognition both in the district and around the country, helping to attract both votes and cash. He told me that he's expecting support from the Democratic Congressional Campaign Committee, the House Democrats' campaign arm, and he's already gotten an endorsement from Democracy for America, a progressive political-action committee.
But the environment in the Fourth District still isn't conducive to an easy win. Republicans outnumber Democrats here by nearly 70,000. Scholten might have a decent shot against King—who is viewed by some Republican and independent voters in the district as having become just too controversial—but it's likely that he'd fare less well against a scandal-free Republican. "Absent King as foil, J. D. Scholten is not a popular [candidate]," says Rachel Paine Caufield, a political-science professor at Drake University in Des Moines.
King is facing the toughest primary election he's had in recent history. The nine-time incumbent congressman had only about $18,000 in cash on hand after the second quarter of 2019. The National Republican Congressional Committee said earlier this year that it wouldn't get involved in King's primary race. "He definitely hemorrhaged support from many traditional institutional Republican groups" after he was thrown off the House Judiciary and Agriculture Committees, says Douglas Burns, a journalist and co-owner of the Carroll Daily Times Herald, based in the southern part of the district. And some of his comments have become "toxic" for some local businesses and organizations that would otherwise typically support him, Burns adds.
According to two Republican strategists I spoke with, the campaign of Randy Feenstra, an assistant majority leader in the state Senate, poses the biggest threat to King. The other two Republicans credibly challenging the congressman are Jeremy Taylor, a former state legislator, and Bret Richards, a retired businessman. "This is not really an ideological contest; it's an effectiveness contest, and Feenstra wins that hands down," David Kochel, an Iowa GOP operative, told me, citing Feenstra's work in the state Senate. Another in-state strategist, David Oman, told me that he thinks residents of the district are ready for a new, and less controversial, voice. Feenstra "is well read, respectful, and works to solve problems, not stir the pot and create man-made crises," Oman said.
King's challengers would need to beat him outright. If none of the four Republicans reaches the 35 percent threshold necessary to win the primary, the race will be decided at a nominating convention. There, both Kochel and Oman agreed, King would likely win.
Democrats hoping to take the district back from Republicans for the first time in three decades may be rooting for King next June, no matter how he pulls it off. But whatever happens, Scholten told me, his strategy will be the same. "If you get out to the people, prove you're gonna fight for your district, you're gonna earn votes regardless of their voter history," Scholten said, explaining that his goal is to interact with at least 70 percent of the district's residents. "That's what we did last time, and we're gonna continue to do it this time."