The Atlantic Politics & Policy Daily: The King and Iowa
More politicians condemn the latest comments from Steve King, the controversial Iowa congressman facing a tough reelection come November. Plus: ICE's Ken Cuccinelli has always been a hardliner.
What We're Following Today
It's Wednesday, August 14.
What Steve King Said: Several 2020 presidential candidates have called Republican Representative Steve King of Iowa to resign after King said at a conservative gathering that humanity might not exist if not for rape or incest. It's hardly the first of inflammatory comments from King, and as I reported last week, he'll be facing a tough primary next November.
---
---
Snapshot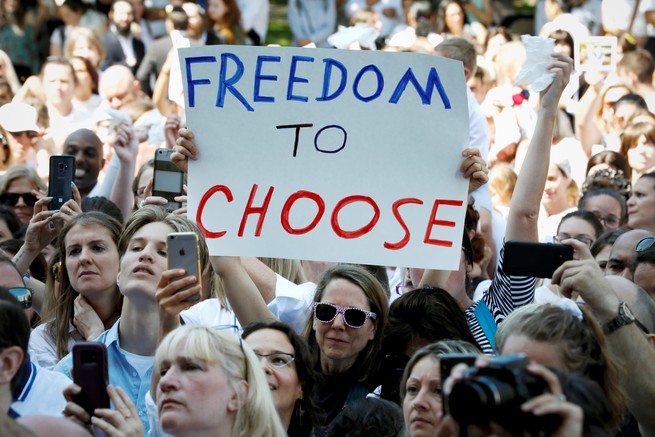 (Mike Segar / Reuters)
A crowd of supporters of a religious exemption to childhood vaccination rally outside the New York State Supreme Court after a hearing challenging the constitutionality of the state legislature's repeal of the exemption.
---
Ideas From The Atlantic
Don't Ban Assault Weapons—Tax Them (Saul Cornell)
"Surely even the most die-hard gun-rights supporter could not argue that, although it is constitutional to tax weapons and ammo to protect animals, it is not constitutional to tax them to protect people." → Read on.
Obama Warned Trump—But He Didn't Listen (David A. Graham)
"Relationships between the classes, once mediated through the household, are now managed through an app that serves a large metro area. The workers of the new servant economy don't live with their employers, but rather sleep many miles away where they can afford a bedroom." → Read on.
---
What Else We're Reading
Stacey Abrams says she's open to being vice president for any Democratic nominee (Astead Herndon, The New York Times)
Millennials, rappers, and revolution: Inside Bernie Sanders's playbook for winning the black vote (Peter Savodnik, Vanity Fair)
Democrats need to stop running scared on foreign policy (David Ignatius, The Washington Post)
California's Trump tax return law raises fears of Republican lockout (Jeremy B. White, Politico)
---
About us: This newsletter is a daily effort from The Atlantic's politics writer Elaine Godfrey, with help from Christian Paz. It was edited by Saahil Desai.

Were you forwarded this email? Sign yourself up here. We have many other free email newsletters on a variety of other topics. Browse the full list.