Stacey Abrams Is Playing the Long Game
After skyrocketing to political stardom in 2018, the Georgia Democrat is now trying to get her party to care about voter suppression in 2020.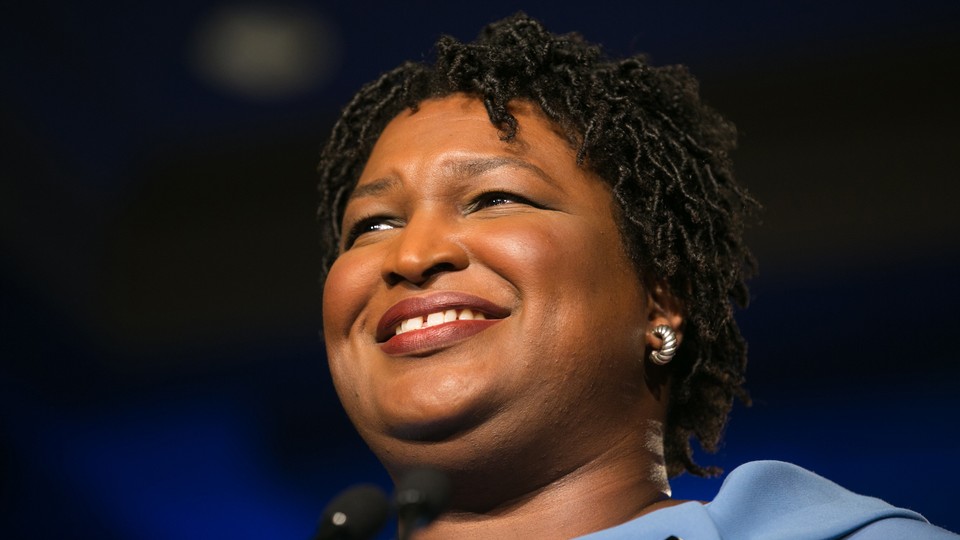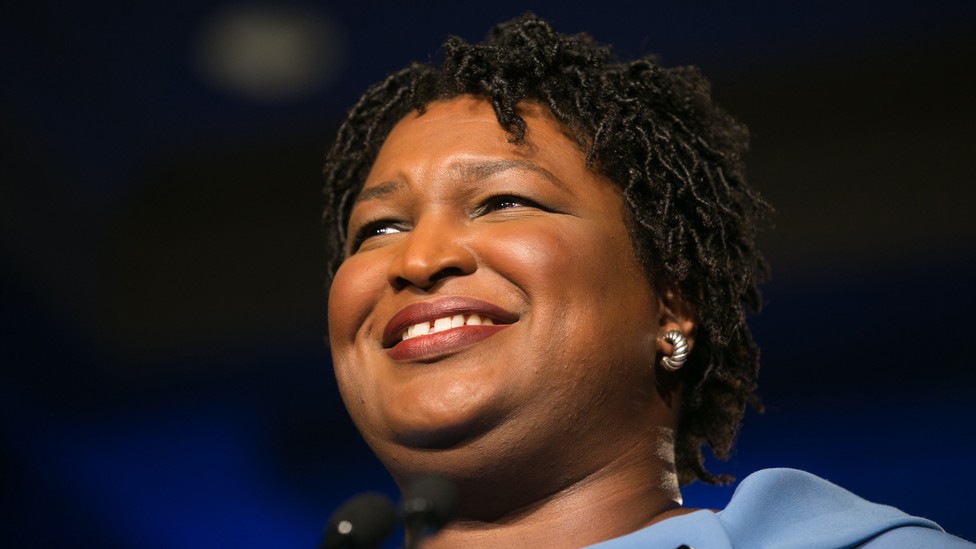 Stacey Abrams was catapulted into the national spotlight in 2018, when the former state representative came within 54,000 votes of winning the Georgia governor's race, in an election marred by extensive reports of voter suppression. But despite the wave of calls urging her to parlay that political stardom into a presidential (or Senate) bid, Abrams will instead focus on fighting voter suppression through a new initiative called Fair Fight 2020, which, as she put it, aims to "make certain that no one has to go through in 2020 what we went through in 2018."
But Abrams didn't entirely close the door on seeking elected office: On Wednesday, she told The New York Times that she was still open to being "considered by any nominee" for the vice-president slot—even though earlier in the year she had shot down the suggestion of playing second fiddle to former Vice President Joe Biden. As Democrats face the potential of another bout of voter suppression in 2020, having Abrams at the top of the ticket raises the possibility that voting rights will be elevated from something of an afterthought to a central issue on the campaign trail.
Abrams's defeat in 2018 is a cautionary tale for Democrats: Voter suppression is a serious problem for the party, and it isn't going away. In the election, Brian Kemp, Georgia's secretary of state and Abrams's opponent in the race, closed several polling stations in predominantly black areas and put 53,000 voter-registration applications on hold, moves that potentially stifled turnout among supporters of Abrams. "I think what her experience this past year revealed was, regardless of how dynamic of a candidate you are, how much mobilization that you implement—particularly to mobilize voters who may not vote regularly and could not or have not voted at all—the effort to suppress the vote was, in her case, insurmountable," says Pearl Dowe, a professor of political science and African American studies at Emory University. "I think it would be a mistake for any presidential candidate not to think about it."
In recent years, a wave of GOP-led states, under the guise of staving off voter fraud, has pushed initiatives including voter-ID laws and voter-roll purges that functionally serve to suppress voter turnout—and which disproportionately target Democratic voters. It's a problem for Democrats that has only worsened since the Supreme Court's 2013 Shelby County v. Holder decision, which ended federal oversight of elections in states with a history of racial discrimination. For whoever secures the Democratic nomination, voter suppression could be a significant obstacle between the nominee and the presidency.
"We expect 2020 to be a banner year for voter suppression, especially given what's at stake in the elections," says J. Gerald Hebert, the senior director of voting rights and redistricting at Georgetown University's Campaign Legal Center. "When you think about the fact that we've not only had recent widespread measures of voter suppression, but we've had foreign election interference, I think protecting the right to vote is more important now than it has been in a long, long time."
But even as the 2020 candidates have engaged in rigorous policy debates on a slew of issues ranging from health care to climate change to immigration, voter suppression has hardly registered. In two rounds of Democratic debates featuring nearly two dozen candidates, voting rights were only discussed in passing, with Senator Kamala Harris of California promising to "fight against voter suppression" and Senator Cory Booker of New Jersey arguing that voter suppression played a role in President Donald Trump's 2016 victory.
Abrams has held several private meetings with 2020 candidates urging them to focus on the issue, according to the Times, particularly in purplish states like Georgia. But most candidates have not articulated a plan on how to combat voter suppression—a notable exception is South Bend, Indiana, Mayor Pete Buttigieg, whose Douglass Plan includes a proposal for a "21st Century Voting Rights Act."
In addition to threatening the most basic tenet of citizenship, voter suppression can also contribute to a less tangible problem: political fatigue. Americans need to have confidence that their votes count, literally and figuratively. "The strength of our democracy requires that people believe that, whatever they think of the results, the process is fair and reflects what the majority of American citizens believe should be the results," says Andrea Young, the executive director of the Georgia chapter of the American Civil Liberties Union.
The eventual Democratic nominee may find that Abrams makes for an alluring vice-presidential pick in part because of her own experience with voter suppression and her ability to speak to disenchanted voters personally affected by it. More than perhaps other potential VP picks, Abrams could have an ability to make certain that her party doesn't lose sight of the urgency of voter suppression. And Abrams, a black woman, has also shown the ability to mobilize black voters, a highly sought-after constituency that Democrats need to turn out in order to oust Trump.
Abrams is playing a sort of long game—by abstaining from a 2020 presidential run and instead channeling her energy toward combatting voter suppression, she could play a key role in shaping the future of the Democratic Party that may endure beyond four years in the White House. "My first responsibility is to ensure that when the primary is done—when the nominee decides to choose their running mate—that they are choosing based on knowing that we are in a country where we have built the infrastructure in those battleground states," Abrams told the Times. "And that I've done my part."