The Atlantic Politics & Policy Daily: Stacey's Nom?
Stacey Abrams hinted this week that she'd be open to being vice president. Plus: Israel reversed course, but Representative Rashida Tlaib won't go.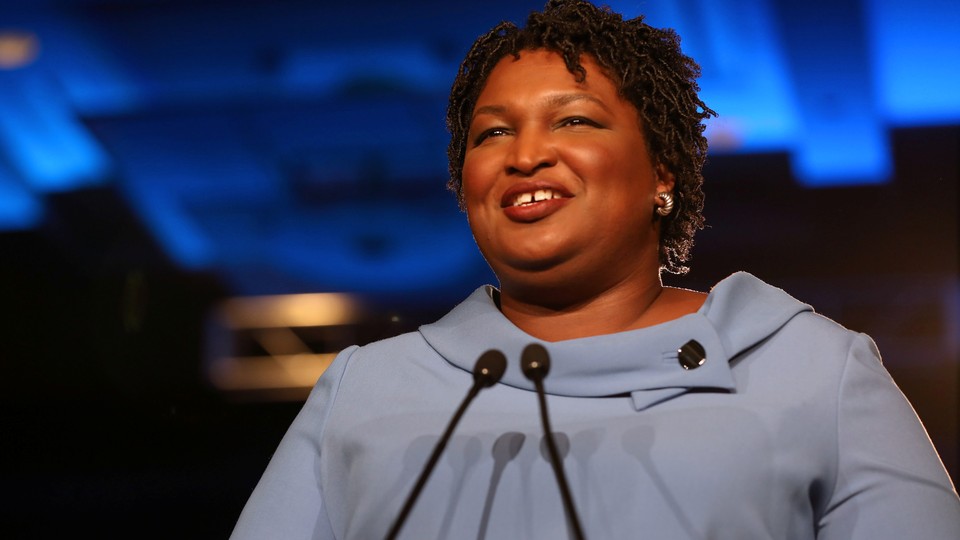 What We're Following Today
It's Friday, August 16.
‣ Representative Rashida Tlaib of Michigan said she will no longer go to Israel, after the country first banned her from entering and then reversed course.
Here's what else we're watching: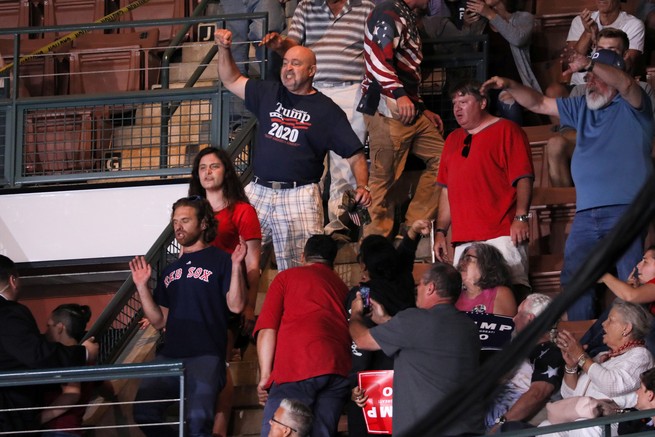 (Jonathan Ernst / Reuters)
Tired of Winning: Last night at a rally in Manchester, New Hampshire, President Donald Trump was able to channel the days when his presidency was nothing more than an aspiration, Elaina Plott writes. "For Trump, to hold court under the bright lights of a jam-packed stadium somewhere, anywhere, is to shut out the inconveniences that come with the reality of running a country."
---
Snapshot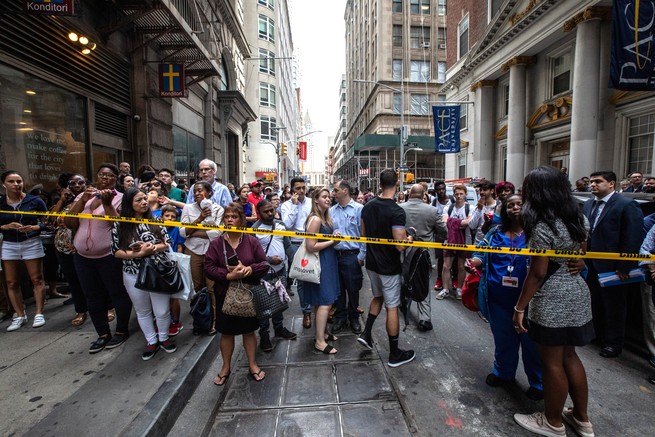 (Stephen Yang / Reuters)
People stand behind police tape near the Fulton Street subway station in New York City as police investigate suspicious packages.
---
Ideas From The Atlantic
Four Lessons From Israel's Clash With Tlaib and Omar (David Frum)
"For the state of Israel, the lesson has to be: Respect the U.S. Congress and all its members. No, they are not all wise or good or just. It's not as individuals that they command respect, though, but as members of a legislative body … For Prime Minister Benjamin Netanyahu, the lesson should be: Don't bet so big on President Donald Trump." → Read on.
Why It's Immigrants Who Pack Your Meat (Eric Schlosser)
"The immigration raid last week at seven poultry plants in rural Mississippi was a perfect symbol of the Trump administration's racism, lies, hypocrisy, and contempt for the poor. It was also a case study in how an industry with a long history of defying the law has managed to shift the blame and punishment onto workers." → Read on.
Trump Didn't Make the Storm, but He's Making It Worse (David A. Graham)
"The past week has offered a range of examples of authoritarian nationalism on the rise. In each case, from Hong Kong to Kashmir to Israel, it is impossible to lay the blame directly on President Donald Trump, as the leaders involved have their own long-standing motives. But the American president's impassive responses to, and sometimes open encouragement of, such actions have made the world a safer place for authoritarianism." → Read on.
Trump's Hate Makes the 'Squad' Stronger (Conor Friedersdorf)
"Although most Americans don't agree with the squad's agenda and don't want the left wing of the Democratic Party to drive the national debate, Trump is boosting the members' name recognition, the media attention they get, their social-media followers, their war chests, and sympathy for them in the Democratic caucus, which will reliably rally around anyone Trump disparages." → Read on.
---
What Else We're Reading
What FDR understood about socialism that today's Democrats don't (Peter Canellos, Politico Magazine)
Meet Rashida Tlaib's grandma (James McAuley and Sufian Taha, The Washington Post)
---
About us: This newsletter is a daily effort from The Atlantic's politics writer Elaine Godfrey, with help from Christian Paz. It was edited by Shan Wang.

Were you forwarded this email? Sign yourself up here. We have many other free email newsletters on a variety of other topics. Browse the full list.