'There Will Be a Next Time': A GOP Congressman Talks About Gun Violence
Rodney Davis is a survivor of the 2017 shooting at a baseball practice in Alexandria, Virginia. His views on gun-control legislation are complicated.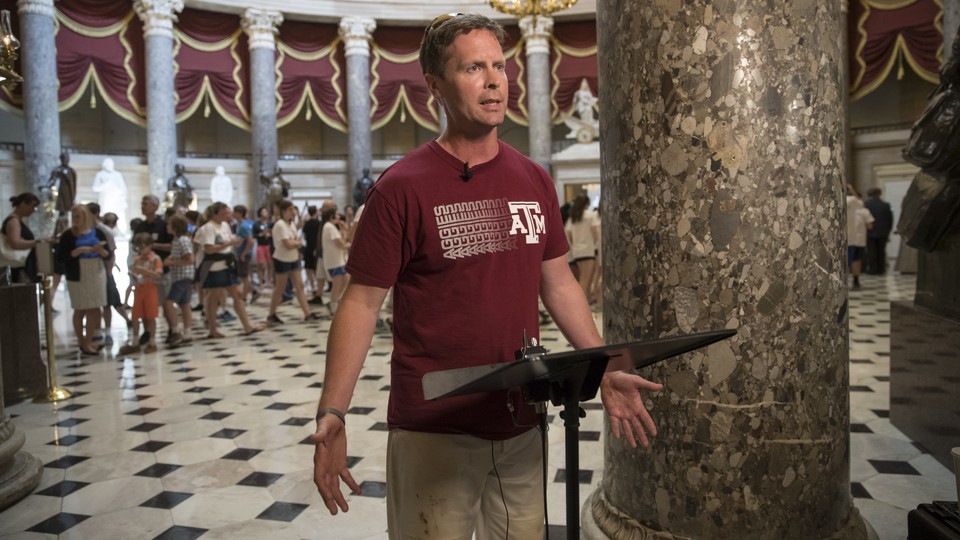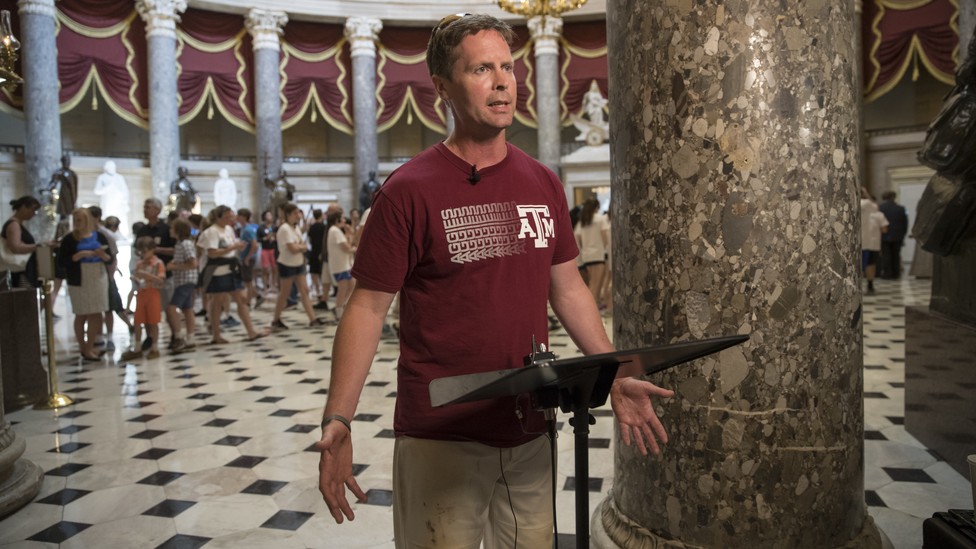 Americans have experienced nearly one mass shooting a day since a gunman murdered 17 people at a high school in Parkland, Florida, a year and a half ago. The country's mass-shooting epidemic reentered the public consciousness over the weekend, when 22 people were shot and killed inside a Walmart in El Paso, Texas, and, less than 24 hours later, 10 were killed outside a bar in Dayton, Ohio. In the days that followed, I contacted a number of GOP lawmakers to discuss the latest pair of tragedies, and whether the party still viewed gun-control legislation as a nonstarter. And as with the Parkland massacre, only one person agreed to talk with me.
Representative Rodney Davis of Illinois, who spoke with me yesterday afternoon, was on the field when a man opened fire during a congressional-baseball practice on June 14, 2017. Armed with an SKS rifle and a 9-mm Smith & Wesson handgun, the man, an anti–Donald Trump activist who had campaigned for Bernie Sanders in 2016, fired as many as 100 rounds at the GOP lawmakers clustered on the field during the early-morning practice. Davis was up to bat when the first shots rang out; he thought the noise might have been the clang of metal at a nearby construction site. But then he heard the screams of others—"Run!," "Gun!"—and sprinted toward the dugout. As the shots continued for 10 impossible minutes, he fled the dugout to take shelter behind cars in the parking lot.
For Davis, gun violence is acutely personal. "The sights, the smells, the sounds—you remember everything. It all comes back," he told me, the events in El Paso and Dayton being no exception.
Despite knowing intimately the fear that comes with being on the wrong side of a semi-automatic rifle, Davis told me that he still believes Americans have a constitutional right to own one—and that he does not believe in making exercising that right harder. Davis's views reflect those of the majority of GOP lawmakers, who, shooting after shooting, maintain that gun control is not the solution to the uniquely American problem of gun violence. Instead, Davis has supported proposals including the School Violence Prevention Program, which offers grants to fund increased safety measures in schools, such as the hiring of mental-health professionals. Now he is a co-sponsor of so-called red-flag legislation, which would allow police to confiscate firearms from someone determined by a judge to pose a risk of violence.
My conversation with Davis also showed how difficult it could be for advocates of background checks to rally support in Congress, even as Trump has expressed his own interest in doing so. In an early-morning tweet on Monday, Trump urged Congress to pass "strong background checks," but in a public address hours later, he did not mention them. This morning, however, he appeared to change course once more, telling reporters before heading to Dayton that there was a "great appetite" for background checks.
When I asked Davis if he thought Trump was wrong in tweeting his support for "strong background checks," he paused. "I don't know," Davis told me. "I'll have to see what he actually proposes." More broadly, Davis said, he feels frustrated that "Democrats and the media" so instinctively call for tighter background checks in the aftermath of mass shootings. (Ninety-seven percent of Americans in gun-owning households support universal background checks.) He said that closing the loophole on private sales, as Democrats have proposed doing, "wouldn't have prevented either" the El Paso or Dayton shooting. (Police have said that the suspects in Texas and Ohio had passed background checks.)
Davis told me that he is also frustrated by the chorus of those who say Republicans "don't act" following mass shootings. He said he would be on a flight "in three hours" if Speaker Nancy Pelosi called members back to Washington, where Davis believes they could pass a red-flag bill "tomorrow." If signed into law, it would be the most significant gun-related legislation since President Bill Clinton's assault-weapons ban expired in 2004.
Absent from all of Davis's frustrations, however, was any mention of President Trump. In his manifesto written before the shooting, the El Paso suspect borrowed several Trumplike talking points, writing that his attack was "a response to the Hispanic invasion of Texas," but adding that his views "predate Trump." I asked Davis if he was satisfied with the president's response.
"He was asked to call it white nationalism, white terrorism, and he did," Davis said. "He was asked to put forth a plan, and he did." It seemed like a low bar, I said—to laud the president for calling the El Paso shooting what it was, and for tossing out a litany of suggestions for addressing the problem that could only generously be described as a "plan."
"Well, if that's the low bar, then what's the high bar?" Davis replied. "I don't blame Bernie Sanders for what happened to me. I don't blame him even though he said that Republican policies kill people, and the direct link between that and the man who shot at me. Most people don't like to acknowledge this, but as he shot at us, he was yelling 'Health care!'"
"But it's not Bernie Sanders's fault. It is only the shooter's fault," he continued. "So I don't blame Trump for what happened [in El Paso]. We can't have this double standard where we want to blame Trump and hold him to account for what happens, but not anyone else."
I asked Davis if he believed, then, that there was a clear link between Trump's rhetoric and not just the El Paso shooting, but the ascendance of white terrorism and white nationalism nationwide. "I think the rhetoric should be toned down on all sides," he said. "I think everyone should start tweeting less and governing more."
Lawmakers just left the Capitol for their August recess. Many representatives and senators are now on international trips, committee retreats, or simply home with their family. Pelosi wrangling Democrats and Republicans alike back to Washington would be a feat in itself.
A weariness crept into Davis's voice. "I fear that after a month, by the time we get back, there will be some new issue. Which is why I'd be ready to go if Speaker Pelosi called us in," he told me. "We shouldn't have to wait for a 'next time' to care."
"And unfortunately," he added, "there will be a next time."