The Atlantic Politics & Policy Daily: Consoler—or Tweeter—in Chief?
The president has a habit of undercutting his own remarks after national crises. Plus: J. D. Scholten is back for round two against the nine-term incumbent Steve King in Iowa.
What We're Following Today
It's Monday, August 5.
‣ U.S. stocks tumbled today as China devalued its currency, in an escalation of a trade war with the U.S.
‣ Cesar Sayoc, the man who sent pipe bombs to prominent Democrats and media figures last fall, was sentenced to 20 years in prison.
Here's what else we're watching:
The Consoler in Chief: President Donald Trump's response to this weekend's mass shootings in El Paso, Texas, and Dayton, Ohio, has been uneven: "Does enough of the nation see in him a truly national leader who can bind up fresh wounds?" Peter Nicholas writes.
Now one question moving forward is whether Trump's, erm, more free-form Twitter presence will undercut the message of his more formal post-tragedy remarks, Nicholas and Elaina Plott write.

+ Our editor in chief, Jeffrey Goldberg, argues that "this most recent phase of the Trump presidency is the most dangerous so far."
Could This Iowa Seat Flip Blue? J. D. Scholten, the former baseball player who mounted a serious challenge to Representative Steve King in the 2018 midterms, announced a new campaign to unseat the divisive nine-term incumbent. But for a chance to win the seat, Scholten needs King to win his primary race first, Elaine Godfrey reports.
An Identity Crisis: As Planned Parenthood plots its future following the ouster of Leana Wen, the organization is still confronting a crisis over the place of abortion-rights activism in its larger mission. It has been here before, Emma Green writes.
Rep-Exit: Another Texas Republican has announced retirement from Congress. Here's Russell Berman's look at whether this string of recent exits signals broader trouble for the GOP in the House.
---
Snapshot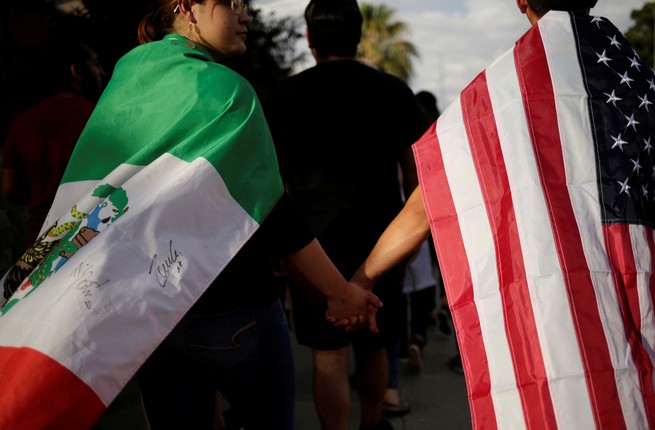 (Jose Luis Gonzalez / Reuters)
People with the Mexican flag and the U.S. flag take part in a rally against hate the day after a mass shooting at an El Paso Walmart.
---
Ideas From The Atlantic
White Nationalists Discover the Environment (Peter Beinart)
"What we're witnessing is less the birth of white-nationalist environmentalism than its rebirth. In earlier periods of American history, nativism and environmentalism were deeply intertwined." → Read on.
(Shutterstock)
Video-Game Violence Is Now a Partisan Issue (Ian Bogost)
"This framing has obvious political benefits. The National Rifle Association started pointing fingers at games after Sandy Hook, and it redoubled its efforts to use the medium to draw attention away from gun possession and gun control after Parkland." → Read on.
White-Nationalist Terrorism Must Be Stopped (George P. Bush)
"Not long after the El Paso shootings occurred, I took to Twitter to denounce white-nationalist terrorism as a real threat to our country. I didn't realize at the time that I was the first major Republican elected official to do so." → Read on.
I've Seen the Limits of Journalism (John Temple)
"I was the editor of the Rocky Mountain News in Denver when the Columbine High School shootings gripped the nation in 1999. The Columbine attack was covered live on cable and broadcast television. At the time we thought it would be the mass shooting to end all mass shootings." → Read on.
---
What Else We're Reading
‣ She wanted to become a citizen; now, she can't come back (Lane DeGregory, Tampa Bay Times)
‣ Paperless voting machines are just waiting to be hacked in 2020 (Eric Geller, Politico)
‣ The El Paso shooting and the gamification of terror (Robert Evans, Bellingcat)
‣ The media's by-the-numbers coverage of gun massacres must change (Margaret Sullivan, The Washington Post) (🔒Paywall)
---
About us: This newsletter is a daily effort from The Atlantic's politics writer Elaine Godfrey, with help from Christian Paz. It's edited by Shan Wang.

Were you forwarded this email? Sign yourself up here. We have many other free email newsletters on a variety of other topics. Browse the full list.