Planned Parenthood Makes a Huge Bet
The women's-health organization will stop taking money from Title X, a government family-planning program, in light of a new rule that bars doctors from making referrals for abortion procedures.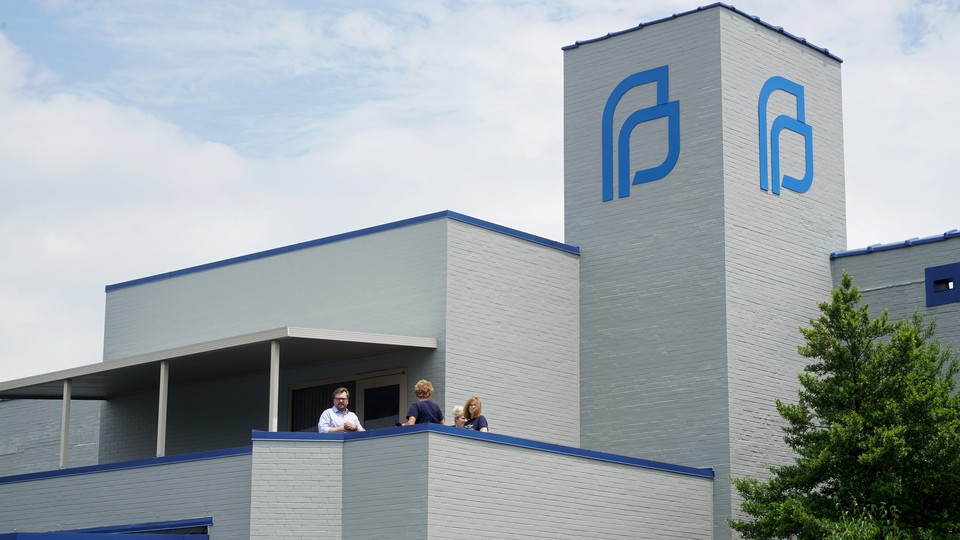 This week, Planned Parenthood decided to walk away from an estimated $60 million in annual federal funds for low-income women's reproductive-health care. The organization claims that it was forced into this decision by Donald Trump's administration, which recently finalized a new rule barring recipients of money from Title X, a federal family-planning program, from making referrals for abortions.
For the Trump administration, Planned Parenthood's decision to pull out of Title X is a double victory: It serves as another barrier between federal funds and abortion services, and the president's supporters believe it also shows that Planned Parenthood cares more about providing abortion services than serving the health needs of the greatest possible number of women.
The stand-off is a case study in how extreme the tactics of the abortion debate have become. The Trump administration is openly dedicated to kneecapping health-care providers that perform abortions, and Planned Parenthood is its biggest target. Planned Parenthood, meanwhile, would rather take a huge financial hit and wage a high-profile fight with the Trump administration than change its practices. In this political environment, any money or policy that comes close to touching the abortion issue is fair game for war, no matter how many people lose access to health-care services as a result.
The federal government cannot legally pay for most abortions. But it does give money to abortion providers such as Planned Parenthood for all sorts of other reproductive-health services, especially for low-income women. For years, conservatives have argued that this is effectively the same as the government cutting a check for an abortion: Money is fungible, they say, so any reimbursement or grant frees up money for Planned Parenthood to terminate pregnancies.
That's why the Trump administration has taken aim at Title X, a decades-old family-planning program that provides money for low-income women to access birth control, cancer and STD screenings, breast exams, and more. Under a new rule, Title X recipients are no longer allowed to provide women with information about where and how they can get an abortion, and they cannot encourage women to seek out the procedure.
Planned Parenthood is challenging this rule in court, but last month, a panel of judges on the Ninth Circuit Court of Appeals declined to halt it from going into effect. All Title X recipients faced a Monday deadline, set by the Department of Health and Human Services, or HHS, to show how they were going to comply with the new guidelines. Planned Parenthood, along with a Title X grantee in Maine, refused.
The Trump administration argued that since it's illegal for Title X money to be used "in programs where abortion is a method of family planning," according to the text of its new rule, its guidelines needed to be updated to ensure that Title X funds were not inadvertently used to help women get abortions. In the new rule, HHS removed a previous requirement that providers had to offer nondirective abortion counseling if requested, arguing that this could violate health-care providers' legally protected conscience rights. And HHS now requires "physical and financial separation" between the parts of an organization that perform abortions and those that provide services using Title X funds. For Planned Parenthood affiliates, which almost always provide a full range of reproductive-health services under one roof, implementing this part of the rule would be particularly prohibitive.
"It's meant to be restrictive," Melissa Murray, a law professor at New York University, told me. "It's meant to be consumptive, in terms of resources. And I think ultimately, the goal is to make people either bow out entirely or decide not to provide abortions at all."
Planned Parenthood has nicknamed the new Trump guidelines a "gag rule," arguing that they would stop doctors from providing medical information to their patients. "Our patients come to us because they expect the best information and health care available," said Planned Parenthood's acting president and CEO, Alexis McGill Johnson, in a recent press call. "The gag rule would make it impossible for us to uphold that commitment. At Planned Parenthood, we refuse to cower to the Trump-Pence administration."
The Trump administration denies this characterization. An FAQ on the HHS website states that the rule "permits, but does not require, non-directive counseling on abortion" and allows doctors to "provide patients with complete factual information about all medical options," although Title X recipients may not encourage a patient to seek an abortion. The Trump administration's allies, including Marjorie Dannenfelser at the anti-abortion organization the Susan B. Anthony List, cheered the rule as a way of untangling Title X from abortion. It "does not reduce family planning funding by a single dollar," Dannenfelser said in a statement. "It simply directs taxpayer funding to family-planning providers who stay out of the abortion business."
Although the new rule isn't aimed solely at Planned Parenthood, the Trump administration's battle with the organization is a thinly veiled subtext of the new policy. On the HHS website, the administration directly calls out Planned Parenthood, which claims to serve 40 percent of all Title X recipients in the country. "To the extent that Planned Parenthood claims that it must make burdensome changes to comply with the Final Rule, it is actually choosing to place a higher priority on the ability to refer for abortion instead of continuing to receive federal funds," the website says.
Planned Parenthood, however, views abortion as a form of health care—and seems to see an advantage in escalating the fight over Title X. "I think the real audience for this is women who vote," Murray said. "Here's a very concrete example of what happens when you wage a war on women and women's health. This is about sticking it to people who want abortions? Well, everyone is paying."
Indeed, in her statements about the organization's decision to withdraw from Title X, McGill Johnson relied heavily on the language of battle. Planned Parenthood sees this rule as an "attack on reproductive-health care," for example, and will "fight" it in court. "Our patients deserve to make their own health-care decisions, not to be forced to have Donald Trump or Mike Pence make those decisions for them," she said. "This is the time for all who believe that a person's zip code and income should not determine one's access to health care to raise their voices."
For now, Planned Parenthood says, it has "emergency funds" to cover services that were formerly paid for by Title X, and McGill Johnson said the organization will fundraise to make sure that care does not suffer. But for low-income women who have relied on Planned Parenthood for screenings, birth control, and more, options may become more limited in the months ahead. Planned Parenthood is often one of the only Title X providers in a given area—it is the only grantee in Utah, for example.
The Trump administration clearly sees the new rule as worthwhile, in terms of both policy and politics: It denies that Title X services will suffer, and argues that Planned Parenthood is welcome to comply with HHS guidelines, just like the thousands of other Title X grantees around the country. But while Planned Parenthood affiliates will definitely feel the consequences of the group's decision in the short run, the organization is aiming for a larger victory.
Murray, who jokingly told me that she was squeezing in our interview between fittings for her red handmaid's robe, said that Planned Parenthood's supporters and progressive voters are unlikely to see this episode as anything but an attack on women's rights. "There are probably women who understand this as a harbinger of things to come," she said. "And I think that's certainly part of Planned Parenthood's calculus going into 2020."