Michael Bennet, Mad as Hell
The next-door-neighbor from Colorado has spent the past few months raging against the Democratic machine. Will voters buy it?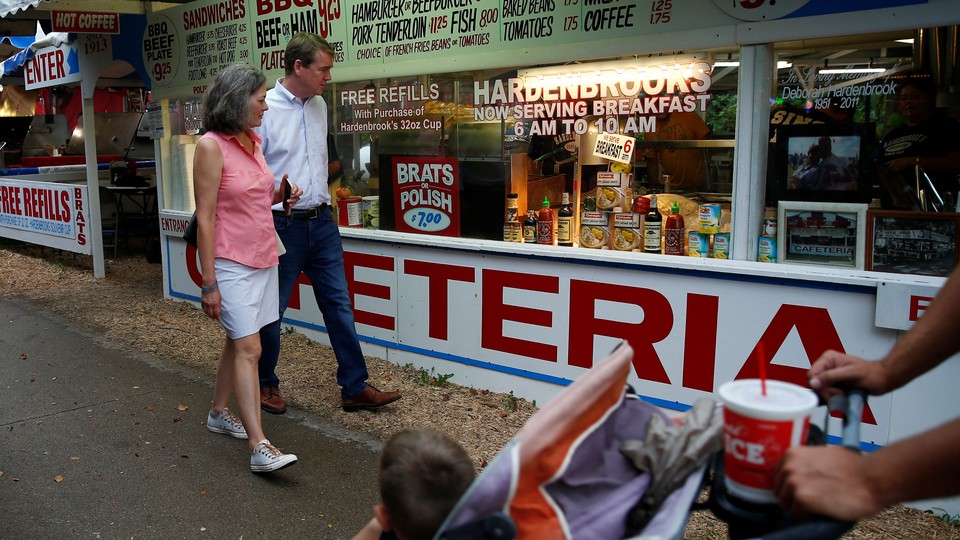 Picture it: Michael Bennet, the insurgent.
It's almost a journalistic requirement to use mild-mannered to describe the 54-year-old senator from Colorado. Bennet comes off as the standard guy in a suit with the standard guy-in-a-suit haircut. He has a calm smile and a voice that creaks through conversations about provisions of bills he's helped write. He's sober. He's serious.
But now, the prep-school and Yale Law graduate—and the man who is in elected office only because of a surprise appointment to the Senate—tells me,"I gotta live off the land." He wants to be part of a revolution, he says: Make the presidency normal again.
Last Saturday, Bennet and I ducked into the coffee shop of the Westin St. Francis in San Francisco. Bennet sipped tea and nibbled on a croissant. (He couldn't believe that the two items together had run him $12.96.) The day before, he'd trashed the Democratic National Committee and what he referred to as its "stupid and self-defeating" rules about polling and online donors for qualifying for the September debates. He's one of the 11 candidates who failed to register at 2 percent or higher in four different polls and hit 130,000 donors, thus preventing him from participating in the next debate. He likely won't make the cutoff for the October debate either, but he says it doesn't matter. He's going to keep going: TV ads are in the works; hiring is under way. He's flying to Iowa over Labor Day weekend, and in a minor coup, his wife will be campaigning with Christie Vilsack, the wife of the state's popular former governor. He's staying in the race, he told me, at least through the Iowa caucuses on February 3, 2020, and the New Hampshire primary a week later. "I would never have gotten in the race if I didn't think I could win," he said. "And when I think I can't win, I won't be in the race."
This is the man whose presidential run started as an intellectual curiosity, a rolling revelation he had while finishing a book last year called The Land of Flickering Lights. He went to Iowa in February, and officially declared his candidacy in May. (In between, he underwent surgery for prostate cancer that was diagnosed at the beginning of this year.) His curiosity became a mission, and those classic politician lines about really wanting to run got sucked up into Bennet actually wanting to run.
Bennet says the sense of inequality and disconnect with Washington he found as he campaigned was more intense than he'd expected, and the combination of the candidates leading the race and the DNC rules that he feels end up boosting those candidates has lit him up. "This is like making a decision about who goes to the playoffs based on preseason football, which nobody's watching," he said. His campaign puts out press releases and fundraising emails boasting support from the likes of George Will, Trevor Noah, and James Carville. He might not look like Howard Beale, but all of a sudden, Michael Bennet is mad as hell.
There's nothing subtle about the political calculation Bennet is making: He thinks former Vice President Joe Biden's campaign is going to collapse, that Senator Bernie Sanders of Vermont won't be able to expand his base of support, and that people will get scared off of Senator Elizabeth Warren of Massachusetts as soon as they think seriously about her going head-to-head with President Donald Trump.
Despite Biden's consistent lead in the polls, Bennet's campaign, like several others that I've spoken with over the past few weeks, has internal polling that shows Biden's support to be very soft. Many campaign operatives I've spoken with say they think Warren, despite being the only candidate to show consistently upward movement in the polls over the past few months, has even softer support. "Fully two-thirds of those who chose Biden, Sanders, Warren or [South Bend, Indiana, Mayor Pete] Buttigieg say they might change their mind," reads a strategic memo produced by Bennet's campaign. "Vote instability creates lots of room for Bennet."
Bennet is not the only one who believes that the Biden and Warren rides will end—but he's far behind other campaigns hoping to step up when that happens. He has fewer than 20 staffers in Iowa, while the leading campaigns have upwards of 60. His events tend to draw somewhere between 40 and 60 people. Bennet says he plans to "build out concentric circles of support while the field shifts."
Speaking to me about Biden, specifically, Bennet said, "I think that he has well-earned and well-deserved name recognition. I think that's what he has. I don't think it's deeper than that." I asked Bennet if he's worried that Biden would lose to Trump. "Oh, sure," he said, though added that he's continued to see what he believes is a level of broader delusion in Biden that is just as worrying. "The idea that if we just get Trump out of the way, that things are going to revert to some normal pattern, as the vice president seems to think, ignores so much of the wreckage that exists in Washington, D.C.," Bennet said. "We [the Democrats] should never have lost to Donald Trump to begin with. We just manifestly should not have lost to him to begin with. But we did lose. And that is proof that we can lose again."
To my ear, that sounded like Bennet was comparing Biden's campaign to Hillary Clinton's.
"We need somebody new," he said. "We need somebody new."
Most Americans first saw this angrier side of Bennet on January 24, when he yelled at Senator Ted Cruz of Texas on the Senate floor, accusing Cruz of shedding "crocodile tears" when bemoaning the government shutdown over Democrats' not funding Trump's border wall. (Cruz had been the architect of the 2013 shutdown, in which Republicans tried to force the end of Obamacare and Planned Parenthood funding.) In June, one of Bennet's Senate colleagues, speaking to me anonymously to give a direct assessment, noted Bennet's "F-you attitude." I shared this with Bennet after an event in Iowa; he paused and asked, "Meaning what?"
That means he's not the mild-mannered guy anymore, I explained. His oldest daughter, Caroline, who has frequently joined him on the campaign trail this summer, was standing with us, and she laughed. "Caroline would say to you I was never mild-mannered," Bennet said, and she agreed. "I think we're running out of time," Bennet said. "There's a question in the Western world whether democracy can do anything anymore."
On June 17, he spoke at a Poor People's Campaign forum in Washington, D.C. He screamed into the microphone about Trump's tax cuts, arguing that the administration could have instead paid for universal pre-K, raised the salary of every teacher in America by 50 percent, and issued housing vouchers. "But we did none of that!"
Two weeks ago, as Bennet spoke to the Des Moines Register editorial board, a reporter lost count of how many times he banged the table. Another wrote that he "bounced his glasses off the polished surface until we started to wonder how many spares he carries." (Bennet assured me that the glasses are fine.) The headline: "Iowa Caucus First Impressions: Michael Bennet Pounds Some Truth Into the Campaign."
Bennet says the reason I and others never thought of him as a passionate table-banger "may have been because you weren't seeing it." I checked with a few people who've been in a lot more rooms with him, and have sat at more tables with him than I have. They hadn't seen it this much either.
There will be plans, lots of plans, all built off his campaign's idea that voters like Warren's vision of rethinking government, but ultimately won't want that kind of leftward political lurch. Bennet is among several candidates in the race who claim credit for the Democratic primary moving from embracing Medicare for All to reconsidering whether getting rid of private insurance entirely is what people want. He's the only one in the field other than Sanders who has actually introduced a health-care bill in Congress, even if it's one his team wishes had a better name than Medicare X to describe creating a public option but leaving private insurance in place. As his campaign eagerly pointed out on Tuesday, in a somewhat disputed Monmouth poll, 78 percent of respondents didn't support Medicare for All. Education, from his years running the Denver schools as superintendent, will be a big theme. He's particularly proud of a line he rolled out at the Iowa State Fair a few weeks ago digging at Sanders, that the reason politicians talk about free college and not universal pre-K is because preschoolers don't vote. (A universal-child-care proposal was one of the first big plans Warren released.)
"If people are looking at Elizabeth Warren, 'She's got a plan for that'—well, we're going to say, 'Michael's got a better plan,'" said Craig Hughes, Bennet's longtime strategist. "The ideas have broken through and have become more central to where other Democrats are in this race, but we still need to find the way to break through for the candidate."
Bennet has won two Senate elections in a competitive state. He has ideas that are broadly popular, though they aren't in line with those of the progressive Twitter brigade. But part of the problem with Bennet's argument is that it's not even working for candidates who are doing better than he is. His colleague Amy Klobuchar, of Minnesota, has also put herself forward as the pragmatic, more moderate voice who's won over Republicans, and though she's qualified for the September debate stage, her campaign is struggling too. Senator Cory Booker of New Jersey has an organization on the ground in early states that has impressed many political experts, and his speeches regularly get people on their feet, but he is having trouble not being counted out of the race.
To Bennet, that's only more enticing. When he says, "There was a poll in New Hampshire that, if you look at the first and second choices, had me in the top six there—that's not terrible after three and a half months," that's part delusional, part hard to argue with as realpolitik. There's all of a percentage point or two of difference in polls between Bennet and candidates we're supposed to take more seriously, such as Klobuchar and Booker, and most of those are now tied or behind the entrepreneur Andrew Yang, a candidate who has never run for office before. "The fact that Iowa has not made up its mind yet is a reason to stay in the race, not get out of the race," Bennet said.
Three weeks ago, at the Iowa State Fair, Bennet finished his speech and went to get some food with his family. His wife and daughters waited for deep-fried Oreos while he tore into a corn dog, not with the perfunctory bite of a candidate at a state fair who ordered a corn dog for the cameras but with the appetite of a man who'd really been looking forward to eating said corn dog, smothered in mustard, and grossing out his daughters, who cried "Da-ad!" when he held out the stick, offering a bite.
From there it was off to the bumper cars, then they strapped into a hang-glider ride. He held his teenage daughter's hand for their first few spins, and then tentatively put his hands out in front of him, pretending to fly.
"He is the unlikely insurgent," Hughes said to me. "But we are in an unlikely world where our politics is upside down."