Marianne Williamson Goes for the Gut
The Democratic candidate isn't trying to appeal to voters' rational side.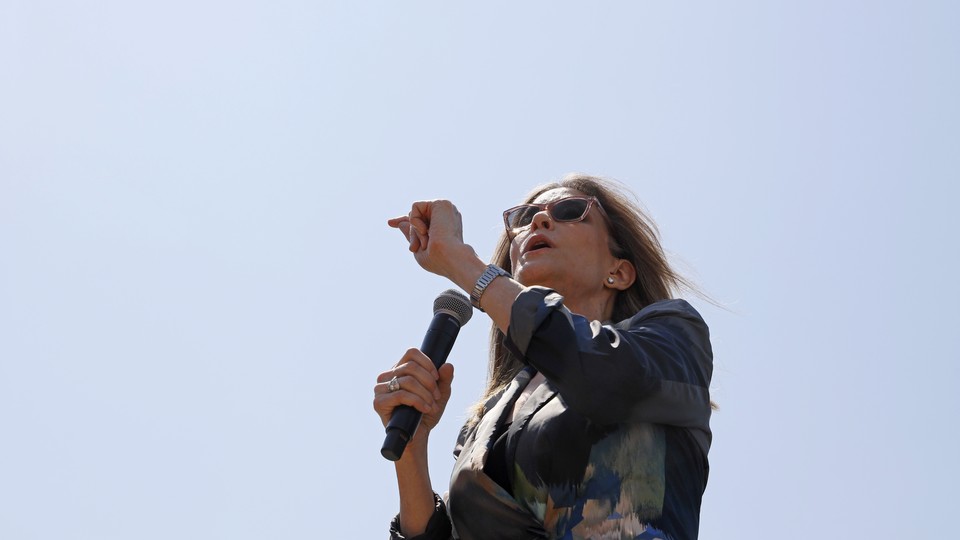 Updated at 10:51 a.m. ET on August 11, 2019.
DES MOINES, Iowa—Marianne Williamson smells like rosewater, or some kind of flowery Yankee candle. I know this because when I asked her a question at the Iowa State Fair on Friday afternoon, she leaned in close—very close.
"Actually reaching people requires a more expanded conversation than just a conversation about externalities," Williamson told me in a voice that was somehow both breathy and stern, her face inches from my own. I had just asked the 2020 candidate about her apparent aversion to detailed policy plans, and in response, she'd explained that inspirational and unifying messages, more than concrete proposals, are what appeal to voters. "The part of the brain that rationally analyzes an issue is not the part of the brain that decides who to vote for," she said.
Williamson is the 67-year-old author of several popular self-help and advice books, is a confidante of Oprah Winfrey, and was the officiant at Elizabeth Taylor's 1991 wedding at Michael Jackson's Neverland Ranch. Her current occupation, though, is as a kind of motivational speaker for America, running for president on a platform based broadly on the motif that love always triumphs over hate. But while Williamson's campaign has attracted the public's curiosity—and encouraged its creativity—she's still not a top-tier candidate: She's currently polling at less than 1 percent among likely Iowa Democratic caucus-goers, according to the most recent data from Monmouth University.
But you wouldn't have known it at the state fair on Friday. Williamson floated through the fairgrounds like some sort of celestial being, unbothered by the harsh sun and perpetually surrounded by a throng of sweaty supporters demanding selfies and hoping to soak up some of her good vibes. Speaking at The Des Moines Register's Political Soapbox, a mini stage where candidates take turns offering truncated stump speeches and fielding questions from curious Iowans, Williamson commanded a much larger crowd than either the entrepreneur Andrew Yang or former Representative John Delaney of Maryland, who had both spoken before her. The Iowans in attendance may well have known about her low polling numbers—and about recent criticism she's generated with her comments on science and medicine—but they seemed drawn to her nonetheless.
"We have an amoral economic mind-set that has corrupted our government and hijacked our value systems," she told the audience, standing onstage in wedge heels and a marbled, blue-and-mauve blazer as a quiet drumbeat played ominously from the speakers. The "conventional political establishment" is the problem, she said, to loud applause, and it's time for the American people to wake up. "While it is true that sometimes Americans are slow to wake up," she added, "once we do wake up, we slam it like nobody's business!"
Williamson's eccentric performances in the first two presidential-primary debates are what put her on the map for many Americans: Hers was the most Googled name in the hours after the first debate, when, speaking in a quasi-Mid-Atlantic accent not unlike Katharine Hepburn's, Williamson threatened to "harness love" to conquer President Donald Trump. In the second debate, she promised to combat the "dark, psychic force" of hatred in America, and offered a forceful argument for the payment of reparations to descendants of enslaved people in America.
Although Williamson describes herself as a "pretty straight-line progressive Democrat," she's taken pains to set herself apart from the other liberal presidential hopefuls. She criticized Elizabeth Warren's oft-discussed plans in the first primary debate by labeling them "superficial fixes" to the much deeper problems facing the country. "If you think we're going to beat Donald Trump by just having all these plans, you've got another thing coming," Williamson said, citing America's so-called sick-care system and the need for improved preventive care. "I've had a career not making political plans but harnessing the inspiration and the motivation and the excitement of people, masses of people," she told the audience.
Her message seems to resonate with voters who view issues such as gun violence, the rising cost of health care, and climate change as symptoms of more profound societal problems. "Rather than just putting Band-Aids on things, she's looking" deeper, Ken Golden, a 59-year-old from West Des Moines, told me. I met Golden at a booth for the Iowa Democratic Party, where Williamson was signing autographs for eager fairgoers. "Dude, it's Marianne!" yelled one teenage boy to his friend, before the two made a beeline toward her to get a selfie. A team of mostly middle-aged women staffers followed her around, carrying clipboards and wearing purple T-shirts and pink baseball caps, in keeping with the campaign's color scheme. They passed out metal buttons bearing a watercolor portrait of Williamson looking pensive, with a single lock of hair covering her left eye. At first glance, I thought it may have been a reimagining of the cover for "Space Oddity."
"I like what she talks about—the collective patriotism, the type of politics we're getting nowadays and how toxic it is for our country," Golden told me, not taking his eyes off Williamson, who was moving slowly toward us. "She just has a unique approach to politics." When Williamson finally reached Golden, she greeted him and signed her name in swirly cursive on a campaign brochure. "For Ken," she wrote, adding a small star as a flourish. (A Williamson fan on Twitter explained to me that the star "stands for the light in each of us.") Later, I watched as a mob cornered Williamson in the back of a souvenir shop; so many people were trying to speak with her that the store owner walked back to demand their immediate exit. "People are trying to shop!" she yelled at Williamson, before apologizing for being rude.
Some Democrats have observed this kind of frantic support for Williamson and raised alarm that she might be a left-wing Trump: a side-show candidate, dismissed by party officials and the media, who unexpectedly takes off. They've warned that her presently small following could quickly transform into something bigger. And many on the left argue that she's a threat to public health, pointing to comments she's made about modern medicine. Speaking at a campaign event in New Hampshire in June, Williamson called mandatory vaccinations "Orwellian." (She later said she "misspoke.") The author has also criticized what she deems the overprescription of antidepressants. "You had a professional failure, you lost your job, you went bankrupt," she told BuzzFeed News last month. "Those things are very difficult, but they're not a mental illness."
"Marianne Williamson is genuinely dangerous and bad," the Vox reporter German Lopez wrote on Twitter last month. "At one point, Donald Trump was a funny joke to a lot of people. Then he became president." (Trump himself used to espouse anti-vaccination views.)
Williamson has repeatedly denied being "anti-science" or "anti-medicine," and called those accusations "preposterous" in a media scrum at the state fair. "She's crazy. She's dangerous. She's a grifter," Williamson told a circle of reporters, bobbing her head from side to side as she mimicked her detractors. "There's an ancient string of misogyny about any woman that doesn't toe the line of the status quo."
To qualify for the next presidential debate, in September, Williamson will need to rack up 130,000 unique donors from 20 states (as of this writing, she's about 10,800 short), and she still needs to crack at least 2 percent in the polls. The task will require convincing thousands more voters not only that she is a serious candidate, but that the country needs what she is selling: a "revolution of consciousness" that she argues will set humanity on a path toward peace. It seems unlikely, at least right now, that Williamson will make it onstage. But accurately predicting the winds of public opinion is risky, and many Williamson fans, like Golden, have decided they'd rather trust their gut than listen to the political pundits.
"Who knows" if she can get the Democratic nomination, Golden told me with a shrug. "I don't want to get caught up in who I think can win. That'll just keep me from supporting who I really want."