Iowa's Most Famous Pollster Faces Her Toughest Test Yet
J. Ann Selzer is still waiting to find out exactly what the country's first nominating contest will look like.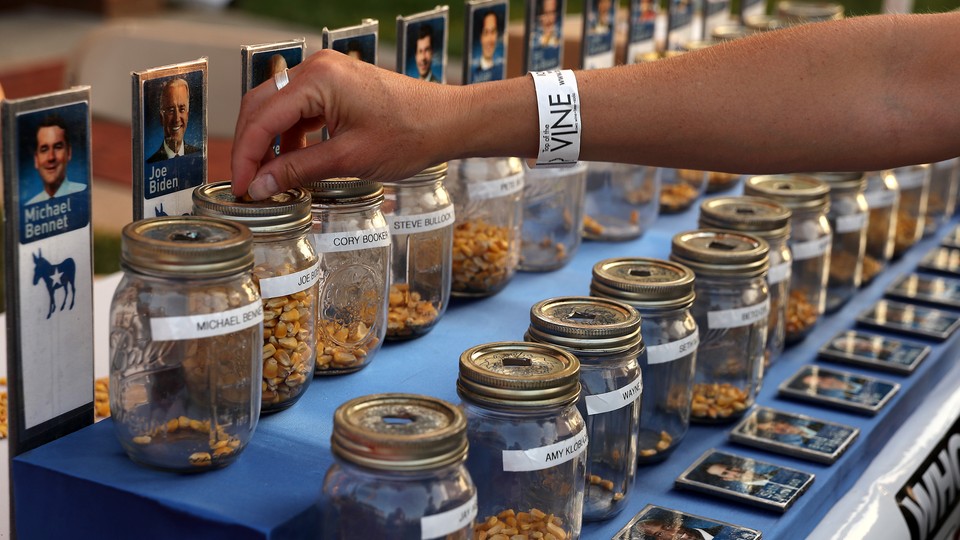 She's been called the "best pollster in politics" and the "queen of the Iowa caucuses." But in the 2020 election, she's confronting significant uncertainty in how the caucuses will unfold.
J. Ann Selzer, the head of the Des Moines Register's Iowa Poll, first became the subject of national attention in 2008, when her survey correctly showed that Barack Obama would win the Iowa contest, thanks to unprecedented turnout among first-time voters. In 2014, Selzer's poll pinpointed Senator Joni Ernst's victory over the Democrat Bruce Braley within one percentage point. And ahead of the 2016 general election, her poll rightly warned of a drop-off in African American voters in Iowa. Even as Americans have grown doubtful about the polling industry's ability to accurately forecast electoral outcomes, Selzer's status among political observers hasn't diminished.
But with just five months to go before caucus night, a wrench has been thrown into the process: Citing security fears, the Democratic National Committee announced yesterday that it wants the Iowa Democratic Party to throw out its plans for an unprecedented virtual caucus, in which voters could participate remotely using their phones. In a statement, Iowa Democratic Party Chairman Troy Price said officials will "explore what alternatives may exist to securely increase accessibility" for voters. Selzer's polling operation—which had already had to change tack to accommodate for the virtual event—is now waiting to find out exactly what Iowa's caucus will look like. "Whatever it is they're going to try to do," Selzer told me in an interview this week, "we're going to try to poll, if we can."
Her survey method, which she has called "polling forward," is unusual because, unlike other pollsters, Selzer attempts to anticipate the makeup of a future electorate with little regard for voters' past patterns. Selzer's surveys screen voters based on a single question: whether they will attend the caucuses. If they answer "definitely" or "probably," she counts them in her poll as likely voters and takes their candidate preferences into account. If they don't, she doesn't. Selzer doesn't consider prior voting history or make any other predictions about turnout. Rather, she operates under the premise that the past is not always prologue. "I don't assume anything," she said.
The Iowa caucuses this year, with all of their unknowns, could perhaps be the ultimate test of her method. The virtual caucuses were the Democratic Party's response to years of voter complaints that visiting precinct sites in person is too difficult—especially for those with inflexible work or personal schedules—and takes too long. Even before news of the DNC's worries first broke yesterday morning, party officials didn't know what to expect from the virtual event, and voters, according to Selzer's June poll, didn't know what to think about it either. The DNC's decision, and the state party's promise to somehow expand accessibility, adds yet more unpredictability.
I spoke with Selzer twice this week, before and after the DNC's concerns were made public, about her process and why she anticipates unusually high turnout in February. Our conversation has been edited for length and clarity.
---
Elaine Godfrey: You've described your polling method as "polling forward." What does that mean?
J. Ann Selzer: "Polling forward" is not just with caucuses, but with any polling that we do when it comes to trying to take a look at a future event. We do not create a likely-voter model. And we don't weight our data according to past election information. So we poll forward and let our data show us what is happening with the electorate—what groups seem to be coming out in larger numbers or in lower numbers than before—rather than enforce on the data some history of what has happened in the electorate before.
[Weighting data according to past election information] may have been possible to do in the past, when the electorate was fairly stable from election to election. That is no longer the case in my observation of how elections change.
Godfrey: Why is it no longer the case that the electorate is stable?
Selzer: The biggest learning episode for me was in the 2008 caucuses. Our data showed us that on caucus night, on the Democratic side, more than half [of Iowans polled] were going to be attending their first caucus. There is no likely-voter model in the world that would ever predict that. And so there was a ruckus, sort of started by the Clinton campaign putting out a memo saying, "Look, [Selzer has] made an outrageous assumption about who likely caucus-goers are. It's ridiculous; she'll be fired, blah blah blah."
One of Clinton's state chairs called me up on New Year's Day and said, "I've always trusted your polls until now. I've knocked on 99 doors, and I don't find this lurking Obama support." I said, "Well, tell me about the doors." He said, "Well, previous caucus-goers and registered Democrats." I said, "That's why you're not finding that lurking Obama support." The Obama campaign figured if they relied on people who had caucused before to turn out, they would lose. They had to go create new caucus-goers, and the Clinton campaign was blinded because they were focused only on what had happened in the past.
My work was within one or two percentage points of accurately predicting that about 60 percent were at the caucus for the first time. I had to explain to [PBS News host] Judy Woodruff, [who asked], "How did you assume this?" I assumed nothing. That's a moment that solidified to [me that] I was right not to assume anything. Why wouldn't I continue to do that? You don't want to be blinded by looking backward to what's coming down the road.
You've seen other shifts. The Obama coalition was bringing out younger people, more minorities. And then in 2016, I remember getting a phone call from somebody who said, "Your poll is saying the African American vote is going to drop by double digits. Nobody thinks that!" And, you know, nobody thinks that who's looking backward. My response was, "What is it about 2016 that reminds you in any way of 2012 and 2008?" And, in fact, there was quite a drop-off in the African American vote.
Godfrey: Would the party scrapping the virtual caucus disrupt your data-gathering? What do you do with all of the information you've collected so far?
Selzer: Well, we wouldn't get rid of it! It doesn't mean what it did. But we don't know what the disruption is just yet. It's too soon to tell.
Godfrey: I realize it's freakishly early to be talking about who we can expect to show up for the caucuses, let alone for the general election. But are there any trends you've noticed so far in your early polls?
Selzer: We take you as a likely caucus-goer if you say you will definitely or probably attend. We [asked] that question for both people who are going to attend in person and who say they will participate virtually.
Typically, at this time in the cycle, we have a majority of people on the probable side. But in our June poll, we had 62 percent of in-person attendees saying they would definitely participate.
So that is a signal to me of probably stronger interest, more activation. You add that to having a couple dozen candidates in the state by the time the caucus comes around, all of them working to get caucus-goers out on caucus night—I think turnout will be strong.
Godfrey: With cellphones becoming ubiquitous, is it getting harder to get people on the phone—and convince them to stay on the phone and answer questions?
Selzer: There isn't any phone bank that hasn't noticed that. The question becomes, Can you still be accurate? And so far, so good. One of the things with the caucus is that the people who are participants tend to be more on the activist side. Many of them recognize the name the Iowa Poll—it's a known entity—and so they might be more willing to participate.
But when I think about having 20 candidates in the state, and they're all trying to poll likely caucus-goers, and the poll I'm trying to conduct is just one among those, I worry about burnout—I do.