The Atlantic Politics & Policy Daily: Gone Hickenlooper
The former Colorado governor dropped out of the presidential race today. Plus: Israel banned Ilhan Omar and Rashida Tlaib from entering the country.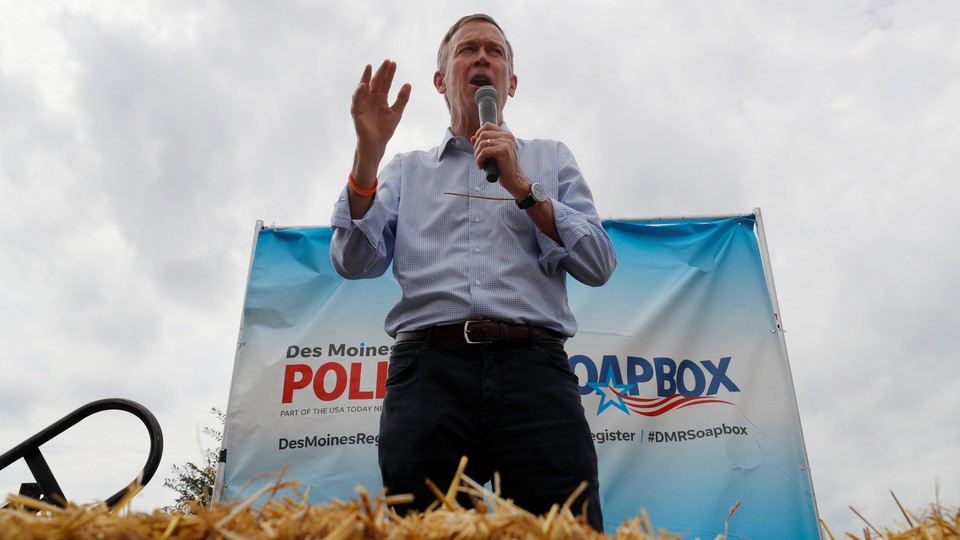 What We're Following Today
It's Thursday, August 15.
No Entry: Israel announced that it would ban Representatives Ilhan Omar of Minnesota and Rashida Tlaib of Michigan from visiting, shortly after President Donald Trump tweeted this morning that in doing so it would show "great weakness," adding that the two women hate "all Jewish people." The country is continuing an established pattern of stifling dissent, Emma Green writes.
---
---
Snapshot
(Jose Luis Gonzalez  / Reuters)
People take part in a memorial for the victims of a shooting at a Walmart store in El Paso, Texas.
---
Ideas From The Atlantic
Jay-Z Helped the NFL Banish Colin Kaepernick (Jemele Hill)
"Whatever the numbers, the NFL's new partnership with Jay-Z is a huge win for the league. Some of the biggest celebrities in the world have voiced their support of [Colin] Kaepernick, saying they would boycott the NFL until Kaepernick is back in the league. Now that the NFL has Jay-Z's blessing, it's conceivable that some of those entertainers who distanced themselves from the NFL might change their mind." → Read on.
The Worst Thing That Could Happen to Local News—And the Best (John Temple)
"Gannett and GateHouse are hoping that, together, they can grow efficient enough to survive. But the deal makes me think of two drowning giants grabbing onto each other to try to save themselves." → Read on.
Candidates Don't Need Airtime, They Need Attention (Conor Friedersdorf)
"High-information voters already have access to all the data they need to make choices based on substantive differences … The true obstacle to a less 'demeaning' campaign isn't greedy networks unwilling to cede airtime. It's the civic culture, a collective creation." → Read on.
---
What Else We're Reading
Americans are sad about politics. Who could blame them? (Clare Malone, FiveThirtyEight)
Behind Nate Silver's war with The New York Times (Michael Calderone, Politico)
Why an heiress spent her fortune trying to keep immigrants out (Nicholas Kulish and Mike McIntire, The New York Times)    paywall
The racism election (Noah Rothman, Commentary)
---
About us: This newsletter is a daily effort from The Atlantic's politics writer Elaine Godfrey, with help from Christian Paz. It was edited by Shan Wang.

Were you forwarded this email? Sign yourself up here. We have many other free email newsletters on a variety of other topics. Browse the full list.