Trump's Riskiest Bet
That old truism of American politics—"It's the economy, stupid"—could come back to haunt the money-minded president in 2020.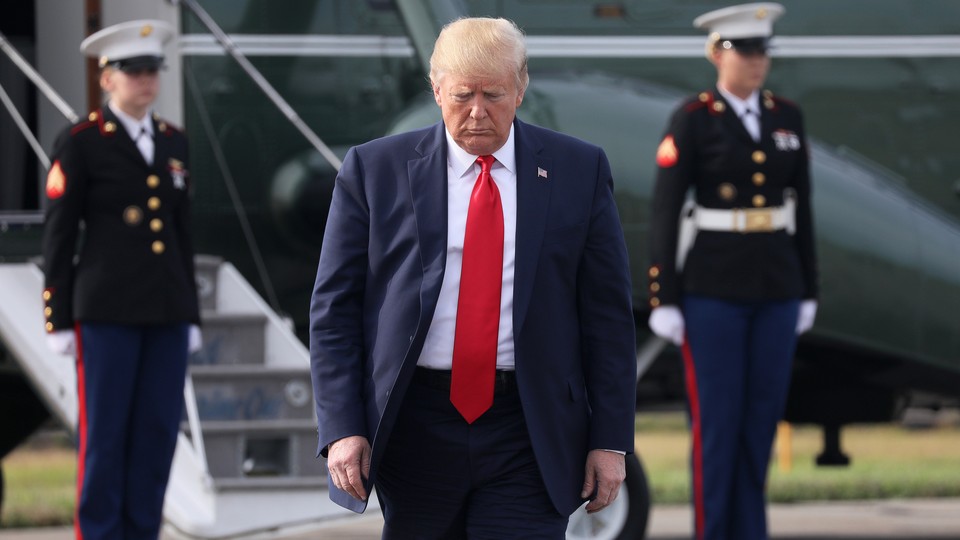 It's the nightmare scenario that President Donald Trump's camp dreads most: an economic downturn that steadily intensifies as the 2020 election nears. What would it mean for Trump if, by the fall of 2020, the jobless rate had doubled, economic growth was hovering at an anemic 1 percent, and, with no end in sight for the trade war with China, the stock market was plunging? A president whose argument for reelection rests on a healthy economy would suddenly find that his rationale has collapsed, right along with voters' retirement funds.
"Does every presidential campaign worry about a downturn in the second and third quarter of an election year? You bet your ass they do," said one Trump confidant, who, like some others contacted for this story, spoke on the condition of anonymity in order to discuss the subject candidly.
However much people may dislike Trump as a person, they've been largely satisfied with his management of the economy. A recession risks knocking out one of the main pillars sustaining him politically. Inside the White House, aides are split over whether one is coming and, if so, what exactly to do about it. What's clear is that a recession would test the loyalty of voters who've forgiven Trump for any number of indiscretions and outrages that would have toppled most other politicians. But even if Trump's supporters turn out to the polls next year, that's not enough to ensure his victory.
"Human beings who can get to the polls will vote," Frank Luntz, a longtime pollster, told me. Interest in the election will be so fevered, Luntz quipped, that "a lot of dead people are going to come back to life to vote."
In the end, the race may hinge on the preferences of some 5 to 10 percent of the electorate who are unattached to either party and whose perceptions of the economy could decide Trump's fate.
"I don't think people win elections with their base; I think they win elections by getting people in the middle," Robert Grand, who was part of the fundraising team for Trump's 2016 campaign, told me.
The president's campaign advisers tell me that Trump would like to pose the question made famous by Ronald Reagan: "Are you better off than you were four years ago?" If the answer isn't a ringing yes, Trump could be facing a one-term presidency. Worse for him, even if the answer is a ringing yes, he may have so alienated voters for other reasons that the economic argument might not be enough to push him over the top in November 2020.
Tucked into a new Wall Street Journal–NBC News survey was, for Trumpworld, a worrying omen. The poll found that by a whopping margin of 73 percent to 5 percent, the subset of voters who don't approve of Trump but still like how he's handled the economy favor a Democratic candidate over the president. Trump can't write off these voters—or any voters, for that matter. Demographic trends simply don't work in his favor. Luntz told me that if Trump suffers no defections in 2020 and locks in every person who voted for him in 2016, he could still lose the electoral college and, hence, the election. That's because younger voters who are casting ballots for the first time prefer Democrats over Republicans by a decisive margin, and some of Trump's older voters will have died by the time November 3, 2020, rolls around, Luntz said. "Trump must win people who didn't vote for him," he told me. "And the way he's going to do that, the only way he's going to do that, is through the economy."
As always, but especially right now, the economy is a wild card. Signs point to a coming slowdown, though it's difficult to pinpoint either its severity or its timing. Last week, the returns on short-term U.S. bonds surpassed those of long-term bonds, a development that typically signals a looming recession. Financial markets have been whipsawed by Trump's on-again, off-again trade war with China.
Stephen Moore, a former campaign adviser whom Trump had wanted to nominate for a seat on the Federal Reserve Board this spring, but who pulled out when it became clear he couldn't win Senate confirmation, told me that Trump's trade dispute with China is hurting the economy, if only in the short term. "Of course it is," Moore said. "I talk to businessmen and women, and they say that the trade war has hurt their orders. It has hurt their capital spending." I asked Moore about Trump's contention that the tariffs he has imposed on China are helping the U.S. at China's expense. "That's kind of spin from the president—trying to make a case for what he's doing," Moore told me. "There are some positive aspects from tariffs … but those benefits are clearly upset by the wrench of uncertainty that has been thrown into the economy by the tariffs."
Indeed, a Congressional Budget Office report released yesterday concluded that Trump's tariffs will "lower economic output" by making consumer and other goods more expensive. Further, the "uncertainty" produced by Trump's trade practices will reduce business investment, though that impact will taper off after 2020 once business makes adjustments to deal with the costs triggered by the tariffs, the report showed. Still, if the tariffs are still driving up costs by 2020, that's troublesome for Trump's reelection effort.
No consensus has emerged inside the White House about the economy's direction. As ever, aides are divided and quarreling about whether a downturn is coming and what the antidote might be. Acting Chief of Staff Mick Mulvaney told donors at a private fundraiser in Wyoming this week that if the United States endured a recession, it would be "moderate and short," according to Politico.
Trump told reporters Tuesday that he was exploring a payroll-tax cut and other measures that might boost the economy. Yesterday he backtracked: No tax cuts were needed, he told reporters. Other Trump advisers had privately dismissed the notion of tax cuts, saying they would never get through Congress. Besides, the prognosis may not be so grim, these people say. John McLaughlin, one of the president's pollsters, told me that people are not as fearful of losing their jobs as they were in the years before Trump took office. "Main Street," he said, "is feeling good about the economy. The majority of Americans think it's still getting better. The strength of the president's job approval is that the economy is growing."
Heading toward the election, Trump wouldn't mind a little more growth. He's found a villain to serve up to voters anxious about their financial condition: the guy he appointed to chair the Federal Reserve Board, Jerome Powell. In recent days, Trump has stepped up his demonization of Powell, accusing him of sabotaging the economy by not cutting interest rates more aggressively. Yesterday he tweeted, "The only problem we have is Jay Powell and the Fed. He's like a golfer who can't putt, has no touch … So far, he has called it wrong and only let us down."
Set aside the fairness of that claim, or the propriety of giving someone a job and then undercutting him in the public eye when, for practical purposes, Powell can't defend himself. Forget for a moment whether it's appropriate for a president to browbeat an independent central bank. Or, for that matter, whether a president should personalize a dispute over monetary policy and expose Powell to public wrath. Trump is also going down a path that could set a dangerous precedent: pressuring the Fed to take steps that would be manifestly helpful to the sitting president in an election season.
Ironically, before he took office, Trump criticized the Fed for just this sort of politicized decision making. In September 2016, two months before the election, Trump accused then–Fed Chairwoman Janet Yellen of deliberately keeping interest rates low to inflate the stock market and burnish President Barack Obama's legacy. It was a baseless claim, but it revealed something about Trump's thinking: The Fed is another useful tool of incumbency. With the presidency up for grabs, Trump is seeing if he can't press the Fed into service, juicing the economy in ways that might potentially win the loyalty of that sliver of voters who don't like his style but are happy that 401(k)s are rising on his watch.
"When they go to the ballot box in November of 2020, no one will say, 'Hey, do you remember when on August 14 the Dow dropped 800 points? I'm not voting for Trump,'" the Trump confidant told me. "They'll say, 'In the totality of four years, am I better off than I was four years ago?' And they'll vote for the guy."