'Do Something': 2020 Democrats Are Stuck After Mass Shootings
With Congress on August recess, the candidates running to take on Donald Trump can call for action on guns, but they can't take any themselves.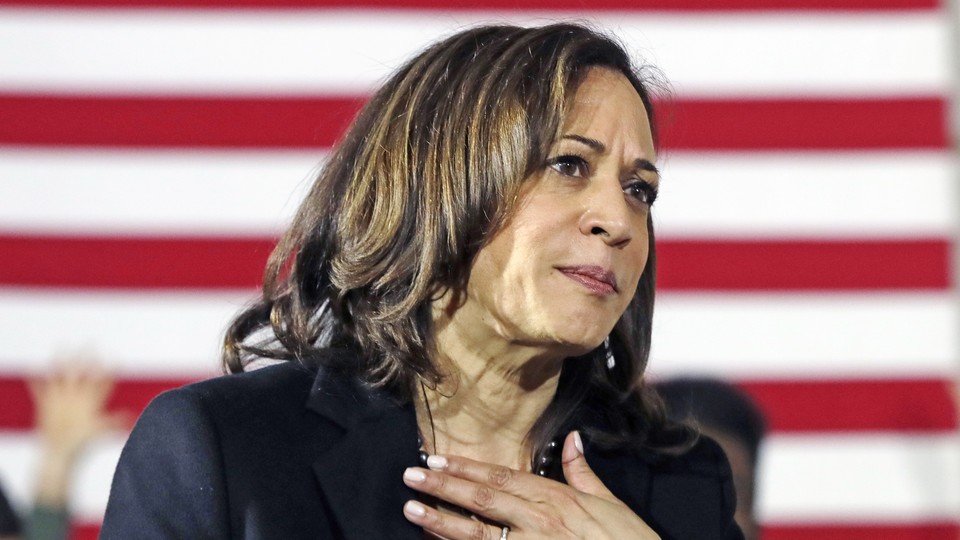 Shortly after 12 a.m. ET this morning, Senator Kamala Harris tweeted, "My message to the president on gun violence." What followed was an eight-second clip of an interview she had conducted on MSNBC earlier in the evening, after a gunman killed at least 20 people and wounded dozens more at a Walmart in El Paso, Texas.
"Have the courage to act," the California Democrat said. "Do something. Do something. Because when I'm elected president, I'm going to do something."
Harris was speaking in Las Vegas, where in 2017 a man massacred 58 concertgoers and injured hundreds more when he opened fire with AR-15 rifles affixed with bump stocks. Less than an hour after Harris posted that tweet, another gunman killed nine people with a high-capacity gun in downtown Dayton, Ohio, injuring dozens of others.
Harris's plaintive plea to President Donald Trump only highlighted the uncomfortable powerlessness of a presidential candidate. More than 20 Democrats are running to lead the country, and nearly all of them are trying to offer something more than "thoughts and prayers"—the banality scorned by the left in recent years that traditionally accompanies mass shootings. But for the next year and a half, the most concrete action that the majority of these contenders can contribute themselves in response is a single vote in Congress.
Harris did not detail exactly what she wants Trump to do, but in her platform on combatting gun violence, she pledges that if Congress fails to enact a comprehensive gun-safety package—including universal background checks, an assault-weapons ban, and more—she would take executive action where she could. Those moves would include stronger regulations to tighten background-check requirements, more aggressive action to revoke the licenses of gun manufacturers that break the law, and the reversal of a Trump-administration decision that made it easier for people with outstanding arrest warrants to obtain guns.
Several of Harris's Democratic rivals have made similar proposals, and some would go even further. Senator Cory Booker of New Jersey, for example, has called for requiring prospective gun owners to have a license. So has Pete Buttigieg, the mayor of South Bend, Indiana. In the immediate aftermath of this weekend's shootings, most of the 2020 Democratic candidates issued vague calls for "action" and denunciations of both Trump's rhetoric and a growing threat of domestic terrorism from white nationalists. Booker, appearing on CNN's State of the Union, accused Trump of "savagely fraying the bonds of our nation by speaking consistently words of hatred."
"The president is contributing to what is going on right now," Booker said in a separate interview on NBC's Meet the Press. Also on Meet the Press, Julián Castro of Texas, the former housing-and-urban-development secretary, warned of "a toxic brew" of white nationalism.
Other Democrats called out the National Rifle Association or put the onus for action on the Republican-controlled Senate. The new Democratic majority in the House passed a pair of bills earlier in the year to close loopholes in the federal background-check system—the most substantive advancement of gun-control legislation in years. But Senate Majority Leader Mitch McConnell, an ardent backer of gun rights, has no intention of taking them up, and both chambers of Congress have left for their summer recess. The Democratic presidential primary features seven senators—nearly one-sixth of the minority caucus—but none of them, individually or collectively, can force McConnell's hand.
As on many other issues, the Democratic Party has moved left in recent years, spurred on by the seemingly endless spate of mass shootings that has struck communities across the country. The party's presidential candidates are proposing policies, such as a ban on assault weapons and a national registry and licensing system, that would have been considered politically treacherous even in a primary a decade ago. Yet after two more atrocities, with dozens more dead, their power to do anything is barely greater than the average citizen's.
These hopefuls can plead with the president and the Senate, and demand, as Harris did, that they "do something." But running for the White House brings nothing more than a microphone. They can aspire to action on an epidemic of gun violence, but with few exceptions, they cannot take any on their own.
Edward-Isaac Dovere contributed to this report.