Why Democrats May Not Want Steve King to Resign
Several 2020 candidates have called for the congressman to step down following comments he made about rape and incest. But he represents the party's best hope in Northwest Iowa.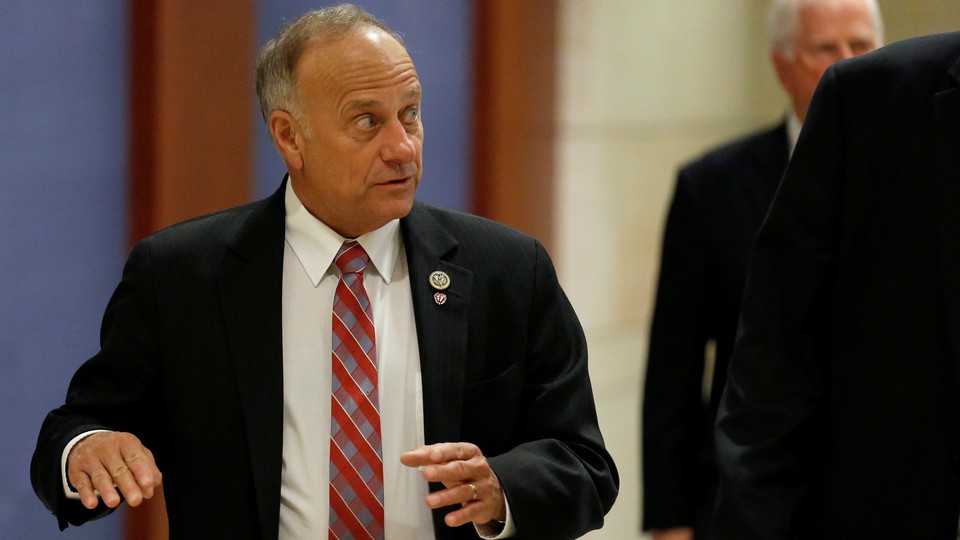 Steve King staying in office could ultimately help Democrats.
Earlier today, the Iowa Republican drew their condemnation when he questioned whether there would be "any population of the world left" if not for instances of rape and incest throughout human history. "Considering all the wars and all the rapes and pillages that happened throughout all these different nations, I know that I can't say that I was not a part of a product of that," he said at an event in Urbandale, Iowa, as he discussed his support for legislation that would restrict abortion without exceptions for rape or incest.
In response, a handful of Democratic presidential candidates are calling (or, in some cases, calling again) for him to resign. But there's an irony to their exhortations: As I reported last week, if King exits before the 2020 general election, it'll be much more difficult for Democrats to win his seat—and turn the entirety of Iowa's House delegation blue.
"You are a disgrace. Resign," Senator Kirsten Gillibrand of New York wrote on Twitter. "Every Iowa leader, regardless of party, should condemn Representative King's comments, an exercise they should all be familiar with by now, and join us in asking for his resignation," said the campaign of Senator Cory Booker of New Jersey. A spokesperson for former Representative John Delaney of Maryland echoed Delaney's earlier calls for King's resignation in light of his "vile, repulsive, and unsurprising" comments.
It's possible that King will step down. (His office didn't respond to a request for comment; neither did House Minority Leader Kevin McCarthy, who's disciplined King in the past, or House Speaker Nancy Pelosi.) But it doesn't seem likely: The congressman has endured similar criticism throughout his tenure in office, during which he's made many racist and otherwise incendiary remarks. As I've reported before, people in Iowa's Fourth Congressional District have supported him all along. The district is rural; it's very religious; and it's mostly socially conservative. People there care "about abortion and guns and freedom," Art Cullen, the editor of The Storm Lake Times, a small newspaper in the district, told me in a July interview. On those subjects, at least, they're in sync with King.
The congressman's closest electoral challenge came in last year's midterms, when the Democrat J. D. Scholten, a former Minor League baseball player and paralegal, lost to King by just three percentage points. He performed 24 points better against King in the ruby-red district than Hillary Clinton did against Donald Trump in 2016.
Scholten announced last Monday that he's running against King again in 2020. While the campaign isn't likely to be easy, he could have an even better shot this time, with wider name recognition following his 2018 bid and more national attention on the race.
In response to King's comments today, other Democratic presidential candidates—including South Bend, Indiana, Mayor Pete Buttigieg and former Housing and Urban Development Secretary Julián Castro—emphasized beating King in 2020. "Hey @JDScholten," Castro wrote on Twitter. "I'm ready for another Winnebago road trip—it's time to unseat this bigot."
If Democrats want to win the seat, they should want King in the general-election race. If he resigns, or loses the Republican primary, it'll make the party's chances of flipping the district that much harder. King's candidacy has taken several hits in recent months, in ways that could be advantageous to Scholten. In January, congressional Republicans removed the congressman from his seat on the House Agriculture and Judiciary Committees as punishment for comments he made to The New York Times about white supremacy. "White nationalist, white supremacist, Western civilization—how did that language become offensive?" King told the Times. "Why did I sit in classes teaching me about the merits of our history and our civilization?" (King maintains that he was "misquoted" by the Times, and even alleged today that there is a deeper plot by political insiders to remove him from power.)
Since then, King has lost other institutional support in his party. "He definitely hemorrhaged support from many traditional institutional Republican groups" after he was stripped of his committee assignments, Douglas Burns, a journalist and co-owner of the Fourth District's Carroll Daily Times Herald, told me in July. The National Republican Congressional Committee has pledged not to involve itself in King's reelection, and so far, his fundraising numbers aren't as solid as usual.
King has also drawn formidable Republican primary challengers, including Randy Feenstra, an assistant majority leader in the Iowa Senate; Jeremy Taylor, a former state legislator; and Bret Richards, a retired businessman. Feenstra, the 50-year-old favorite of Republican Party strategists I spoke with, has promised not to be an "embarrassment" to the district. Today he immediately condemned King's "bizarre comments and behavior" on Twitter, adding that "Trump needs defenders in Congress, not distractions."
That aversion to King could prove attractive to Republicans and independents in the district who are on the fence about the congressman and looking for someone else to support. And "absent King as foil, J. D. Scholten is not a popular [candidate]," Rachel Paine Caufield, a political-science professor at Drake University in Des Moines, told me in July. As much as some Democrats in the 2020 field want him gone immediately, King might be the only Republican a Democrat could beat in Northwest Iowa.