Two Nights, Two Very Different Ways of Talking About Race
The Democratic candidates who debated yesterday wasted no time in confronting President Trump about his racist attacks.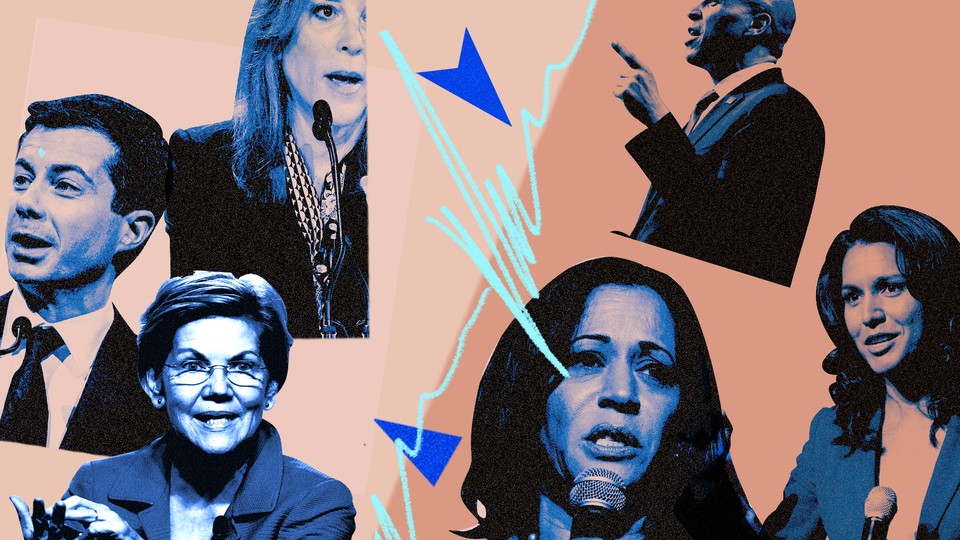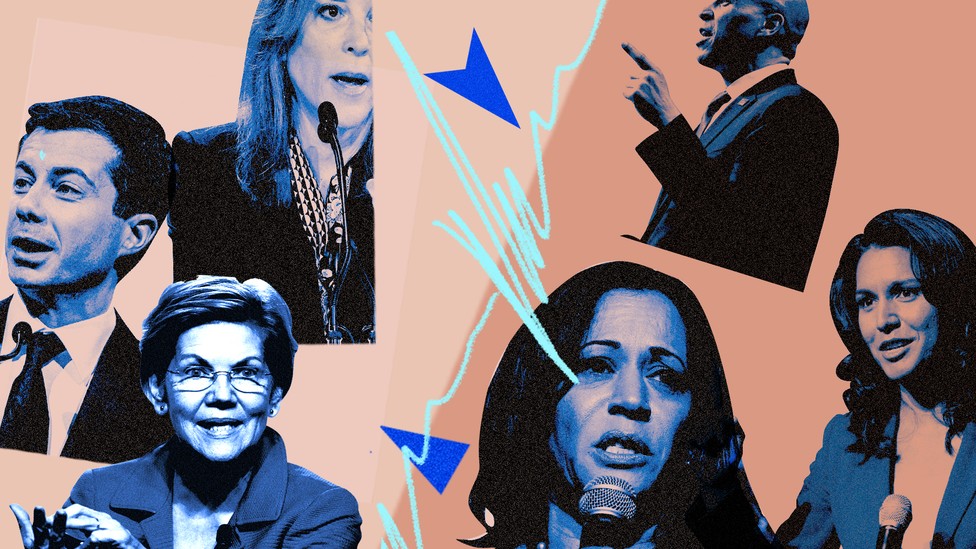 In the past three weeks, Donald Trump has alleged that Al Sharpton "hates Whites & Cops." He's called Baltimore, a majority-black city, a "disgusting, rat and rodent infested mess," and he's attacked one of the city's congressmen, Elijah Cummings. He's sent racist tweets telling four congresswomen of color to "go back" to the countries they came from. But for much of the first night of the Democratic debates this week, the president's most recent stoking of the racial divide barely seemed to register.
The glaring lack of racial diversity onstage Tuesday was a product of chance: The current field is the most diverse in history, and each candidate of color in the race was randomly chosen to appear the next evening. That may be one reason for the dearth of discussion about Trump's recent comments, even though it was the first opportunity for candidates to challenge them in front of a national audience.
Last night, however, the Democrats wasted no time calling out the president. The first debate roiled on for roughly an hour and 40 minutes before candidates began to meaningfully discuss issues of race. It took the second batch of candidates mere minutes.
"Donald Trump—from Charleston to Baltimore to the border—is using the tired, old language of demagogues, of fearmongers and racists, to divide our country against itself," Senator Cory Booker of New Jersey said during his opening statement. "Mr. President, this is America," former Vice President Joe Biden said at the close of his own opening remarks. "And we are stronger and great because of this diversity, Mr. President, not in spite of it … We love it. We are not leaving it. We are here to stay, and we're certainly not going to leave it to you." Both statements were deliberate references to the chants of "Send her back!" that recently overtook a Trump rally, following the president's attacks on Representative Ilhan Omar of Minnesota.
Across both evenings, the candidates competed to demonstrate their capability of defeating Trump and the racial animus he's fanned so far in the 2020 election. One way that struggle revealed itself was in how straightforwardly the candidates talked about racial injustice and the legacy of slavery—and in how they failed to.
The first night, the 10 white candidates had substantive policy discussions on subjects such as health care and immigration, but they largely treated the task of addressing America's racial divide as an aside. When directly asked about race in America, they by and large delivered answers that seemed divorced from the current moment. Though some of the candidates acknowledged Trump's recent attacks, many leaned on time-worn platitudes about embracing the country's differences, and pivoted to the same policy prescriptions they may have offered months ago, before the president ratcheted up his targeting of prominent people of color. Asked about white supremacy, for example, Senator Elizabeth Warren of Massachusetts shifted quickly to her plans for free college and canceling student-loan debt. Asked about criticism of his handling of racial inequality in South Bend, Indiana, Mayor Pete Buttigieg said his community is moving "from hurting to healing" after a police shooting, before highlighting his Douglass Plan, released early last month, which is aimed at tackling racial disparities nationally. Senator Amy Klobuchar of Minnesota, responding to a question about the motivations of Trump voters, argued that "there are people that voted for Donald Trump before that aren't racist; they just wanted a better shake in the economy."
One notable exception was a major moment from the author Marianne Williamson. After former Representative Beto O'Rourke of Texas brought up the subject of reparations, she described her plan to pay $200 billion to $500 billion to the descendants of slaves. Referring to reparations as "a debt that is owed" to black America, Williamson argued that anything "less than $100 billion is an insult." Her response was effective on two fronts: in its specificity—she explained, in real time, how she'd come up with the sum, based on "40 acres and a mule." And in its emotion—she framed reparations as the ultimate redress for the sin of slavery. "We need to recognize that when it comes to the economic gap between blacks and whites in America, it does come from a great injustice that has never been dealt with," Williamson said. "That great injustice has had to do with the fact that there was 250 years of slavery was followed by another 100 years of domestic terrorism."
Last night, concern about race relations and inequities infused much of the conversation, with the candidates forcefully condemning Trump from the start and carrying out detailed policy debates on race-related issues. Like the first group of candidates, they offered a healthy dose of calls for America to mend its divisions, but they also worked to draw distinctions among themselves on proposals that would address past and present racial injustice. In total, they spent almost 30 minutes discussing race-related issues—more than double the time spent during night one.
Biden and Booker traded jabs about their records on criminal justice, with the former vice president challenging Booker's stewardship of the Newark Police Department and the New Jersey senator calling out Biden for his championing of the controversial 1994 crime bill. Several candidates referenced Eric Garner, the unarmed black man choked to death by New York City Police Officer Daniel Pantaleo in 2014, while discussing their plans for police accountability, and more than one candidate questioned New York City Mayor Bill de Blasio about his response to the officer skirting charges.
Senator Kamala Harris of California was notably quiet for much of that discussion. But a moderator brought her into the fold by reigniting the argument about federally mandated busing that she and Biden had in their previous debate—the most memorable discussion of race in that June round. Referring to the segregationist senators Biden once boasted about working with, Harris said: "Had those segregationists had their way, I would not be a member of the United States Senate, Cory Booker would not be a member of the United States Senate, and Barack Obama would not have been in a position to nominate [Biden] to the title he now holds."
Representative Tulsi Gabbard of Hawaii did not let Harris's silence during the criminal-justice conversation go unnoticed. "She put over 1,500 people in jail for marijuana violations and then laughed about it when she was asked if she ever smoked marijuana," Gabbard said, referencing Harris's career as a prosecutor and California attorney general. "She blocked evidence that would have freed an innocent man from death row until the courts forced her to do so. She kept people in prison beyond their sentences to use them as cheap labor for the state of California, and she fought to keep a cash-bail system in place that impacts poor people in the worst kind of way." Harris responded that she's proud of the work she's done—"not just [giving] fancy speeches or [being] in a legislative body and [giving] speeches on the floor," but working to reform California's justice system. Gabbard's rejoinder: "When you were in a position to make a difference and an impact in these people's lives, you did not … You owe them an apology."
Other candidates engaged, too, in their own ways. Senator Kirsten Gillibrand of New York offered to connect with suburban white women voters and to explain to them white privilege, how if "their son is walking down the street wearing a hoodie, his whiteness protects him from not being shot." And Senator Michael Bennet of Colorado noted that "you can draw a straight line from slavery through Jim Crow through the banking and the redlining to the mass incarceration," before arguing that the answer to the prison crisis might be fixing America's schools.
Though it's easy to see some of last night's debate as a bevy of opportunistic attacks, the conversation on the whole telegraphed something meaningful about how candidates are prioritizing racial inequality. And with Trump showing no signs of letting up his racist attacks, the challenge for each of them is clear. Many Americans, especially voters of color, will expect them to strike a delicate balance: between acknowledging institutional racism within the framework of their own ideas, appropriately engaging with Trump's bigotry in real time, and inspiring the country to imagine life beyond his presidency. Fortunately for them, they have six more weeks to practice until the next debates.