A Rare Gun-Control Proposal That Could Unite Congress
A plan to help states implement so-called red-flag laws has bipartisan support in the Republican-controlled Senate.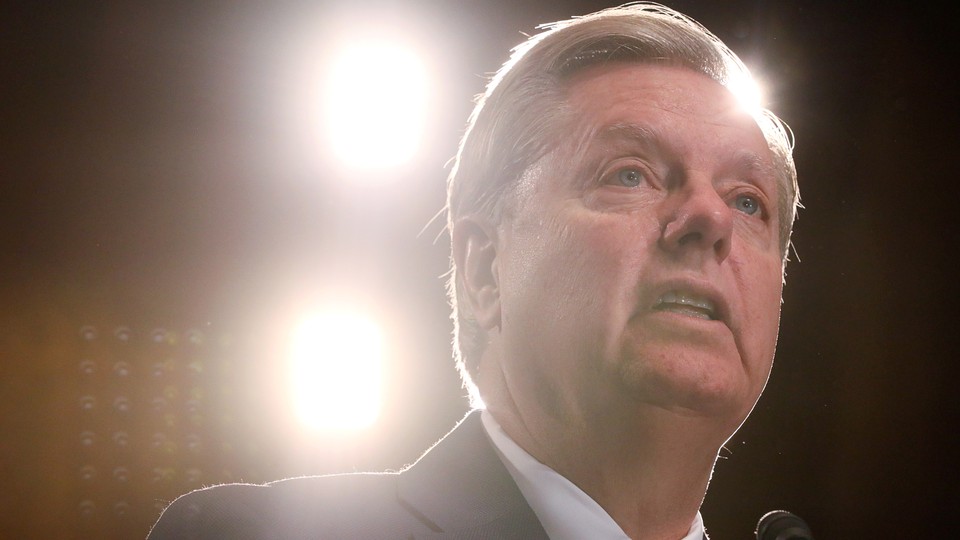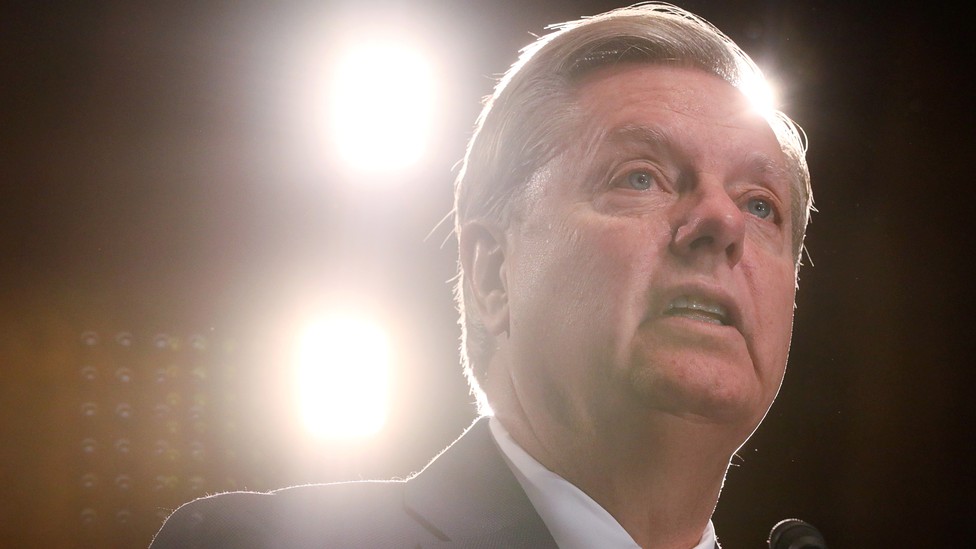 More than two decades of federal inaction on gun-control measures have understandably conditioned the public to expect little from Congress after mass shootings, no matter the death toll. But President Donald Trump's endorsement yesterday of red-flag laws could generate momentum for legislation that has already won some bipartisan support on Capitol Hill.
"We must make sure that those judged to pose a grave risk to public safety do not have access to firearms, and that if they do, those firearms can be taken through rapid due process," Trump said at the White House during a statement responding to the weekend massacres that killed at least 31 people in El Paso, Texas, and Dayton, Ohio. "That is why I have called for red-flag laws, also known as extreme-risk protection orders."
Laws allowing law enforcement or immediate family members to obtain a temporary court order to keep guns from individuals deemed to pose a danger to themselves or others have been enacted in 17 states and the District of Columbia; a dozen of those states, including five with Republican governors, have passed them in 2019 alone, largely in response to the school shooting at Marjory Stoneman Douglas High School in Parkland, Florida, in which an expelled student, Nikolas Cruz, fatally shot 17 people and wounded 17 others. Investigations subsequently found that local authorities and the FBI had missed numerous warnings about Cruz, who was nonetheless able to legally obtain a gun.
The Trump administration had weighed backing red-flag laws after the Parkland shooting, but the president's invocation of them yesterday "was probably the fullest endorsement that we heard," says John Feinblatt, the president of Everytown for Gun Safety.
Trump's mention of red-flag laws followed a conversation he had with Senator Lindsey Graham of South Carolina, an ally of the president's who chairs the Senate Judiciary Committee. Graham said in a statement that Trump "seems very supportive" of legislation he plans to introduce with Democratic Senator Richard Blumenthal of Connecticut that would provide federal grants for states to implement red-flag laws. Graham and Blumenthal are also co-sponsors of a bill that would go even further by allowing federal courts to issue extreme-risk protection orders, but Graham made no mention of that proposal yesterday, and his spokesman did not return a request for comment. Republican Senator Pat Toomey of Pennsylvania chimed in to support Graham's idea yesterday, and Senator Susan Collins of Maine had previously signed on to his bill with Blumenthal.
The passage of red-flag laws has become a top priority for gun-control advocates, who have seen more success lobbying in statehouses than in Congress, where staunch Republican support for gun rights has stymied efforts to strengthen the federal background-check system or revive a ban on assault weapons.
"The emerging research shows they are very effective," Feinblatt said of red-flag laws in a phone interview yesterday. He said the various state laws have been used more than 1,700 times in total, including a notable case in Vermont in which the law allowed authorities to bar a teenager who had detailed plans to shoot up his school from buying weapons. "This is a tool that allows law enforcement and immediate family members to act," Feinblatt told me.
A red-flag law would be the most significant action Congress has taken on guns in years. In 2018, the House and Senate took a modest step by enacting the Fix NICS Act to encourage states and the military to upload records to the federal background-check system. The Trump administration also acted unilaterally to ban bump stocks, the rapid-fire attachment that was used in the 2017 Las Vegas massacre.
Advocates of red-flag laws say they have proved successful in preventing not only murder but suicide. The National Rifle Association voiced support for the concept of red flags after the Parkland shooting in 2018, but the gun lobby has worked to weaken or defeat proposals when they've come up for votes in the states. "Someone could be stripped of their Second Amendment rights without due process, without being taken into custody for any criminal offense or without being required to undergo evaluation for treatment by a mental health professional," the NRA wrote about a proposal in Texas earlier this year.
An NRA spokesman did not respond to a request for comment. In a statement, the organization said it "welcomes the president's call to address the root causes of the horrific acts of violence that have occurred in our country. It has been the NRA's long-standing position that those who have been adjudicated as a danger to themselves or others should not have access to firearms and should be admitted for treatment."
Supporters have emphasized the due-process requirements of the laws, comparing them to the way restraining orders are handled in domestic-violence cases. "You have to have evidence, and you have to present that evidence to a judge. We're talking about a court-based process here," said Robin Lloyd, the managing director of Giffords, the gun-safety group launched by former Representative Gabrielle Giffords of Arizona, who was shot during a constituent event in 2011.
As gun-control backers are all too aware, a single presidential statement does not a law make, and Trump in particular has a habit of endorsing restrictions on firearms in concept only to backtrack in the face of opposition from the right. Just hours before his White House statement, the president tweeted his support for "strong background checks, perhaps marrying this legislation with desperately needed immigration reform." When he spoke on camera, however, the idea never came up.
"We've seen this before," Lloyd told me.
The calendar is also not on the side of action. Congress left for its August recess last week, and despite pleas from gun-control advocates, neither the Democratic-controlled House nor the Republican-controlled Senate plan to cut that break short. Democrats are urging Senate Majority Leader Mitch McConnell to take up House-passed legislation to require stronger background checks, but party leaders are leaving it up to the public to pressure Republicans.  "The president and Mitch McConnell have to feel the public sentiment on this. We have a golden opportunity to save lives," Speaker Nancy Pelosi told her members on a conference call yesterday, according to an aide.
Igor Volsky, the director of Guns Down America, told me yesterday that Democratic senators should return to Washington themselves and publicly pressure Republicans to join them. "I just think they've got to be pulling out all the stops," he said.
For most gun-control advocates, passage of a universal-background-check bill remains the overriding goal. But in the short term, a Trump-endorsed red-flag law may be the only proposal that can move. "At the end of the day," Volsky told me, it "is really the least they can do."