Joe Biden Is the Big Winner of the Democrats' Leftward Shift
In the latest debates, Warren, Sanders, and Harris all vied for the party's progressives rather than testing the front-runner's support with moderates.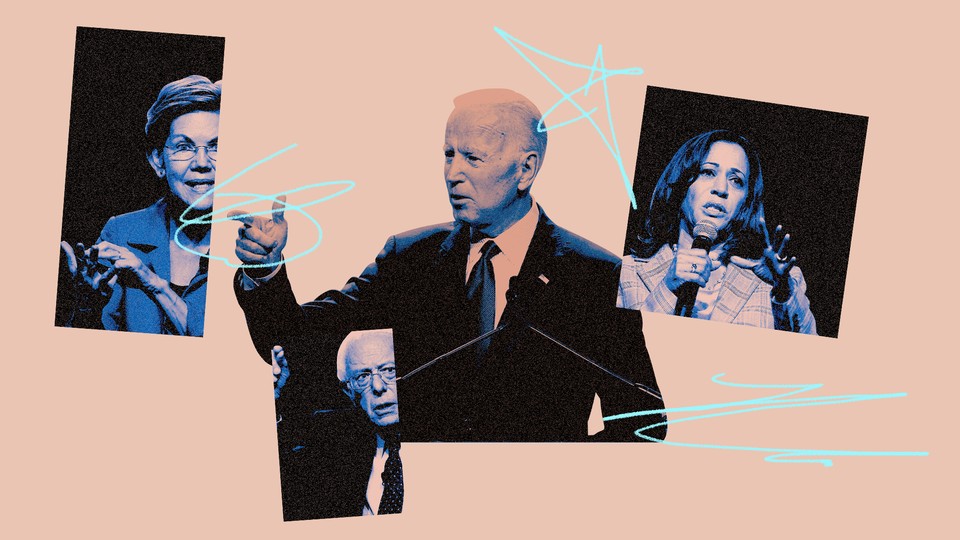 After two nights of spirited debate in Detroit, many Democrats may be feeling anxious: Their 2020 front-runner didn't entirely mollify concerns about his political skills, and his three major rivals positioned themselves in ways that could leave the party vulnerable in the general election.
Former Vice President Joe Biden, under fire from virtually every other candidate on the stage, delivered a more vigorous performance at last night's debate than he did in Miami in June. With only a few exceptions, Biden also held to his moderate positioning on the major issues dividing the field. But he served up enough rhetorical stumbles and moments of uncertainty to sustain the concerns of those who worry about his capacity to handle a demanding general-election campaign against Donald Trump.
Meanwhile, over the two debate nights, the three candidates closest to Biden in the polls—Senators Elizabeth Warren of Massachusetts, Bernie Sanders of Vermont, and Kamala Harris of California—reaffirmed their commitment to progressive positions, on issues from health care to immigration, that surveys show face opposition from a clear majority of Americans. The general consensus among most observers was that Warren turned in the most assured and energetic performance of any heavyweight over the two nights. But she did that in the service of ideas, such as decriminalizing unauthorized border crossings and eliminating private health insurance, that polls show face broad resistance from the overall electorate.
In that way, these debates may have underscored the structural imbalance at the center of the race: Warren, Harris, and Sanders are aiming their agendas primarily at the same group of liberal voters—many of them younger—while the former vice president has much less competition for more centrist and older Democrats.
Biden's mixed performance yesterday highlighted his potential vulnerability, but the staunchly liberal positions that his principal rivals advanced during the debates could limit their ability to cut into the constituencies that have provided his lead: older and moderate whites, as well as African Americans, who tend to be more moderate than is commonly assumed. While the attacks on Biden from his left could further erode his position with the party's progressive wing, his rivals may have simultaneously painted themselves more deeply into an ideological corner that constrains their capacity to grow among more centrist Democratic voters.
In the 2016 race, voters who identified as "very liberal" were the only ideological group in which Sanders ran evenly with Hillary Clinton. But they represented only about one-fourth of all primary voters, according to a cumulative analysis of 2016 exit polls by CNN. Voters who identified as "somewhat liberal" (just over one-third) or "moderate and conservative" (about two-fifths) cast a larger share of the vote. Likewise, voters over age 45 cast fully 60 percent of all primary votes in 2016, compared with about one-sixth for voters under 30.
On paper, Biden could face competition for moderate and older voters from the other centrists in the field. But none of them have yet consolidated much support. And while some of the moderate candidates performed well over the two nights—particularly Senator Michael Bennet of Colorado and Montana Governor Steve Bullock—none of them had a breakout moment likely to dramatically improve their position. Meanwhile, several of the relative moderates, including Senator Amy Klobuchar of Minnesota and former Colorado Governor John Hickenlooper, delivered low-wattage performances that may further hurt their standing in the polls.
So did former Representative Beto O'Rourke of Texas, who appears determined to try to bridge the party's ideological divide. South Bend, Indiana, Mayor Pete Buttigieg, who's also aiming to span those differences, was, as always, crisp and articulate—but he also lacked a defining moment likely to raise his support, which has slipped well behind the top four heavyweights. Senator Cory Booker of New Jersey and former Housing and Urban Development Secretary Julián Castro delivered strong performances last night, but both are positioned well to Biden's left.
The debates ended as they began, with no top-tier moderate alternative to Biden.
The former vice president used the debate to underscore his moderate positioning, even if that dynamic was frequently obscured by the crossfire of attacks he faced from rivals across the stage. Biden strongly made the case against a single-payer health-care plan that would eliminate private health insurance and instead argued for expanding the Affordable Care Act by creating a public option. He opposed treating unauthorized border crossings as a civil, rather than criminal, offense, and he said he would reopen negotiations for the Trans-Pacific Partnership rather than scrap it entirely, as many on the left prefer. Compared with other Democrats, he took a relatively more restrained position on climate by indicating he wanted the economy to become carbon-neutral by 2050, well beyond the 2030 date specified in the Green New Deal. (Although it didn't come up yesterday, his campaign clarified after the first debate that he would allow undocumented immigrants to purchase health insurance through the ACA with their own money, but would not provide them any public subsidies to do so.)
As last night's debate showed, Biden has moved left on some issues since announcing his candidacy: He made clear that he has renounced his earlier support for mandatory-minimum sentences, the death penalty, and the Hyde Amendment, which bars federal funding for abortions. But with those exceptions, Biden took pains to plant himself toward the moderate end of the party on most issues.
That created an especially stark contrast with his three principal rivals, who solidified their left-wing bona fides. Over the two nights, Harris, Warren, and Sanders all called for decriminalizing unauthorized border crossings. Harris endorsed the highly ambitious goal of decarbonizing the economy by 2030. Warren and Sanders were unwavering in their desire to eliminate private health insurance as part of a move to a single-payer system. And while Harris distanced herself from that position this week by releasing a health-care plan that would maintain a role for private insurers, Biden sharply criticized her plan over its cost and elimination of employer-based insurance coverage. Warren, Sanders, and Harris have also indicated they would allow undocumented immigrants full access to health benefits under their plans.
A recent NPR/PBS NewsHour/Marist College poll underscores the challenge Democrats may face selling many of those ideas. In that survey, 54 percent of Americans opposed eliminating private insurance; 62 percent opposed covering the undocumented in any national health-care system; and 66 percent opposed decriminalizing unauthorized border crossings.
Even among Democrats who identified as moderate or conservative, nearly half opposed covering the undocumented, and a clear majority opposed decriminalizing border crossings, according to detailed results provided to The Atlantic by Marist. A solid majority of those more moderate Democrats also rejected ending the death penalty, which every major Democratic contender has now embraced. In the survey, a national health-care system that eliminates private insurance did register support from a clear majority of both liberal Democrats and moderates. But, for Democrats primarily concerned about electability, the overall public's opposition to that idea may still make them hesitant about supporting a candidate who advocates for it.
Indeed, the determination of Biden's main rivals this week to double down on positions that face such broad public resistance could solidify his principal asset in the race: the belief, especially among older and more moderate Democrats, that he would represent the strongest nominee against Trump (many of whose own positions faced majority opposition in the NPR/PBS/Newshour/Marist survey).
In a Quinnipiac University poll released this week, 51 percent of likely Democratic-primary voters nationwide said Biden presented the party's best chance against Trump—Sanders (at 10 percent) and Warren and Harris (both at 8 percent) all distantly trailed. Biden held a comfortable lead on that question over his rivals, even among voters younger than 50, but his advantage swelled among older Democrats: He is leading the next closest candidate by a factor of 10 among those 65 and older. Among Democrats who identified as moderate to conservative, more than six times as many picked Biden as the strongest candidate compared with any other contender. Among black voters, he led by a factor of 9, drawing 57 percent on that question, compared with Harris's 6 percent.
But if Biden's positioning at last night's debate buttresses his advantage on electability, it seems unlikely that his performance will do so. He displayed much more energy and fight than he did during the first debate, forcefully delivering well-rehearsed attacks on his rivals. But he also misspoke at several junctures (in his closing statement, he bungled a call for viewers to visit his website), frequently became tangled in his answers, and got so lost in the weeds of responding to the many attacks directed his way that, after his opening statement, he almost completely failed to communicate the larger themes animating his campaign or explain his goals as president. Biden survived, but few would likely say he thrived. "Biden basically stabilized," Rahm Emanuel, the former Chicago mayor who worked with Biden during his stint as Obama's chief of staff, told me. "I think he was good, not great."
Democrats have been divided over and uncertain of whether the best pathway to beating Trump is to nominate an unapologetic liberal who promises to mobilize minority and younger voters, or a white centrist who might better attract college-educated whites recoiling from Trump and working-class white women expressing growing ambivalence about him.
This week's debates, by highlighting the weaknesses on both sides of that divide, may only increase the party's worry about which road is more likely to lead it back to 1600 Pennsylvania Avenue.