The Democratic Primary Is Right Back Where It Started
The debates haven't come close to upending the race.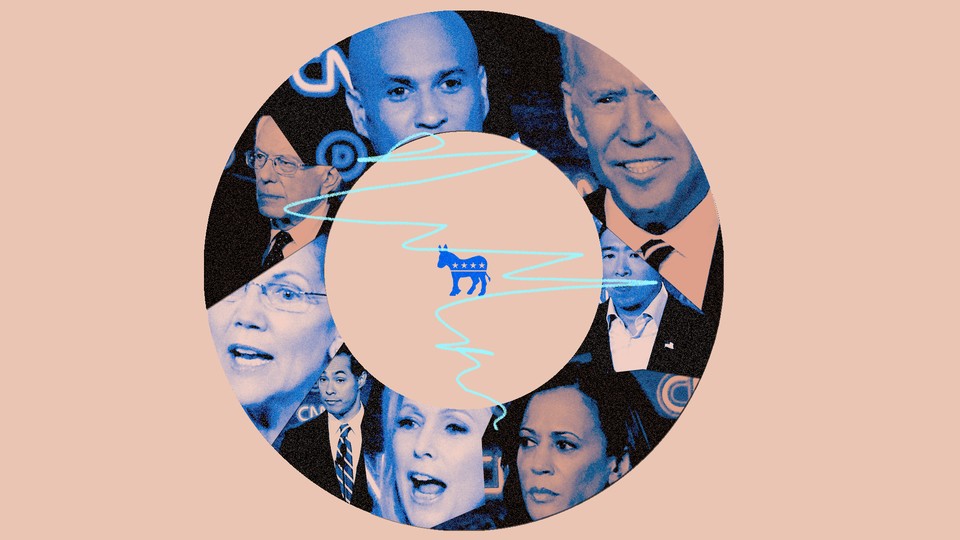 DETROIT—There's an elevated train here, in the city's downtown, called the People Mover. It doesn't cost much to ride. It goes in a loop every 15 minutes or so. It moves only in one direction, around and around.
It's a lot like the Democratic primary, after two rounds of formal debate and seven months of campaigning. There have been flashes of dynamism in the campaign so far, candidates who've popped for a news cycle or two. But take a step back, and the race has barely changed since before the weather grew warm. Former Vice President Joe Biden is the front-runner in every poll, but he's a weak front-runner, without a commanding lead or evidence of deep attachment among the voters surveyed. Senator Bernie Sanders of Vermont is holding on to his core voters, but he doesn't seem to be expanding their ranks. Senator Elizabeth Warren of Massachusetts; Senator Kamala Harris of California; and South Bend, Indiana, Mayor Pete Buttigieg are always in the mix in third or fourth place. And then there's everyone else: the candidates who sometimes grab as much as 4 or 5 percent but rarely more, and rarely for more than a few days. The only major change is that former Representative Beto O'Rourke of Texas, a onetime front-runner, is now firmly a part of the latter tier.
Last night's debate represented, in many ways, what a presidential-primary debate should be: strong, polished candidates having a sharp, substantive discussion about crucial issues facing the country. Biden showed much more energy than he did with his Rip Van Winkle impression at the previous debate. Harris had another scrap with Biden, which is what she seemed to want. And several candidates who've been eager for more public attention got what they were looking for: Senators Kirsten Gillibrand of New York and Cory Booker of New Jersey, for example, had two of the biggest moments onstage.
But I couldn't find almost anyone at the debate site who was confident that the night would change the dynamics of the race. Most of the campaign staffers and other Democratic operatives I spoke with were confident it wouldn't. The exception was Booker's aides, with his campaign manager, Addisu Demissie, telling me after the debate that "we have fresh eyes on us now, and I think that's important." (He said Booker raised more money online during the 10 p.m. ET hour, following the debate, than he usually does in three days.)
After the previous set of debates, in June, the polls scrambled briefly. Former Housing and Urban Development Secretary Julián Castro's numbers jumped for the first time, while Harris's shot up significantly. But both candidates' polling quickly settled back to what it had been before, and Biden's numbers climbed once again. Around and around, in a loop.
"The resiliency of our numbers is because voters know this guy. They know him at a different level than some of the other candidates," a Biden-campaign official told reporters at a briefing ahead of the debate, speaking to us on the condition of anonymity. "You see where his vote is today, and it's exactly where it was pre–[first] debate."
Still, Biden, who has near-universal name ID, rarely receives more than 25 percent in any primary poll. His campaign argues that ceiling isn't a problem. "With 20 candidates, it's hard for anyone to get more of the vote," the official told me. "It's just physics."
For Biden, last night was crucial: He wasn't likely to put away a primary race that still has many candidates in the running and months left to go. But if he was caught "off guard" again, as another Biden-campaign official put it a few hours before the debate, recovering may have been difficult. Overall, however, the vice president seemed to survive the night just fine, despite some trouble spots defending the details of his record and policy proposals. That likely means other candidates won't have much room to grow.
Biden staffers, for their part, said they were satisfied.
Kate Bedingfield, his deputy campaign manager, told me afterward that the former vice president had "answered wholeheartedly" for any leftover concern from the first debate "about his ability to take on Trump, his ability to push back." So, I asked her, does that mean she expects Biden will start to consolidate support and launch himself over 40 percent in the polls? "I think the debates, fundamentally, are flash points in the race," she said.
One Democratic operative, who is unaffiliated with any campaign but watched the debate, offered a blunt take, on the condition of anonymity, that's popular among many Democrats outside of Biden HQ: "We have a lot of great candidates, and the more people see them, the more a weak front-runner looks weak."
Democratic National Committee Chairman Tom Perez told me that he sees the current moment as "mile eight in a marathon," and that he doesn't think the race—or the candidate tiers—is set in stone. Hopeful candidates echoed that assessment in interviews last night.
"There are so many candidates right now that people are kind of grouping folks: 'Here's my top three'; 'here's my top five,'" Castro told me. "Once we get to a field that is a little bit smaller, then I think people are going to make decisions about who they're going to support."
"I still believe there's only about 24 people in America who know who they're going to vote for," said Washington Governor Jay Inslee. "And they're all the candidates."
Several Democrats I spoke with, who work for a range of presidential candidates, agreed that the person most likely to benefit from last night wasn't even onstage: Warren, who had a strong performance Tuesday night but whose campaign is less dependent than others on breakout moments in the debates.
Now the campaign is on to the next stop: The candidates won't all meet again for six weeks, when the next debate gets under way in Houston in September. Less than half of the field is expected to qualify. More than a few candidates are expected to run out of money. Chances are, the race will finally get thrown off the loop.