Why 2020 Campaign Workers Are Suddenly Unionizing
Democratic presidential candidates are virtually required to court the labor vote. But their own staffers haven't historically been part of a union—until this year.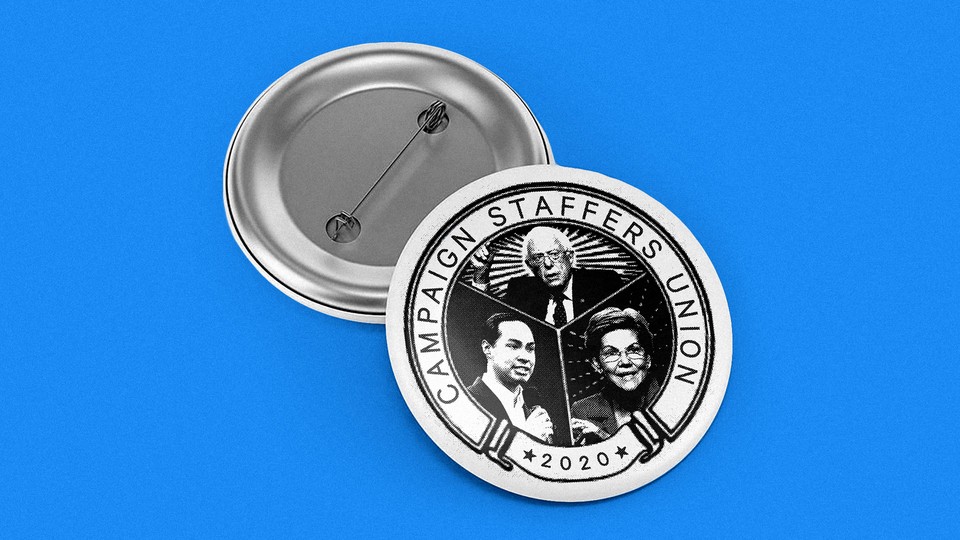 A key part of the playbook for most successful Democratic presidential campaigns is courting the union vote. For candidates, that means touring union halls, trumpeting your solidarity with the labor movement, and making sure that the overpriced swag peddled by your campaign has an insignia certifying that it was made by American union workers.
But what goes unmentioned on the campaign trail is that most of the staffers ferrying their bosses to union events and writing speeches reaffirming the candidates' support for labor aren't members of a union themselves. Or rather, that used to be the case. Since the spring, campaign staffers for multiple 2020 hopefuls have made a push to unionize—the first time in history any presidential campaigns have ever done so.
Political work can be grueling. The pay is low or, in some cases, nonexistent. Caffeine-addled late nights and weekends are the norm. Unlike traditional union jobs—think of autoworkers on the assembly line or state-government bureaucrats—many campaign jobs are ill-defined, and by definition temporary. A staffer can spend years helping usher a candidate to victory only to be out of a job soon after the final votes are tallied. "We talked about the 2012 campaign being this unicorn, billion-dollar corporation that will fail in 18 months," says Teal Baker, who was the deputy chief operating officer for former President Barack Obama's 2012 reelection campaign.
The notion that unionization doesn't jibe with the boom-and-bust nature of presidential-campaign work began to change earlier this year, at least on the Democratic side. (It's an entirely different situation in the GOP: Though President Donald Trump has shaken up the GOP's associations with union voters, his party has traditionally expressed hostility to labor.) The most prominent campaigns to organize so far are those of the two lefty heavyweights in the race: Senators Bernie Sanders of Vermont and Elizabeth Warren of Massachusetts. But they're not the only ones. So have staffers for former Housing Secretary Julián Castro and Senator Cory Booker of New Jersey. (Eric Swalwell's team also unionized before the congressman grounded his long-shot 2020 bid in July.) When workers make a move to collectively bargain, it's not uncommon for employers to try to thwart their efforts: Unionizing can mean heftier compensation for their employees and added bureaucracy within the workplace. But in this case, all of the campaigns have voluntarily recognized their staffers' push to unionize.
Unionizing doesn't turn an onerous campaign job into any sort of cushy gig. The hours are still long and tiring. No one is making a killing. (Well, except maybe the campaign's consultants.) And so far, the effort hasn't been without growing pains.
Of the campaigns that have organized, only Sanders's team has ratified a union contract codifying the wages and benefits to which workers are entitled. (The rest are still in the negotiation process.) The initial terms guaranteed a $36,000 base salary for field organizers, a common entry-level job on campaigns; doubled the amount of paid time off, from two to four weeks; and capped the salaries of the campaign's top brass. Even so, earlier this year a labor spat rocked Sanders's campaign, when field organizers demanded that they be paid $15 an hour instead of a set salary. (For the many staffers working around the clock, hourly pay would likely add up to more than $36,000.) Instead, the campaign and its staffers hammered out an agreement for a pay raise in late July—but an anonymous staffer still claimed to have been illegally fired for union activities.
That allegation is "patently absurd," said a Sanders staffer who is part of the union and who spoke on the condition of anonymity to talk candidly about the campaign's collective bargaining. "I don't think you really hear union folks typically saying, 'Management's fucking awesome,' but our management's been really great with this. They voluntarily acknowledged the union. They did it right away—there was no hesitation."
Staffers' push to unionize is a reflection of the changing landscape for workers in this country. But their bosses' consent may also reflect a reality for the campaigns themselves: They need all the help they can get—from union allies and from their own staff—to win the crowded Democratic primary.
These workers are turning to collective bargaining for a simple reason. "There's been a growing sense in Democratic politics over the past decade-plus that a lot of Democratic campaigns talk the talk but don't walk the walk," says the strategist Dave Hamrick, who was the campaign manager for Martin O'Malley's 2016 presidential run. "They espouse a certain set of policies, but their campaigns don't actually deliver on them."
Practically every 2020 Democrat wants to boost the federal minimum wage to $15 an hour. Not all of them apply that same standard to their own subordinates. Salaries for field organizers, for example, are all over the place, based on The Atlantic's analysis of Federal Election Commission filings. Biden, one of the more donor-rich candidates, is shelling out about $38,700 a year, after taxes and benefits. If that's the Mount Everest of field-organizer salaries, what organizers for Tulsi Gabbard's 2020 campaign are earning is at the bottom of the Mariana Trench: $14,664 a year, after taxes and benefits. And many staffers have to foot the bill for work-related expenses. For example, field organizers crisscross interstates to canvass in town after town, but they can be on their own for the hefty gas tabs (and car-maintenance bills) that come with that travel.
For underemployed staffers, the weight of a demanding gig and the stress of covering their bills can take a toll. "There's this burnout mentality among those running these campaigns," says Erik Loomis, a labor historian at the University of Rhode Island and the author of A History of America in Ten Strikes. "You take this 22-, 23-year-old talent and work them into the ground."
That mentality is all too familiar to Sarah Willenbrink-Sahin, who in 2016 worked as a field organizer canvassing to elect Democrats in Ohio. "The hours were so extreme that I was driving back and forth, and I was like, I hope my marriage makes it," she told me. "Regularly, in 2016, I was working until 1 or 2 in the morning, with the expectation that I would have to be back in the office by 9 the next day ... When you're working seven days a week, it can be hard to, frankly, have a life—or even spend a little time with your partner."
The taxing nature of campaign work can be self-perpetuating: Managers reared on low pay and late-night drudgery expect their underlings to endure the same. And skimpy paychecks are baked into the business model of how campaigns are run: "Campaigns do everything that they can to spend every possible dollar on the actual communicating with voters as opposed to infrastructure costs" such as payroll and staff benefits, Hamrick told me.
But the newest crop of campaign workers, overwhelmingly Millennials, are rejecting the expectation that political work necessarily means little pay and the hazard of burnout. Millennials "are asserting themselves more around saying that they want more balance in their lives," says Janice Fine, a professor at the Rutgers University School of Management and Labor Relations. "A generation of people working on political campaigns are striving for more balance in their lives."
These staffers are part of a broader reawakening in the labor movement. American workers have unions to thank for weekends and the 40-hour workweek, but in recent decades, unions have been in a moribund state: The share of American workers who are unionized has been in a half-century-long slump, and strike activity this decade has reached historic lows—trends that may be exacerbated by last year's Janus Supreme Court case, which dealt a gut punch to public-sector unions.
But that doesn't mean the labor movement has been relegated to its deathbed. In 2018, some 485,000 workers went on strike in the biggest year for worker protest in a generation, headlined by a tsunami of teacher strikes in states, like Oklahoma and Arizona, that haven't historically been hot spots of union activity. The Fight for $15, a nationwide movement to boost the minimum wage, is picking up steam. Seemingly every week comes the news of another media outlet that has organized. (At least 30 have done so in the past two years, including BuzzFeed, Vox, the Los Angeles Times, and Slate.)
When Willenbrink-Sahin landed a job as a regional field director for the Ohio Democratic Party ahead of the 2018 midterms, staving off burnout was one of her top priorities. So she took a cue from the messages she'd heard from Democrats on the campaign trail: With a band of her colleagues, she led a drive to organize the staff, making the Ohio Democrats the first state party in the nation to unionize. They sought representation from the Campaign Workers Guild, an upstart union founded in late 2017. The guild has so far organized 30 campaigns—from city-council races to congressional campaigns to, now, Castro's 2020 operation. Other 2020 teams have sought to unionize with more established outfits: Sanders's with the United Food and Commercial Workers Local 400, based in the Washington, D.C., area; Warren's with the International Brotherhood of Electrical Workers Local 2320, in New Hampshire; and Booker's with Teamsters Local 238, in Iowa. (Both the Booker and Warren campaigns declined to comment beyond statements they already released applauding their staffers' unionization push.)
Sawyer Hackett, Castro's press secretary, told me that the team was keen on organizing virtually from the start, even when the staff numbered in the single digits. "We saw campaigns do this in 2018 and, you know, campaigns are big enterprises," Hackett said. "Just like with big corporations supporting their workers, campaigns should do the same."
Candidates aren't voluntarily recognizing their staffers' unionization efforts simply out of some warm and fuzzy altruism. The campaigns could have another goal in mind as well: attracting staffers. With 21 Democrats mounting credible 2020 runs—the largest flock of presidential wannabes in history—the competition for staffers is cutthroat, especially in the early-voting states of Iowa and New Hampshire, where campaigns need an army of field organizers. "The competition for staff is absolutely insane," Hamrick told me. "It's more intense than I've ever seen it. There's just not enough staff experience to go around." In the crush for workers, he added, unionized campaigns that can offer better pay and benefits (and the symbolic victory of being unionized) could have an edge.
Potential staffers wouldn't necessarily flock to the campaign with the highest pay. ("Yeah, I would be working for Donald Trump if they weren't paying me more here," the Sanders staffer joked to me.) But unionization could help a campaign broaden its pool of applicants. "It allows us to form a staff that isn't just a staff made of privileged rich kids," the staffer said. "I wouldn't say that it motivates people to work for Bernie Sanders, but what it does is allow our campaign to actually employ the working-class people that we want to have a voice in this campaign."
Candidates get something else out of unionization, too: bragging rights. Winning the union vote has become something of an arms race in 2020, and candidates can use their own campaign's unionization as a potential salvo.
"This is the most pro-union field of candidates in decades, perhaps in my lifetime," says Steve Rosenthal, a former political director of the AFL-CIO.
Take former Vice President Joe Biden. In rolling out his campaign at a Teamsters hall in Pittsburgh in April, he sent a clear message: "I make no apologies," he said. "I am a union man. Period." The same month, Warren walked the picket line with striking workers at the supermarket chain Stop & Shop. South Bend, Indiana, Mayor Pete Buttigieg is beloved by Silicon Valley types and Wall Street big shots, but even he has endorsed a plan that would take a defibrillator to unions.
The love that 2020 Democrats have tried to give unions is, in part, emblematic of the party's general tack to the left: Policy positions that were once fringe—from single-payer health care to the decriminalization of border crossings—are now up for mainstream debate. And it may also be about a growing awareness, buoyed by a bevy of economic research, that the decline of unions isn't unrelated to the state of the economy today: inequality verging on Gilded Age levels, and inflated corporate power.
"There's been a recognition that unions had power," Janice Fine said. "They had power because they had members." From the campaigns' perspective, "if you want to get back to where there is greater economic mobility and if you want to do something about inequality, then you have to not just support unions rhetorically. You have to make it possible for them to grow again and for them to organize."
Despite their diminished stature, unions can still drive votes for Democrats in a way that few other groups can. While the average Pittsburgh steelworker or New York City subway conductor may not be clued in on the minutiae of which campaigns are organized (or the fact that unionization is happening at all), for the union leaders who have to make big decisions on which candidates to endorse, and consequently where to direct their members' votes, campaign unionization could make a difference. "My campaign staff is unionized," Warren made a point to say in her address to an AFL-CIO summit in Iowa on Wednesday, where a flock of candidates came to woo the unions. "I helped other places unionize, including the grad students in Boston, the casino workers and airport workers in multiple cities. I've walked picket lines and I've called CEOs to try to get them to settle disputes and recognize unions."
Presidential campaigns aren't going to revitalize the labor movement by unionizing a couple hundred overworked staffers. And it's still not clear whether campaign unionization is merely a fleeting stage in the Democratic Party's metamorphosis or something more permanent that will constitute a wholesale remake of campaign work. But one thing is already clear: The expectation that Democrats can talk about workers one way and then treat their own workers in another way is no longer going unquestioned.