Elizabeth Warren Has Momentum. Can She Build a Movement?
The senator from Massachusetts is on the verge of turning her campaign into something much larger.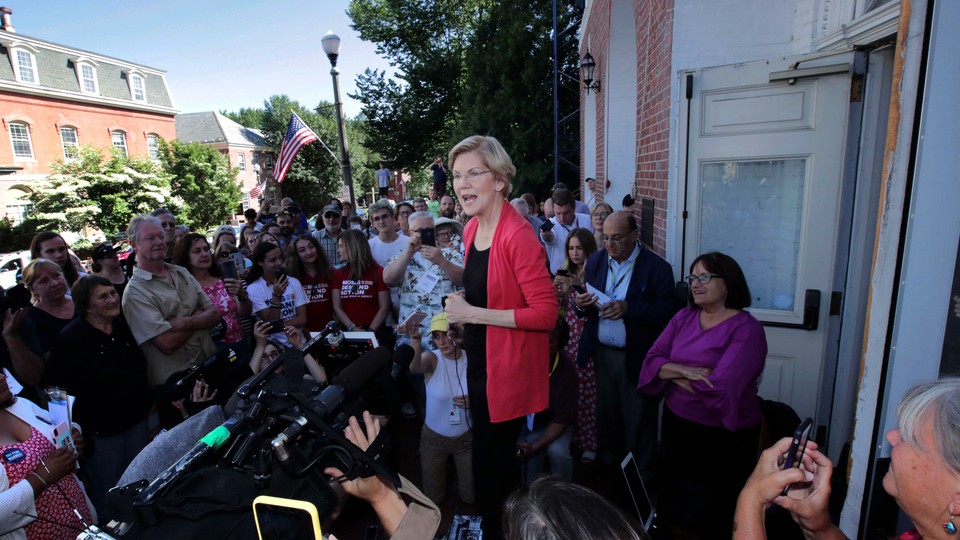 Elizabeth Warren was walking around Milwaukee a week and a half ago, listening to a community activist and a 22-year-old whose parents are undocumented immigrants. They told her the history of bilingual education in the neighborhood around Walker Square Park, and how the blocks have changed over the years. "Talk to me about housing," Warren said. "Where are the teachers drawn from?" The group walked past a sign for the oldest Latino-advocacy agency in the city, and a gentrification signpost: a store called Antiques Addict.
Warren was in Wisconsin to speak at a Latino political conference. She used the day to release her immigration plan, the latest in a stream of plans proposing how to revamp the system, in ways that go far beyond what Washington wisdom deems possible. The neighborhood walk felt as if Warren's campaign was merely banking B-roll footage for future ads, while a bunch of reporters tripped over curbs and fire hydrants watching the candidate interact with locals. We ended in a parking lot, beneath a mural of a bald eagle facing a dove under a rainbow, with an olive branch in their beaks, a lightning bolt striking the section closest to the dove.
Two days later, in Philadelphia, I showed Warren a photo of the mural. We were sitting down before her speech to the liberal-activist Netroots Nation conference, where she has been a hero for years. I asked her to explain what she said she saw in Milwaukee: "Power, but also change." She moved in close to my iPhone and pointed to the eagle. "Look at how much power there is. And yet, notice the dove is not afraid.The eagle is static; the dove is more dynamic," she said. "The lightning bolt is not the most prominent, but it is the piece that says, 'It all changes.' And it changes fast and powerfully when the moment comes."
I took out an oversize I'm a Warren Democrat button that her campaign has been handing out at events and put it on the table. What does she think that phrase means?
"Oh, it means you're somebody who is willing to get in the fight for an America that doesn't just work for the rich and the powerful but works for everybody else. And it's both halves of that. It's both what you're fighting for, and it's about a fight," Warren told me, sounding about as off the cuff as she gets.
At least for now, no other campaign is trying this message. There's no Kamala Harris Democrat. No Cory Booker Democrat. No Pete Buttigieg Democrat, Jay Inslee Democrat, Beto O'Rourke Democrat, Amy Klobuchar Democrat. From the moment he entered the race, former Vice President Joe Biden has stressed, and does so every time he finds the slightest opening to squeeze it in, that he is "an Obama-Biden Democrat." When I brought that last one up to Warren, she rolled her eyes twice and slightly tilted her head to catch up with them, a sort of silent Uh-huh and What else ya got?
Warren said she's not here to criticize other Democrats, but she made a point that many have made about Biden: It's hard to move people's hearts, or their feet to the polls, with lines like "I think I have the most far-reaching plan that's in reach," as he described his climate-change plan in New Hampshire last week.
"Some people think small change, incremental change, is how we will move America in a better direction; I think big change is easier," Warren told me, ticking through some of her biggest proposals, from universal child care to canceling student debt. If put into place, they would make for the biggest active restructuring of the American economy in history. "It's easier to get more people into the fight, and it's easier to get more people to pay attention to how it would touch their lives. And that's our path to winning. So this is the 'Ask for big or ask for little.' Ask for big!"
The crowds tell at least part of the story. Despite leading almost every poll, Biden has struggled with turnout: At one stop I was at last month, in Ottumwa, Iowa, the campaign had reserved a 664-seat theater and was excited when about 250 people showed up. Meanwhile, Warren drew more than 850 people on a recent Monday afternoon in Peterborough, New Hampshire, which was prime Bernie Sanders territory in 2016. Three days later, 1,500 people packed a Milwaukee high-school gym late into a Thursday night to see Warren, cheering and laughing along with her through a town hall. She walked out to "9 to 5." She stood in front of an oversize American flag. She finished to "Respect."
That night, Elizabeth Lindquist, a 51-year-old oncology pharmacist, poured her heart out to Warren on the photo line about a friend who wishes Warren would stop using the term special needs. The senator didn't quite give the answer Lindquist wanted, but she was still swooning. I asked her about her I'm a Warren Democrat tank top. "It means I'm not a conservative Democrat, I'm not a corporate Democrat," she told me, deciding she was going to say the next part too. "And it also means that I'm a Democrat—as opposed to the candidate I organized for in four states in 2016 … and … I wish hadn't run this time."
Warren's top aides insist they don't remember exactly how they landed on the "Warren Democrat" line. One week in early June, they were going over drafts for her speech at the California Democratic Party convention, cutting words and paragraphs to make sure that she kept within the time limit, trying to come up with a new spin on her stump speech. By the time Warren took the stage in San Francisco, they had T-shirts and buttons with the phrase. "I'm a Warren Democrat" was the general theme of that speech, though it never appeared explicitly in the text. "We need to show what it means to be a Democrat," was as close as she came.
---
Barack Obama and Donald Trump have pretty much nothing in common—except that their presidential campaigns became movements. They fostered emotional connections, the feeling of being part of something larger than any consultant or operative could plan for. Each had merchandise with iconic slogans. Sanders is still nursing the movement he stumbled into in 2016, trying to expand it, but so far he's coming up short. There's clear frustration among Sanders's aides with Warren's rise, but staff on multiple campaigns told me they're not worried about her success. Mostly they see Warren as the Bernie-blunter, and they're grateful for that.
Sanders and Warren are friendly, but their campaigns and supporters have been circling each other warily, waiting for the knife fight to begin (which it may, now that they are paired onstage for the second debate, in Detroit next week). Does he deserve credit for moving the party more toward the progressive left, where she wants it?
"I think Bernie deserves enormous credit for making visible to all of America how deeply progressive much of this country is," she told me. But that's different, I pointed out, from saying he's the one who did the moving. Well, "he brought it up. He brought it to the fore," she said.
"Political reporting, and much of the frame that people use in their heads, is a right-left, and that's how America divides," she told me. "Not so! Look at a whole host of core progressive issues, on taxation and minimum wage and student-loan debt, and America, by two to one, sometimes three to one, is progressive."
The main question political observers have after Warren's summer pop in the polls is whether she can sustain this momentum. So far, what she's built is not based on a single moment, nor dunking on a rival. Warren is the first—and for now, the only—candidate to start preparing a new movement for 2020. Ever since the spring, when she started getting deeply personal, beyond the bits that had been boiled over in years of speeches and books, as she laid out her policy—introducing her universal child care proposal in the spring by telling how she almost broke down in tears and quit working was a watershed moment—thousands of people are connecting with her viscerally, committed in a way that goes beyond website donations or showing up at campaign stops. We've seen Elizabeth Warren on the ropes, I tell her. "Yup!" she says. "And you know what? She looks a lot like she looks like right now."
"There's something about her sharing her story that makes people open up," Warren's New Hampshire state director, Liz Wester, told me over cold-brew coffee in Manchester the morning before Warren's stop in Peterborough.
In New Hampshire, Warren's campaign organizes "Big Structural Change" meet-ups of about 15 to 20 people once or twice a week. Popular topics include women's issues, student loans, and climate change. Warren's staff gets involved only to guide the conversation and encourage people who come to share their personal stories, focusing on how Warren's plans would change their lives, or would have changed their lives years ago. At the Peterborough town hall, Warren was introduced by a woman who said she'd been at a roundtable earlier in the year and been called on to tell the senator her story of having two kids headed to college while still paying off her own student debt from 20 years ago. "Since then," the woman said, "I've canvassed for her, I've marched in parades, and I tweet like crazy."
Many Democratic strategists I've talked with say they're sure that eventually voters will get real about how radical Warren's politics are, and that the Cherokee-heritage questions will come flying back with Trump screaming "Pocahontas" whenever he's taking a break from screaming "socialist." Warren has been blunt about calling for Trump's impeachment, and did not shy away from calling him a racist after his attacks on the four freshman congresswomen last week. When I asked her about the Democratic infighting that had preceded Trump's comments, she said, "I love the inclusion of voices that have been left out for far too long. But it's bumpy."
Warren skeptics think that electing a female professor who just turned 70 seems like a stretch for a country that just rejected a woman who was about to turn 70, after Democrats and Republicans alike griped for eight years about a president who often came off like a professor. "I know that nobody knows what electability is, and it's all bullshit, but it's a real issue," a Democratic consultant on a rival campaign who spoke anonymously to avoid being identified as swiping at her, but insisted that the numbers show Warren eventually running into a wall among moderate voters and among those anxious about beating Trump.
But Warren is tapping into something distinctly 2020 in the Democratic electorate: frustration with the system, deepened by Trump, yet also an exhaustion with big talk, and suspicion of more chaos that could follow from another revolution, like the one Sanders is demanding. People may want to burn down the building, but they want to see the blueprints for what comes next. "It's the planning and the ability to explain it and get things across," Ben Silver, a 29-year-old, told me after Warren's town hall in Peterborough. "It's about telling people exactly what I believe is broken and what we can do to fix it," Warren explained to reporters a few minutes later. "The No. 1 thing I hear afterwards when people come through to do selfies is, 'This gives me hope.' Hope because it really is a path forward. It's not pretend; it's not hand-waving."
Standing on a crate, trying to buck up the 50 people who didn't make it into her town hall in Peterborough, she came across as an excited schoolteacher, saying, "The bad news is that there's no more room inside; the good news is, there's no more room inside!" When a man shouted congratulations on the whopping $19 million she raised in the second quarter, which her campaign had just announced, she put both hands in the air and said, "Yay!"
Warren knows she's an odd fit for a movement leader. "The difference now is, I see the path," she told me. "I am an unexpected person to lead this movement. But I know that it's right."
---
I'd picked up that I'm a Warren Democrat button off an organizing table in Columbia, South Carolina, the night 23 candidates attended Representative Jim Clyburn's fish fry. Before heading to the event, Warren stopped by a Young Democrats happy hour at a bar downtown, surprising the organizers.
Sanders's campaign often boasts of how extensive its network is, as if everyone on his email list is ready to become a field organizer. "This is the only campaign that has over 1 million people committed to scouring this country in support of this candidate," one of his campaign co-chairs, Nina Turner, said on a call with reporters touting his second-quarter fundraising, which was $1 million less than Warren's. It's not just that Sanders supporters are jumping over to Warren, though there's a fair amount of that. "I thought I was done with Sanders before, and now I'm completely done," Chris Rowland, a 54-year-old electrical engineer, told me in Milwaukee, saying he thought the senator from Vermont's time had passed.
Markos Moulitsas, the Kos in the Daily Kos and the man behind Netroots Nation, has been watching Warren from when she first started coming to the conference as a professor trying to build support for the Consumer Financial Protection Bureau, even before she was running for Senate.* Now she's consistently winning the Daily Kos presidential straw polls. "The wonkiness is attractive, particularly in contrast with the literal opposite coming out of the current White House. But if it was the wonkiness of Warren 10 years ago, I think it would be problematic, because it would be the whole 'Democrats talk in long sentences'" thing, he told me.
In Milwaukee, I asked Mona Mustafa, a 56-year-old former paralegal who's now waiting tables at Cracker Barrel in northern Illinois, whether she was a Warren Democrat. She paused. She's a new Democrat, she said. Quietly, she told me that she'd voted for Trump in 2016, wowed by how "he does everything in public that Washington has been doing in private for two decades," but that she hadn't expected that he'd turn the federal government so much into what she called a subsidiary of the Trump Organization. "Donald Trump represents corporations to me," Mustafa said. She likes that Warren helped create the Consumer Financial Protection Bureau and doesn't take PAC money in her campaign, and that's just the start. She's voting Warren "not because she's a Democrat or Republican, but because of who she is."
Like most of the Democrats running, Warren talks about 2020 in existential, generational terms. With what she's tapping into so far, and what she's seen, I ask Warren, is she worried Trump will win?
"Look, there are two ways to answer that," she told me. "I think he won't win. But I'll worry about it every day until he has been packed up and sent to a Trump hotel on a distant island."
---
*An earlier version of this story misstated when Markos Moulitsas first became acquainted with Elizabeth Warren.