Trump's Tweets Take Down Another Career
The British ambassador's critique was precisely the variety Donald Trump can't stomach.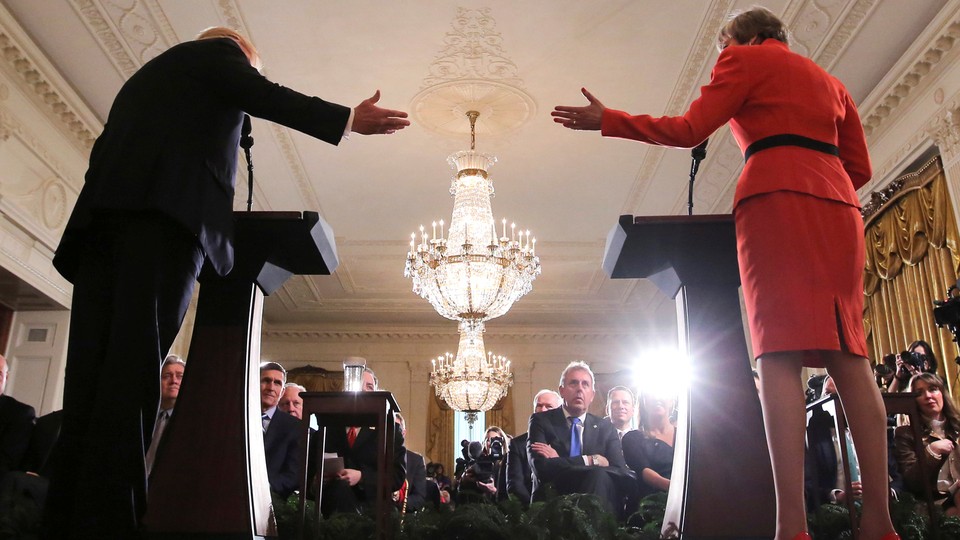 No one who has to deal with President Donald Trump can long survive his wrath once he feels he's been wronged. Rex Tillerson might still be secretary of state had press reports not revealed in October 2017 that he had privately called Trump a "moron." Five months later, Tillerson was gone (having not jumped at Trump's proposal that they square off in an IQ test). Jeff Sessions made the fatal error of recusing himself from the Russia investigation. After more than a year of emasculating the attorney general on Twitter, Trump booted Sessions right after the midterm elections.
Kim Darroch, the British ambassador to the United States, isn't sticking around long enough to endure the humiliations Trump is only too happy to inflict. Coming off the leak of private cables he'd sent back to London describing Trump as someone who "radiates insecurity" and will never "look competent," Darroch announced his resignation this morning. Darroch's critique was precisely the variety Trump can't stomach. It was personal and damning, desecrating the image Trump has painstakingly tried to construct.
For a day or so, Darroch looked like he might be able to weather the transatlantic crisis. Embassy officials were relieved to see supportive comments from British Foreign Secretary Jeremy Hunt, who's also a candidate to succeed Theresa May as prime minister. A Trump-administration official told me at the time of the leak that no efforts were under way to strip Darroch of his diplomatic credentials or insist that he return to London. Talks between British embassy officials and the White House continued even as Trump tweeted hostilities at Darroch. The president called him "the wacky ambassador" and "a very stupid guy." Darroch was not "well liked," Trump said, and "we will no longer deal with him." All that was predictable; Trump won't ignore a slight so long as it's getting traction on cable news. "I think [Trump] believes if you turn the other cheek too far, you get it in the neck," Senator John Kennedy, a Louisiana Republican, told me recently. "His instincts are always going to be to fight back."
Though embassy officials hoped that Darroch could persevere in the job, there were warning signs that all wouldn't be so easily forgiven. The White House rescinded Darroch's invitation to attend a dinner at the Treasury Department on Monday night in honor of the visiting emir of Qatar, said people familiar with the matter, who spoke on the condition of anonymity to discuss the issue. On his own, Darroch opted not to attend a meeting yesterday between British Trade Minister Liam Fox and Ivanka Trump, the president's eldest daughter and a senior White House official.
Darroch was also under pressure back home. In a candidate debate last night, Boris Johnson, the favorite in the race for prime minister, would not commit to retaining Darroch in the post.
One of the people familiar with the matter told The Atlantic that both Johnson's hesitation and Donald Trump's attacks were among the reasons Darroch chose to step down. A senior government official from a European Union country, speaking on the condition of anonymity, told The Atlantic: "There was no way [Darroch] could have stayed once Trump reacted as he did. But whoever leaked the reports has struck a blow at a fundamental element of diplomacy."
The mood inside the embassy was somber in the hours after Darroch's resignation. Supportive phone calls came in from the United Kingdom's diplomatic corps based in the United States, one of the people familiar with the matter said. "It's incredibly sad," this person said.
So many tempests sweep through Washington, D.C., these days, it seems inevitable that this one will be quickly forgotten. The city is now consumed by the status of Trump's labor secretary, Alexander Acosta, who is facing criticism for his handling of the Jeffrey Epstein sex scandal back when he served as a U.S. attorney. But in its own way, the Darroch dustup captures many of the ironies that underpin U.S. foreign policy in the Trump era. A diplomat's job is to speak candidly to his own government—which is just what Darroch did. America's foreign-policy establishment knows this to be true. In 2010, WikiLeaks dumped huge volumes of U.S. diplomatic cables that included unsparing assessments of overseas allies. In some of the secret documents, officials at the U.S. embassy in Germany described German officials as shallow in their thinking and not especially good at their jobs.
Then-President Barack Obama defended his diplomatic corps, saying in one speech that his administration wanted relationships with other countries that depend "on trust" and "on candor."
And once again, Trump's invective is directed at America's democratic allies, as opposed to authoritarian adversaries. He said he won't deal with Darroch, but he will deal with Kim Jong Un, North Korea's dictator, who has also insulted Trump, but who has made amends through a series of fawning letters that Trump has described as "beautiful."
The episode also raises anew a long-standing issue of credibility when it comes to Trump: Can we believe what he says? On Monday, he tweeted that the ambassador is not "well thought of within the U.S." Is that really the case? Because if it is, it didn't stop Trump-administration officials from attending many social functions the British embassy hosted during the past two and a half years.
Last month, I was in the audience in London when Trump and May held a joint news conference. Asked about her handling of Brexit, Trump said: "I believe the prime minister has brought it to a very good point where something will take place in the not-too-distant future. I think she's done a very good job."
Here's what he said about May in a tweet on Monday: "I have been very critical about the way the U.K. and Prime Minister Theresa May handled Brexit. What a mess she and her representatives have created."
Both statements can't be true. Darroch spoke what he saw as the truth, and for doing so, he's out. Trump said what was most expedient or useful to him in the moment. He's running for reelection.
Tom McTague contributed to this article.