The Atlantic Politics & Policy Daily: The Consensus on the Census Is …
The Trump administration is still exploring a census citizenship question, despite a Supreme Court ruling last week. Plus: the most important argument for 2020 Democrats.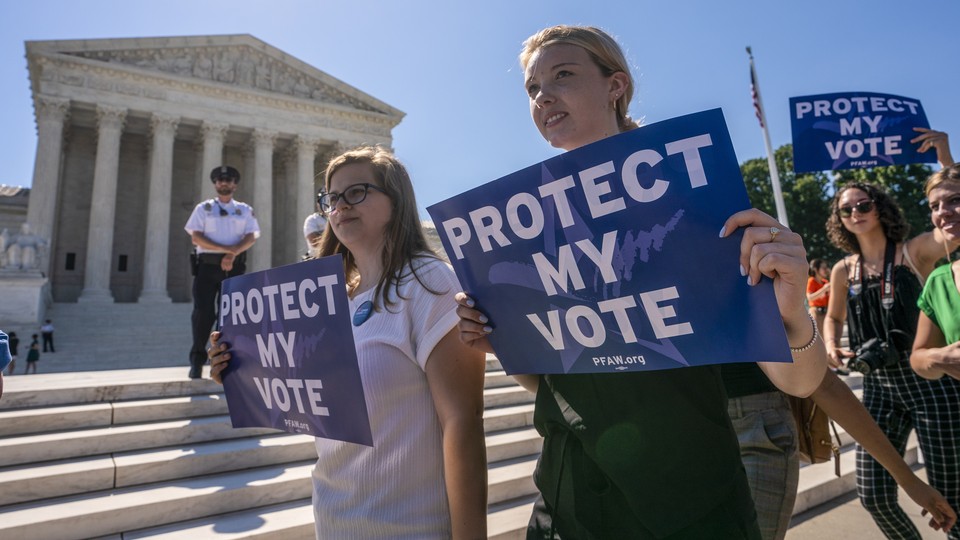 What We're Following Today
It's Friday, July 5. We'll be on hiatus all next week while I'm out on a reporting trip, but back with our dispatches on Monday, July 15.
‣ The Trump administration reportedly continues to explore ways to add the citizenship question to the 2020 census. Meanwhile, census forms are starting to be printed without it.
‣ After slow growth in May, the U.S. economy added 224,000 jobs in June.
Here's what else we're watching:
Update From the Nation's Capital: Hope you had a great Fourth of July. The president sure did! Donald Trump's "Salute to America" speech yesterday was the first time a president has spoken on the National Mall for the holiday since 1951 (the 175th anniversary of the signing of the Declaration of Independence). His address was uniquely insult-free, but the event still had the unmistakable feel of a Trump rally, Peter Nicholas reports from the event.
Old Man Joe?: If Biden becomes president in 2020, he'd be the oldest president ever elected (He'll turn 78 shortly after Election Day, beating Trump who was 71 at his inauguration, though he's still 14 months younger than Bernie Sanders.) The former vice president is arguing that voters are looking for experience—something he's got in spades. But the other Democrats believe it's high time for a new generation of political leadership.
If You Like Your Plan, Can You Keep It?: The 2020 Democrats have battled over a whole host of consequential policies, but the most significant of these—and the one that will directly affect the most Americans—is the future structure of the country's health-care system. In other words, writes Ronald Brownstein, no issue contributed more to the Democrats' midterm victory in 2018, and no issue will be more important come 2020.
---
Snapshot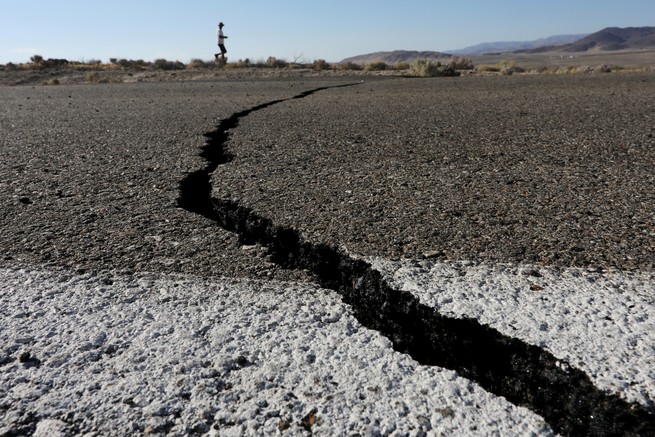 Fissures opened up under a highway near Ridgecrest, California, during the 6.4-magnitude earthquake that struck the southern part of the state. (David McNew / Reuters)
---
Ideas From The Atlantic

The Deepening Crisis in Evangelical Christianity (Peter Wehner)
"How can a group that for decades—and especially during the Bill Clinton presidency—insisted that character counts and that personal integrity is an essential component of presidential leadership not only turn a blind eye to the ethical and moral transgressions of Donald Trump, but also constantly defend him?" → Read on.
Trump Couldn't Ignore the Contradictions of His Foreign Policy Any Longer (Thomas Wright)
"Trump has carefully nurtured two images of himself—as a dealmaker, and as a militarist. Bolton did all he could to encourage the latter." → Read on.
Where John Roberts Is Taking the Court (Garrett Epps)
"The fact that Roberts decided, in at least one case, that he would no longer play rubber-stamp judge is a huge development; much of the future of our democracy depends on whether this was a cosmetic move by a reluctant Trump supporter or a genuine renaissance of Roberts's judicial conscience." → Read on.
---
What Else We're Reading

‣Reeling O'Rourke seeks a way forward (David Siders, Politico)
‣ Moderates have the better story (David Brooks, The New York Times) (🔒 Paywall)
‣ The Democrats aren't a left-wing party—they just play one on TV (Eric Levtiz, New York) (🔒 Paywall)
‣Kamala Harris is the most cynical and dishonest 2020 Democrat—and it just might work (Philip Klein, Washington Examiner)
‣ Tree planting 'has mind-blowing potential' to tackle climate crisis (Damian Carrington, The Guardian)
---
About us: This newsletter is a daily effort from The Atlantic's politics writer Elaine Godfrey. It's edited by Shan Wang.

Were you forwarded this email? Sign yourself up here. We have many other free email newsletters on a variety of other topics. Browse the full list.