Trump Commandeers the Fourth of July
Wandering the National Mall on Independence Day brought you face-to-face with a divided country.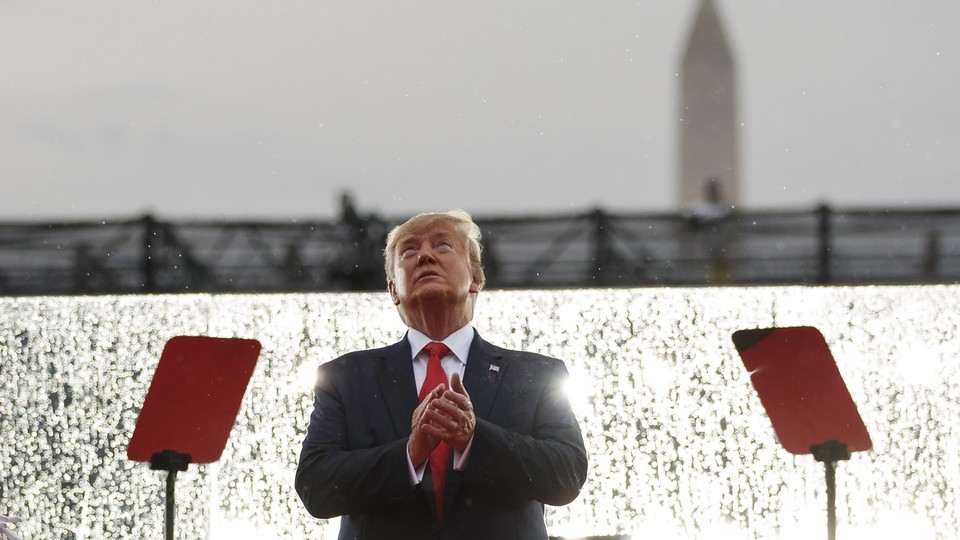 At 6:40 last night, President Donald Trump stood at the foot of the Lincoln Memorial, flanked by a pair of Bradley Fighting Vehicles, guns pointed toward the crowd.
His speech—the first July 4 address given by a president on the National Mall since Harry Truman in 1951—was unusual, by Trump standards. There was little in the way of self-congratulation; no insults were hurled at enemies. For roughly 45 minutes, the president celebrated the nation's history and its military hardware. But the event had the unmistakable feel of a Trump rally all the same. Blue "Trump" banners were draped from fencing used to contain the crowds. Chants of "Four more years!" rose from his supporters. A group standing beside the Reflecting Pool shouted "Lock her up!" (Hillary Clinton isn't running for anything, but three years after the last presidential election, she's a villain Trump and many of his supporters can't quit.)
The crowd was separated into two tiers: one closer to Trump, and everybody else, extending farther east, past the Reflecting Pool and the Washington Monument.
Rob Sanderson has no particular affection for the president. But there he was in a patch blocked off for VIPs, perfectly positioned to see the president deliver his address. A buddy who works at the Interior Department had offered him the ticket, and Sanderson, 49, who lives outside Washington, D.C., thought, Hey, why not—it's part of history. Getting in, he told me, "was pretty easy. I was surprised."
Earlier in the day, a forlorn Ron Wheatbrook, his red Trump hat soaked with rain, sat on a bench staring at a chain-link fence, far from the stage where the president would speak. He couldn't snag a ticket. He tried and failed to find one online. "I see people going in," Wheatbrook, 58, who hauls steel for a living back home in Indiana, told me in an interview. "Who are these people, and where did they get their tickets? I'm a Trump supporter. I voted for Trump. And now I can't get on the other side of that fence."
A Mall celebration that is normally "come one, come all" was split into haves and have-nots, as the choicest spots to watch Trump's speech were off-limits to anyone without a VIP ticket. Scoring one depended on who you were and whom you knew: Distribution was controlled by the White House, the Trump reelection campaign, and the Republican National Committee.
When I stepped onto the Mall at the Smithsonian Metro stop yesterday afternoon, the first thing I saw was a National Park Service volunteer showing a map to a group of tourists. He pointed to the real estate nearest to the Lincoln Memorial, the backdrop for Trump's address. "If you're a major RNC donor, you go here," he said, smiling. As I entered that VIP section from Constitution Avenue a few hours later with my press pass, I asked a young woman how she got her ticket. "I work at the White House," she told me.
The Resistance was on the case, clustered farther east on the Mall, near the World War II Memorial. A mechanical statue of a speaking, flatulating Trump was the rallying point. Sitting on a toilet, phone in hand, the Trump statue would periodically blurt out a few familiar phrases: "You are fake news" … "I'm a very stable genius" … "No collusion!" Organizers had hoped to loft into the air the "Trump baby balloon"—a rotund Trump wearing a diaper—but told me they couldn't get a permit for helium.
After singing with protesters, Roland Gutierrez, 56, headed home before Trump spoke. He said he was a Navy veteran who suffered from PTSD and told me the vibe from Trump supporters made him anxious. "A lot of hate," he said. "I don't like to be around hate. I'm not a hater. Every single person has value, even the ones wearing the MAGA hats."
Selling MAGA hats for $20 apiece was John Lang, standing beneath a canopy of trees that partially shielded people from a steady rain. Lang had driven nine hours from Lexington, Kentucky, to come to the Mall. Seeing his hats, a few people gave him a sideways look, he told me, but nothing abusive. "We're starting to speak up," he said of Trump voters, "instead of sitting back and taking it. We were feeling like we didn't have a voice anymore. That's why we're behind this guy." He said he'll vote for Trump for reelection and "maybe in 2024!" Trump's critics fear he won't leave office if he's defeated next year, or even at the end of a second term, should he win. Trump himself has been nourishing that constitutional nightmare, teasing that he'll stay president in perpetuity.
As much as the day belonged to the president, plenty of people on the Mall tuned out the spectacle. At the Vietnam Veterans Memorial, a man stood solemnly before the black granite panels reading the names of service members who died in the war. He'd square up, give a crisp salute, silently scan the names, and then move on to the next panel. I watched for a while and then approached him. He is Tom Scurrah, 69. A Marine Corps veteran who lives outside Boston, Scurrah said he reads 10 names on each panel, says a prayer for the fallen, and tries to imagine what they endured at that point in the war's history. He'd been at it for a couple of hours. In the distance, I could hear a band playing Bob Dylan's "Like a Rolling Stone": "How does it feel / To be without a home / With no direction home / Like a complete unknown."
"It's very emotional," Scurrah told me. "I see the names and think about how they perished. Veterans at that time were not liked and respected because the war wasn't liked and respected. Today it's a different story." He didn't plan to stick around for Trump's speech. When he finished, he said, he'd head out and maybe get a drink.
Trump didn't serve in the military or fight in Vietnam. He has given as reasons student deferments and bone spurs in his feet.
But in his presidency, he has sought to yoke himself to military tradition. He has sort of a boyish appreciation for hardware of all sorts. Trump has seldom looked so delighted in office as he did the day in 2017 when he climbed into the driver's seat of a Mack truck parked at the White House, gripped the steering wheel, and pretended to drive.
Late last year, he wanted a full-scale military parade. You had the sense he'd be fine with nuclear missiles rolling through the streets of Washington on flatbed trucks, the sort of image we're used to seeing out of places such as North Korea. But when local and Pentagon officials balked at the cost and logistical difficulties, Trump folded. The more modest display last night amounted to a compromise of sorts.
In his speech, Trump read off the names of various aircraft, among them B-2 stealth bombers, F-22 Raptors, and F-18 Super Hornets. As an aside, the choreography was flawless. Trump would name the aircraft, and within a minute, the planes would appear, flying low and slow over the Mall before disappearing beyond the Lincoln Memorial. Not so flawless was Trump's historical timeline. In an odd gaffe, he said that George Washington's Continental Army "took over the airports" in its fight with the British in the late 18th century. Airplanes were invented in the early 20th century.
Trump cast the military as a unifying force in American life, a theme of his speech. He opened by saying that on Independence Day, "we come together as one nation." But as he looked out at the crowd, with the towering Abraham Lincoln statue illuminated behind him, he saw in miniature a nation that is badly divided—ideologically and physically—with the best spots reserved for the well heeled and the well connected. His uplifting tone didn't last long. Within hours of leaving the stage, the teleprompter gone, Trump was back at it, retweeting messages belittling Democratic presidential candidates and calling protesters who burned a flag near the White House "communists."