What Elijah Cummings Once Told Trump in Private
Two years before calling the prominent black congressman "racist," the president was briefly humbled by him.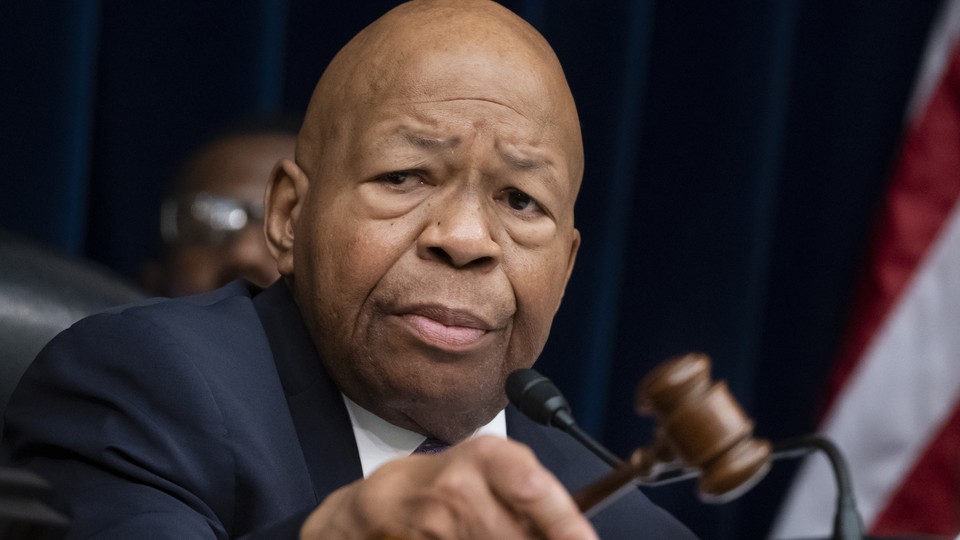 After President Donald Trump took office, I spent some time talking to people who had met with him privately in the White House, trying to get a sense of what he's like when the cameras are off.
At the time, I was a reporter at The Wall Street Journal. One of my most surprising interviews was with Representative Elijah Cummings of Maryland. The duo didn't seem like they'd hit it off when they met in the White House in March 2017. Cummings, a Democrat, is the son of sharecroppers from South Carolina; Trump, a Republican, is the son of a rich real-estate developer in New York who once faced federal allegations that his company refused to rent apartments to black tenants. When the two of them sat down to talk about lowering prescription-drug prices that spring, the conversation took an unexpected turn: They fell into a candid give-and-take about race.
During the 2016 campaign, Trump had painted black neighborhoods as hellscapes from which there was no way out. "You're living in poverty, your schools are no good, you have no jobs," Trump said at a rally in Michigan in 2016, trying to court black voters. "What the hell do you have to lose?"
Sitting together in the Oval Office that day, Cummings was blunt. The 13-term congressman told the president that his words were "insulting" and that "most black people are doing pretty good." Trump didn't get defensive or angry. He listened quietly, taking it in, Cummings recalled. "Probably nobody has ever told you that," Cummings told the president. "You're right—nobody has ever told me that," Trump replied.
They parted on good terms, agreeing to talk more. Soon enough, it all came undone. That summer, Trump would tell reporters that there were very fine people "on both sides" of the clash between white supremacists and protesters in Charlottesville, Virginia, that turned deadly.
Around that time, Cummings was growing steadily disillusioned with the president. He didn't believe that what he had told Trump earlier in the year had made any real impression. Phone calls between the two stopped. What had looked like a fledgling alliance between two men of different parties, backgrounds, and races—a rarity in this political era—collapsed. "Now that I watch his actions, I don't think it made any difference," Cummings told me after the president's first year in office. "I thought it had an impact at the moment, but his actions have not shown that."
This weekend, things took another ugly turn. Beginning yesterday and continuing today, Trump sent a series of tweets blaming Cummings for poverty in his district. Calling Maryland's Seventh a "disgusting, rat and rodent infested mess," Trump wrote that "no human being would want to live there." (Neither the White House nor Cummings's office responded to my request for comment about the president's tweets.)
One does not have to be much of a sleuth to figure out what's behind these latest effusions. Minutes before the president sent the tweets, Fox & Friends had aired a report showing trash-strewn streets and decaying buildings in the West Baltimore neighborhood that is part of Cummings's district. But the real spark may have come Thursday, when the House Oversight Committee, chaired by Cummings, voted to subpoena emails and text messages flowing from White House officials on personal accounts outside government systems, a move that could prove embarrassing to the president's daughter, Ivanka Trump, and her husband, Jared Kushner. Both have said through their attorney that they used personal accounts while working in the White House, The New York Times reported.
In his tweets, Trump wrote that Cummings "spends all of his time trying to hurt innocent people through 'Oversight.'" He complained about money going into Cummings's district and, without presenting any evidence that anything was amiss, asked how much had been "stolen."
"Investigate this corrupt mess immediately!" Trump tweeted. Who, exactly, should launch such an investigation and what, precisely, should be investigated, Trump didn't say. But it hardly matters. The message seemed like a brushback pitch aimed squarely at Cummings, a reminder that Trump, as the head of an executive branch that includes the Justice and Housing Departments, possesses a daunting arsenal of retaliatory powers against many of his opponents.
Trump's attacks on Cummings quickly drew criticism that he was once again trafficking in racist stereotypes. What defines the black-majority district, in Trump's characterization, is the poverty of West Baltimore. Ignored are landmarks such as the Inner Harbor and the acclaimed Johns Hopkins Hospital, as The Baltimore Sun noted in an editorial published yesterday.
Unmentioned by Trump was the district's median income of $61,000, a sum exceeding that of the nation as a whole. Cummings, the newspaper wrote, "has been a thorn in this president's side, and Mr. Trump sees attacking African American members of Congress as good politics, as it both warms the cockles of the white supremacists who love him and causes so many of the thoughtful people who don't to scream."
Is this good politics, though? Trump can't seem to decide. He oscillates between courting black voters and pushing them away, depending on the moment and his mood. Last week, Trump declared that Sweden has "let our African American community down in the United States" after the government refused to release the American rapper A$AP Rocky, who is being held in the country on assault charges. (In reply to the president's tweet, Swedish officials have said they're beholden to the quaint notion of rule of law.)
Trump's claims that black joblessness has dropped on his watch obscure a more complicated reality. Yes, the unemployment rate has been falling, as it had been for years during Barack Obama's presidency. But black unemployment is still double that of white unemployment, and the wage gap between the races is worsening, said Valerie Wilson, director of the program on race, ethnicity, and the economy at the Economic Policy Institute, a think tank. "The most that we could say [about falling black unemployment] is that he hasn't done anything to reverse that trend—not that he's been helpful," Wilson told me.
The president's efforts to make headway with black voters often end in self-sabotage. No issue in U.S. politics is more fraught than race, yet Trump roils these waters with a heedlessness that ignores centuries of history, and slavery's long-tail economic and social effects on black Americans today. Just two weeks ago, Trump tweeted that four minority congresswomen should "go back" to the "totally broken and crime infested places from which they came." His approval rating among black voters dropped five percentage points in the days following those insults, a Hill-HarrisX poll released last week showed.
Joel Benenson, a strategist for Hillary Clinton's 2016 run and both of Barack Obama's successful presidential campaigns, predicted that the president's racist attacks will boost anti-Trump turnout in 2020, mobilizing a swath of the electorate repelled by his behavior. That's what happened in the 2018 midterm elections—in which Democrats captured the House on the strength of unusually high turnout, he said. "What it does is energize all decent Americans who tend not to be sympathetic to Trump's persistent, disgusting racist tweets and tirades," Benenson told me.
After returning to the White House from a golf outing this afternoon, Trump called Cummings "racist" in a tweet. Don't expect any sort of détente anytime soon. Still, there's something sad about how this latest episode unfolded. Go back to that early meeting in the Oval Office, when Cummings hoped to change Trump's thinking on race and, according to Cummings, Trump was attentive and willing to listen. Here was Cummings offering to cross party lines and partner with Trump on policy; there sat Trump giving him an audience.
What if Trump had internalized Cummings's message that day? Would he have cultivated a more diverse mix of voters rather than betting everything on an aging white base? Instead of viewing Maryland's Seventh District as one congressman's burden, might he have seen it as a shared responsibility? Instead of showcasing poverty-stricken streets via Twitter, might he have invited Cummings to tour the district together and talk about solutions?
That's not Trump.
The meeting ended, and vanity took hold. A month after that Oval Office meeting two years ago, Trump told The New York Times that Cummings had assured him, "You will go down as one of the great presidents in the history of our country."
What Cummings actually said is that Trump had that potential.
We're seeing the reality play out today.