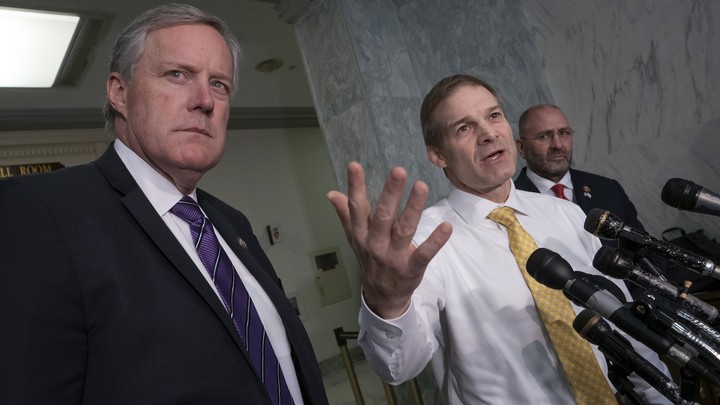 The two-year, $2.7 trillion budget deal before Congress this week forced Republican lawmakers to answer a tricky question. Which is stronger: their seemingly unswerving loyalty to President Donald Trump, or their equally reflexive opposition to Speaker Nancy Pelosi?
Yesterday, it appeared to be the latter. House Republicans overwhelmingly rejected Trump rather than siding with the Democratic leader, voting by a ratio of 2 to 1 against an agreement that exposes, once again, the president's disinterest in fiscal restraint. The measure would lift the debt ceiling until 2021 and unlock spending caps in favor of higher funding levels for the military and domestic programs. Out of 197 Republicans, just more than two-thirds—132—voted against the deal, which was negotiated largely by Pelosi and Treasury Secretary Steven Mnuchin.
On some level, this vote was about conservatives in Congress returning to their Tea Party roots, standing up against a Big Government deal that would rip up the Budget Control Act of 2011—perhaps the signal victory of the right's anti-spending push in the Barack Obama era. Yet what makes this vote peculiar is that it's hard to read it as anything other than a rebuke of Trump, even as the same lawmakers who have led the charge against the budget deal have risen to the president's defense against all manner of alleged transgressions. It's the latest sign of tensions among Republicans in Washington that have recently bubbled to the surface.
"This is a bad deal for the president. It's a bad deal for conservatives," wrote Representatives Mark Meadows of North Carolina, Jody Hice of Georgia, and Warren Davidson of Ohio—all members of the House Freedom Caucus and stalwart Trump backers—in a USA Today op-ed. "Most importantly, it's a bad deal for the forgotten men and women who voted to shake up Washington, D.C. when they sent President Trump to the White House. This is not draining the swamp—it's feeding the swamp and entrenching the status quo."
This revolt on spending is also unusual because congressional Republicans have encountered this choice before: Under a House controlled by the GOP a year ago, a majority of Republicans backed similar increases in spending despite a lukewarm push from Trump. This time around, the president has given the deal his wholehearted endorsement. "House Republicans should support the TWO YEAR BUDGET AGREEMENT which greatly helps our Military and our Vets," Trump tweeted before the vote. "I am totally with you!"
Read: A domestic budget to make Barack Obama proud
There were differences in circumstance between the two votes. Last March, Republicans were tired of fighting over spending after a 35-day shutdown that Trump had demanded earlier in the year. Though this year's deal would increase the debt limit, it's still only a budget agreement that would pave the way for nitty-gritty negotiations in the fall; last year's deal was final. And because Pelosi corralled so many Democrats to vote for this year's agreement—despite complaints from liberals that it would give the Trump administration too much budgetary flexibility—Republican support wasn't ultimately needed to pass the deal.
There is no longer any doubt that the Republican Party is fully Trump's party. The Robert Mueller hearings demonstrated that many GOP lawmakers embrace, and in some cases eagerly join, the president's attacks on the former special counsel's investigation. The one Republican who has dared to back impeaching Trump over the matter, Representative Justin Amash of Michigan, abandoned the party, rather than being thrown out in his next GOP primary. Republicans on Capitol Hill have, for the most part, either stood silent or defended the president's recent racist attacks on four Democratic congresswomen.
Yet just below the political radar of most Americans, there is a lingering frustration with Trump among Republicans in Congress, and the budget vote is the freshest example. The administration has clashed with GOP lawmakers who oppose the president's push to crack down on prescription-drug prices, which has threatened the alliance between Republicans and the pharmaceutical industry. Similar resistance from conservatives has hampered Trump's efforts to deliver a long-promised victory on infrastructure.
On Monday, at the direction of Majority Leader Mitch McConnell, the Senate will hold votes to override Trump's veto of three resolutions to block arms sales to Saudi Arabia and the United Arab Emirates. The measures are expected to fall short of the two-thirds majority needed to pass, but the votes will provide another opportunity for a bipartisan rebuke of Trump's foreign policy. Two of the president's staunchest allies (and onetime primary rivals), Senators Lindsey Graham of South Carolina and Rand Paul of Kentucky, backed the resolutions disapproving of the weapons deals. Senate Republicans, according to The Washington Post, are also balking at Trump's response to Turkey's purchase of a Russian antimissile system, which angered GOP senators advocating a tougher policy toward both regimes.
None of this adds up to a GOP mutiny against the president. Trump can still count on support from his party where it matters most—whether it's in ensuring his legacy by installing conservative nominees to lifetime appointments on the federal bench or in protecting his presidency from the threat posed by impeachment. And they may be tied closer together as the 2020 election draws nearer. But if these minor revolts on the budget, drug pricing, and foreign policy demonstrate anything, it's that the image of Trump as the puppet master of congressional Republicans is overly simplistic, and that his grip on the party is not always as strong as it appears.
We want to hear what you think about this article. Submit a letter to the editor or write to letters@theatlantic.com.
Russell Berman
is a staff writer at
The Atlantic
, where he covers politics.