All About That Base
With his attacks on Democratic women of color and his threats to undocumented immigrants, President Trump has only one small audience in mind.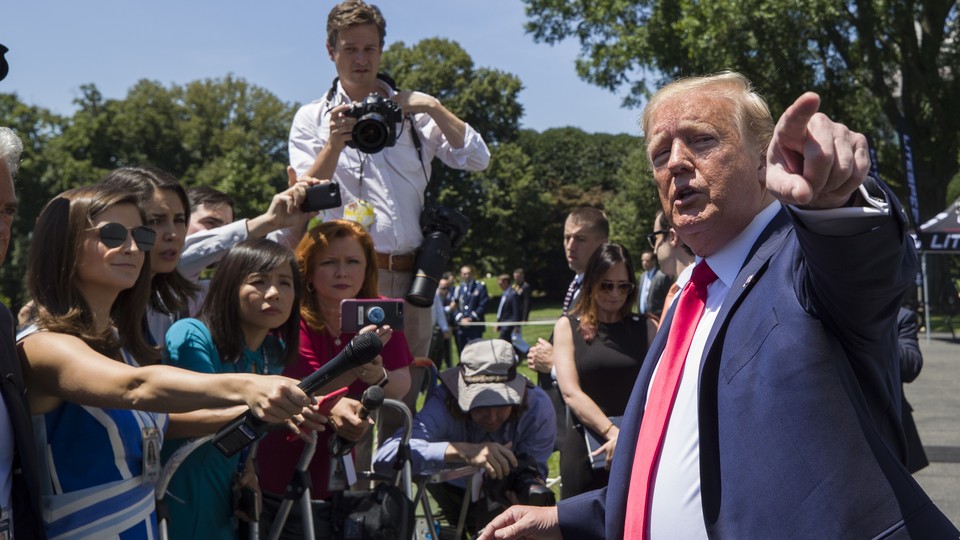 A day after President Donald Trump tweeted that four women of color in Congress should go back to the countries "from which they came," a reporter asked him today if he's troubled at all that his comments have been called racist, and that white nationalists have found "common cause" with him "on that point."
"It doesn't concern me," the president replied, "because many people agree with me."
It's easy to read Trump's tweets or watch his public appearances and see someone who's filled with grievance and lashing out mindlessly in all directions. But Trump's actions over the past five days fit within the strategy he has mapped out for capturing a second term: mobilizing his conservative base by any means necessary, using the tools and trappings available only to a sitting president. And perhaps no comment from Trump sums up his approach quite so well as his justification that "many people" share his views. Who are these people? Trump doesn't say. But it seems clear he believes it's the people who voted him into office.
The consistent message coming from Trump is that his core voters are under siege. Immigrants are crowding them out, he argues. Courts are messing with the census and preventing an accurate count of who is living in the U.S. legally and who is not. Big tech companies are suppressing their voices, he says. By casting himself as the champion of older white voters, he is promising to battle the broader demographic trends and technological forces that might discomfit his base.
A verity of American politics is that the game is about addition. A successful candidate preserves his core support and builds out. Yet more than a year before the 2020 election, Trump has shown no appetite for enlarging his coalition. He seems content to win or lose with the ones who got him this far. "The president has, since the day he was elected, focused his attention on stimulating and energizing the people who were already for him—often at the expense of people who are not," Whit Ayres, a Republican pollster, told me. "He's made no effort at all to expand his base of support."
In the latest display of base-centric politics, Trump cast the Democratic congresswomen as malcontents who aren't truly American. Speaking to reporters outside the White House today, following even more tweets about the lawmakers, Trump doubled down on his criticism, singling out Representative Ilhan Omar of Minnesota and calling the country of her birth, Somalia, "a failed state."
Of the broader group, he said: "These are people who hate our country. They hate our country. They hate it, I think, with a passion."
Dissent, as expressed repeatedly by the congresswomen, is a rich tradition in a country that has enshrined free speech as a constitutional right. Trump is making an argument here that it is un-American. He can't evict the lawmakers, but he can deport those who are living here illegally and, in recent days, he's escalated threats to do just that.
During a Rose Garden address on Thursday, Trump brushed aside a court defeat that prevented his administration from using the census to find out who's living in the country illegally. Instead, he said, he would order federal agencies to give him the answer using data they've already compiled. He also warned that federal agents would be rounding up undocumented immigrants in large-scale raids set to begin over the weekend.
Just before that address, Trump presided over what the White House had billed as a "social-media summit" but had more the flavor of a campaign rally in the East Room. Missing were representatives from the major tech titans Facebook, Google, and Twitter. Present were a slew of conspiracy theorists and internet agitators whose memes and messages have sought to marginalize Trump's political opponents. "The crap you think of is unbelievable," the president told the crowd, admiringly.
In a speech that meandered every which way, Trump suggested that Twitter was reducing his number of followers out of spite; boasted of the attention paid to his tweet announcing that the U.S. would recognize Israeli sovereignty over the Golan Heights; ridiculed Arnold Schwarzenegger's performance on his old show The Celebrity Apprentice; claimed that his hair is authentic; and argued that his chief 2020 foe, former Vice President Joe Biden, can't draw large crowds to his campaign events.
To the extent that there was a coherent thread through his remarks, it was that he and his supporters are victimized by elites in the press and the tech industry who don't like their politics. "But with amazing creativity and determination, you're bypassing the corrupt establishment—and it is corrupt—and you're bypassing the very, very corrupt media," he told his audience.
In practical terms, nothing Trump did or said over the past few days changed much of anything.
Trump's social-media summit seems to have been nothing more than a chance for him and his internet army to vent.
Regarding his Plan B for the census, his explanation made little sense: If he could acquire citizenship data "in greater detail and more accurately" from federal agencies—as he said in the Rose Garden on Thursday—why did he fight in court to get a citizenship question added to the census in the first place?
His attacks on the congresswomen—Omar, Alexandria Ocasio-Cortez of New York, Ayanna Pressley of Massachusetts, and Rashida Tlaib of Michigan—are uniting a Democratic caucus that has been at odds over policy and whether to launch impeachment proceedings against Trump. House Speaker Nancy Pelosi, who has traded criticism with the congresswomen, immediately came to their defense, tweeting that Trump's comments demonstrate that his real goal is "making America white again."
And there is no evidence that yesterday was the starter gun for the massive Immigration and Customs Enforcement raids he promised. It seems likely that Trump's purpose wasn't to actually deport more people so much as to telegraph to his base that he wanted to deport more people. The intention might be enough. "For him, he wants to say, 'Look, I'm out in front on this. I told you I would do this, I'm doing it. Here we go.' From a political perspective that's certainly the case," says Erin Corcoran, the executive director of the Kroc Institute for International Peace Studies and an expert on immigration law.
Taken together, Trump's actions suggest he's confident he can get reelected through his base alone. Past presidents have sought to expand their core support ahead of reelection, with some success. Republican George W. Bush, for example, increased his support among Latinos by about 10 points between 2000 and 2004, leading to a more comfortable margin of victory the second time around.
Trump's strategy amounts to a gamble. He won 46 percent of the popular vote in the 2016 election (compared with 48 percent for Democrat Hillary Clinton) and his job-approval rating, according to Gallup, has never exceeded that number over the two and a half years he's been in office. Trump won last time by narrowly flipping three states that had reliably delivered for Democrats for the past two decades: Pennsylvania, Wisconsin, and Michigan. "He managed to draw an inside straight in 2016, and won three critical Rust Belt states," Ayres said. "If that's the strategy for 2020, the question is whether you can draw an inside straight two hands in a row."
Trump must hope that a diversifying America is no match for an energized base that both delights in his attacks on political opponents and shares his vision for the more racially and ideologically homogeneous country they knew in their youth. He hasn't changed much in the past three years, and he's betting the electorate hasn't changed much, either.