The 'Religious Freedom' Agenda
Trump-administration officials are using a two-word phrase as a rhetorical Swiss Army knife on the world stage.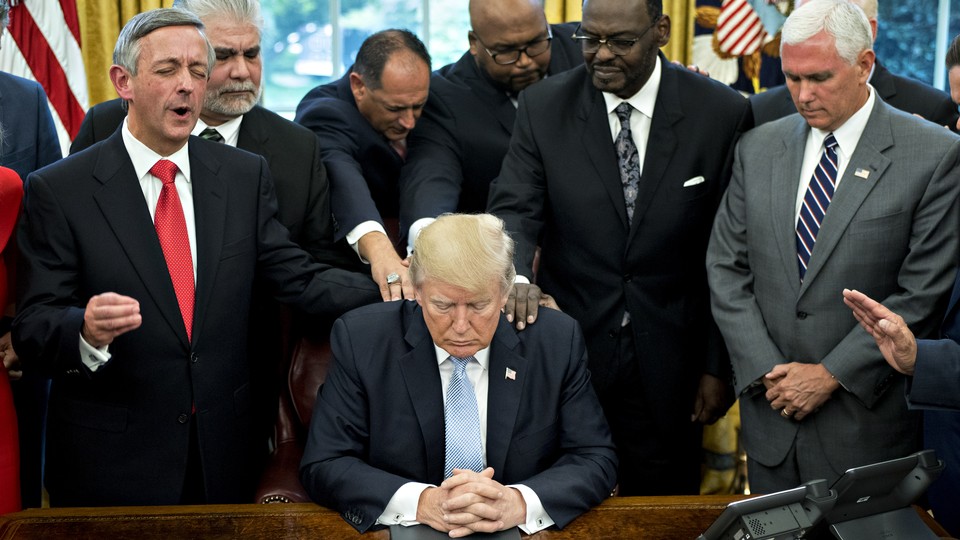 Behind the Oval Office circus of drama and distraction, conservatives are quietly reshaping government in ways that could resonate for generations to come. One major front is the integration of religion into foreign policy, in which the phrase religious freedom figures prominently—in the same way it did during the George W. Bush administration. As it is not partial to any particular religion, religious freedom avoids running afoul of the Constitution's establishment clause. It also has a footprint in the existing federal bureaucracy. The State Department's Office of International Religious Freedom, headed by an ambassador-ranked diplomat, has been around since the late 1990s. This week, Ambassador Sam Brownback, who heads the office, will host the second annual Ministerial to Advance Religious Freedom, along with Secretary of State Mike Pompeo. "Nobody disagrees with religious freedom," Brownback told me in an interview last week. "Well, the Chinese do," he added.
One hundred and fifteen foreign ministers are expected to attend the ministerial, along with persecuted Yazidis, Uighurs, and Andrew Brunson, an American pastor who was imprisoned in Turkey for 21 months. The event may help institutionalize God's preeminent role in Trumpist-American statecraft, something that is already apparent from the administration's rhetoric. President Donald Trump cited God to explain the April 2017 Syria air strikes; Vice President Mike Pence has used the Bible to explain the movement of the U.S. embassy from Tel Aviv to Jerusalem. When asked recently if God might have engineered Trump's election to protect Israel from Iran, Pompeo, who keeps a Bible open in his office, replied, "As a Christian, I certainly believe that's possible."
Looking down last week from Brownback's fifth-floor office in the Harry S. Truman Building in Washington, D.C., past the engraved tablets with the Ten Commandments and the Kansas City Chiefs football helmet on the window sill, I could see large white tents raised in the courtyard to accommodate the crowd for the upcoming ministerial. Inclusivity will be the order of the day. One panel will include victims of the San Diego synagogue shooting, the Sri Lanka Easter bombings, and the attacks on two mosques in Christchurch, New Zealand. The pluralism contrasts with Trump's comments about Islam. He has often characterized Muslim immigration in particular as being a threat to Western security. Instead of the Barack Obama–era and State Department–preferred phrase radical Islamist terrorism, Trump and Pence speak provocatively about "radical Islamic terrorism," which links the religion with the violence.
When talking with counterparts from the Arab world, Brownback told me, he often finds the best approach is to give voice to his own spiritual life, presenting himself as one person of faith speaking to another. Religious minorities, he said, "have to be free to be able to choose" among faiths, because "God created us to be free. A government can't infringe upon that right." God, he went on, "didn't make us robots. Could have. Didn't. Well, why didn't he? He knew we wouldn't all make the right choice, right? So there must be something incredibly valuable to this right to freedom, in God's eyes."
Along with Pompeo's new Commission on Unalienable Rights, a 10-member panel tasked with questioning the premises of contemporary human-rights discourse, one can see in the ministerial an effort to make Washington the center of a global faith-based conservative order, with its own doctrine of intervention and hierarchy of values—an order that seeks to augment, and perhaps even compete with, the existing liberal one.
Brownback, who was an early advocate of U.S. intervention in what would become the Darfur genocide in Sudan, has been a vocal critic of China's repression of religious minorities, especially Uighur Muslims, in the Xinjiang region. Pentagon officials have put the number of detained Uighurs at as high as 3 million. Brownback said it was "a million–plus," and called the mass-detention centers "concentration camps." He has demurred when asked about the possibility of sanctioning Chinese officials. So far, the administration has held off on any action as trade negotiations unfold. When I asked him about the chances that Washington could influence Beijing's behavior in Xinjiang, Brownback said that he believed it could be done through "focus by the global community on China, saying you cannot lock up people of a certain faith just because you're trying to control them." The issue, he said, is larger than just detention. "It's the Big Brother police state that they've put on top of the individuals there … I'm not going to lock you up. I'm just going to make it such that you can't buy and sell, you can't go to school, you can't get an apartment. Otherwise, have a very nice life."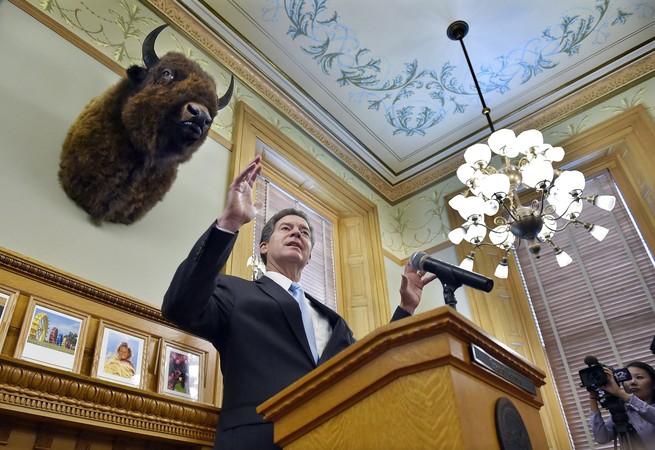 Somewhat like human rights and economic development, religious freedom is a rhetorical Swiss Army knife—a versatile generality, half tool and half weapon, that no reasonable person can oppose. In the United States, support for religious freedom cuts across party lines. The International Religious Freedom Act, which created Brownback's office, was signed into law by Bill Clinton in 1998. Yesterday, State announced that a scheduled panel today with Brownback and former Representative Frank Wolf would also include House Speaker Nancy Pelosi. Religious-freedom-based appeals have been especially useful for Christian conservatives, who have used the term to rally support for the Cold War, chip away at prohibitions on church-based political endorsements, and defend the public observance of Christmas.
In 2016, Martin R. Castro, who was appointed by Obama to chair the U.S. Commission on Civil Rights, wrote that religious freedom is often used as a "code word" for "discrimination, intolerance, racism, sexism, homophobia, Islamophobia," and "Christian supremacy." Indeed, religious-freedom arguments were deployed by Hobby Lobby in its 2014 Supreme Court case to successfully argue against its obligation under the Affordable Care Act to offer contraception to employees. More than 100 statehouse bills across the country use religious freedom as the grounds for everything from campus free-speech policies to discrimination by private businesses against same-sex couples.
Under Trump, religious freedom has assumed what is arguably an unprecedented dominance in foreign affairs. Pence and Pompeo, both of whom speak often of their Christian faith, have used it to connect disparate parts of the administration's policy, including post-ISIS reconstruction, criticism of Chinese mass surveillance and Iranian repression, and wrangling over Russian influence in Ukraine. Those who argue, as Brownback has, that "religion is upstream from politics and government" are usually seeking to give it a larger public role.
Religious freedom, Brownback told me, is not limited to Christianity. "I think we have a special obligation to stand for religious freedom for everybody, everywhere," he said. "It was in our founding … It's a backbone, fundamental issue for us. It's something that we hold very dearly. But other countries—they don't have the same attachment to it as we do."
At the same time, he doesn't want the United States to be slow to come to the defense of Christians. "Some people," he said, "don't want us to stand up for Christians, because they don't want to be too supportive of Christians. To which I respond, I think we need to stand up to religious freedom for everybody, everywhere. And that includes Christians." And Buddhists, Hindus, Jews, Muslims, Zoroastrians, Yazidis, and "religions people haven't heard of," as well, he added. The administration seems to be most vocal about a lack of religious freedom in the countries, such as China, Cuba, and Iran, that it opposes for strategic reasons. Narendra Modi, the prime minister of India, has escaped the same level of harsh criticism, despite having been excluded from U.S. travel in 2005, and later under Obama, by the office Brownback now leads. The 2005 denial, when Modi led Gujarat state, was for "particularly severe violations of religious freedom," relating to what the State Department called "complicity" in riots that led to the deaths of more than 1,000 Muslims.
Brownback told me that his role is "to shine a light" on religious persecution, but Trump's willingness to let purely moral considerations drive policy appears to be limited. In Myanmar (also known as Burma), where government-abetted violence has killed more than 10,000 Rohingya Muslims and forced the expulsion of roughly 1 million more, Brownback's outspoken criticism, as with Xinjiang, has run ahead of the administration's broader response. Limited sanctions of Burmese officials have failed to slow violence on the ground. United Nations investigators have called for the violence to be investigated as a possible genocide. The United States, thus far, has not. In 2018, Brownback did speak up publicly against Recep Tayyip Erdoğan over Brunson's detention, saying at one point that the Turkish president was "not acting like much of an ally." The issue soured U.S.-Turkey relations, and Trump continued to press on it until Erdoğan relented.
Among the State Department-designated "countries of particular concern"* for serious violations of religious freedom are China, Eritrea, Iran, Myanmar, North Korea, and Sudan. Saudi Arabia, Pakistan, Tajikistan, and Turkmenistan are also flagged, but with a waiver that lets them avoid the threat of religious-freedom sanctions. "We do push the Saudis about it," Brownback told me. "When it's [an] ally, a lot of times it's done on more specific items and sometimes in a quieter fashion." Uzbekistan, meanwhile, sent four officials to last year's ministerial following a meeting between Trump and Uzbek President Shavkat Mirziyoyev. It was subsequently upgraded from Country of Particular Concern to the less-serious Special Watch List.
Pompeo's new commission, launched last week with a Wall Street Journal op-ed and a press conference, is another prong of the broader effort to recast the foundations of U.S. foreign policy. The commission will be headed by one of Pompeo's longtime mentors, the conservative Harvard Law jurist Mary Ann Glendon, who has criticized same-sex marriage and abortion rights. Pompeo has said that the commission's goal is to refocus the definition of human rights around originalist readings of the Founders, the 1948 UN Universal Declaration of Human Rights, and the Declaration of Independence, which locates the origin of "inalienable rights" in a "creator." Pompeo hasn't been specific about the problems that he perceives with the current human-rights discourse, but he has raised the issue of it being "corrupted or hijacked," as well as some rights coming into conflict with others.
Critics worry that the commission's stated focus on "natural" and "unalienable" rights could mean reversing the LGBTQ community's hard-won and very recent progress toward equality and the right to marry. Last year's ministerial included a panel on the "politicization" of human rights that promised to explore "why natural rights are best protected when they are protected for all, not for members of particular identity groups." (The schedule for this year's ministerial includes a panel on how to "harmonize" freedom of religion with the rights of women and "L.G.B.T." people, co-sponsored by Human Rights Watch.) Brownback, when repeatedly pressed by Senator Tim Kaine of Virginia at his confirmation hearing, did not rule out the possibility that religious freedom could justify the criminalization of identifying as LGBTQ.
Tim Rieser, a foreign-policy aide to Senator Patrick Leahy of Vermont, called Pompeo's new commission "bizarre," and told me that he and his Republican colleagues on the Hill have been asking for a briefing since late May. "Having finally learned the identity of the commissioners," Rieser added, "our concern about the State Department's motives has only increased."
Brownback told me that the commission "is a lot more straightforward than people are trying to imagine it to be … It's really to get back to what are the basics on this." Iran and Cuba are among the worst offenders of religious freedom and press freedom, he said; nevertheless, they are permitted to weigh in on the international human-rights conversation at the United Nations.
Last year's ministerial culminated in a declaration and plan of action. Both were optimistic and also vague, which is normal for diplomatic documents seeking to articulate a common understanding across dozens of countries. At a minimum, this year's ministerial should be a rebuke to anyone who considers the Trump administration to be lacking the noncoercive cultural influence known as "soft power." Brownback told me that he hopes for a grassroots religious-freedom movement "around the world." But in places such as Saudi Arabia and China, the ideal of religious freedom may continue to yield to the transactional.
"There will always be places where our security—keeping America safe—forces us to deal with some folks that you wouldn't want running your Boy Scout troop," Pompeo said in an interview yesterday with Sean Hannity. "We'll have to make those decisions on a case-by-case basis."
---
* This article has been updated to clarify that Adam Schiff graduated from Stanford University before attending Harvard Law School.