'It Makes Us Want to Support Him More'
Amid a convulsive week in American politics, at one of the darkest rallies Donald Trump has ever held, his base showed up in force to tell the president he's done nothing wrong.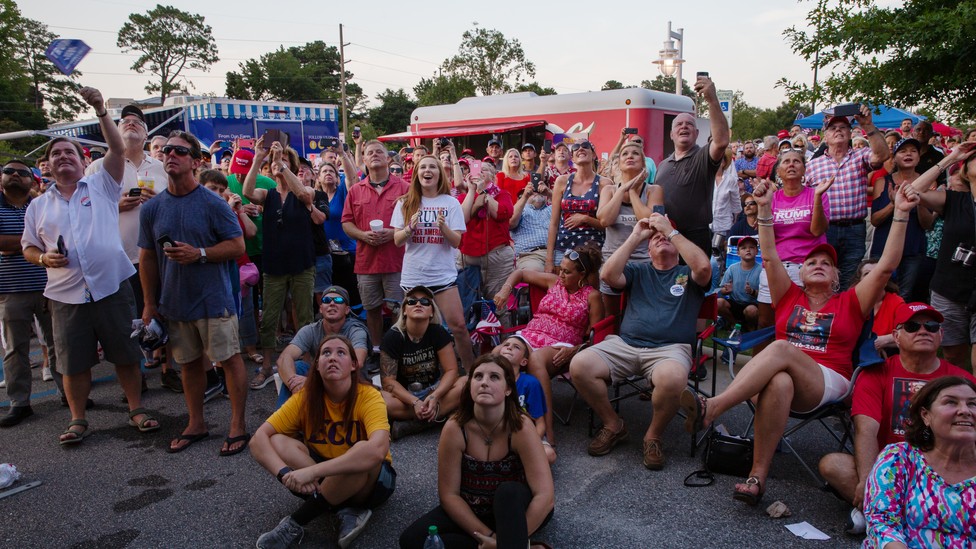 GREENVILLE, N.C.—Before the rally began, I wanted to know why they'd come.
In the heavy, humid hours, I walked up and down the line winding through a parking lot at East Carolina University to interview some two dozen people who wanted to see the president. Many didn't make it inside. About 90 minutes before Donald Trump took the stage, police announced that the 8,000-person basketball arena was full and those still waiting would have to watch on an oversize TV monitor set up outside. Rather than head home, they stuck around for a tailgate party of sorts.
Some cracked open beers and lit cigars, sitting on folding chairs in front of the TV. People walked by in shirts that read In Trump We Trust and Fuck Off, We're Full. Earlier, in the 100-degree heat, a four-member family band called the Terry Train entertained the crowd with a song mocking CNN. Lying Wolf Blitzer and Lying John King. Don Lemon lies about everything … Erin Burnett, can you hear us yet? We'll give you a story you can never forget. It built to this refrain: CNN sucks!
The event itself would soon turn into one of the darkest of Trump's political career, with the president road testing a new enemy and eliciting from the crowd a fresh, frenzied three-word chant: "Send her back!" But even before he appeared, this week in American politics had been a convulsive one. Trump tweeted racist attacks on four Democratic congresswomen of color—including Ilhan Omar of Minnesota, the target of "Send her back!"—and the House, in turn, rebuked the president in a party-line vote.
Trump's coarsening of political debate always leads to the same question: Did he go so far as to alienate even some of his own supporters? Did his blowing past the boundaries of acceptable discourse render him unelectable? That his base showed up in force last night, parroting his attacks on the congresswomen, once again showed that, for these voters, the answer is no. (Whether the suburban white women and independent voters who were part of his 2016 coalition feel the same is far from certain.)
Talking with the rallygoers, I couldn't find one who faulted Trump for demonizing the freshman representatives, all four of whom are American citizens, calling on them to leave the United States and return to the "totally broken and crime infested places from which they came." A few conceded that Trump occasionally fires off an inappropriate tweet, but said his accomplishments in office overshadow any offense. If anything, they said, his language springs from an authenticity they find refreshing. None of the people I spoke with considered his comments about the congresswomen racist.
"He's not always the best at how he handles his emotions," said Christian Carraway, 32, of Greenville, sitting on a folding chair outside the arena and waiting for Trump to appear. "He's a very emotional guy. Passionate. But I like his policies and I think he has good intentions."
All seemed to accept Trump's slight reformulation of his original tweets. Trump's initial messages had a hard edge: "These places need your help badly, you can't leave fast enough." Amid an uproar over his comments, Trump reworked the argument a bit: He now says that if the congresswomen want to leave, they're welcome to do so, but they're also free to stay.
It doesn't appear that Trump's supporters inside the arena, with their "Send her back!" chants, believed his message needed any softening. One thing was certain: When Trump stepped behind the podium, he looked out at an audience that was fertile ground for continued attacks on the four representatives—a crowd that believed the congresswomen may have deserved what they got.
Here, a few snapshots.
---
Cheryl Stacy, 64, a retired nurse from Beaufort County, North Carolina
"Everything he says is how I feel," Stacy said. "I feel like, 'Hey, man. You hate the country, you don't like it, you trash the country—get out of the country! Move on!'"
On the House resolution that labeled Trump's attacks on the congresswomen racist: "I don't think they were racist at all. I know this president. I've been to his inauguration, been to his other rallies. Everything he says I agree with," she said. "He's speaking for me. He may be a little rough around the edges, but he's not a politician. I'm a little rough around the edges in this interview, but I love this country."
As for Trump's tweets: "Everybody's tweeting crazy things. Everybody is! Why point the finger at him?"
---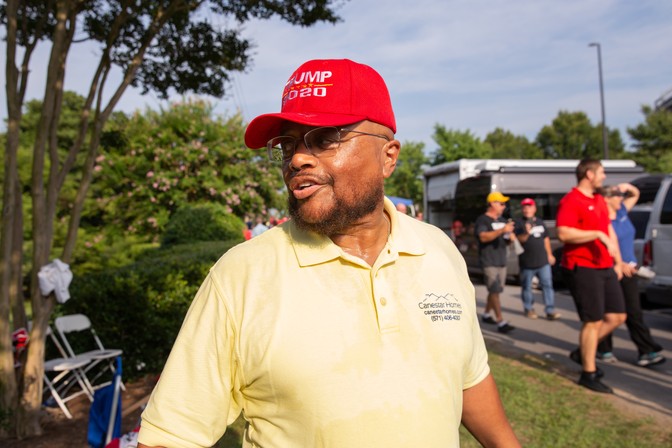 Lee Chambers, 69, a real-estate agent and retired Air Force officer from Gainesville, Virginia
"He didn't say anything in his comments about race," Chambers said. The representatives "happen to have views that are toxic, especially for members of Congress. They lie to advance their cause."
Chambers was one of the few African Americans I saw in the crowd outside the arena. Asked whether he faces criticism for backing Trump, he laughed: "The only time I've gotten heat is at my family reunion." He mentioned his red pro-Trump hat: "I've got five different hats. I just bought another one. I'm excited. I want people to know that there are people who support this president." At his family reunions, "they told me don't wear my Trump gear again. And I told them, 'It's a free country.'"
---
Randall Terry, 60, an anti-abortion activist from Memphis and the father of the Terry Train band members
Trump's comments about the congresswomen were "not even remotely racist," Terry said. "It was only about the systems of government from where they're from. These wenches. These disrespectful wenches criticize our country incessantly.
"Well, Ilhan Omar, go back to some Middle Eastern country where you'd be afraid to live under Sharia law! I'm of Italian descent. I don't care what color the skin is … You don't like America? Go back to where your ancestors are from and then try to make that country better."
---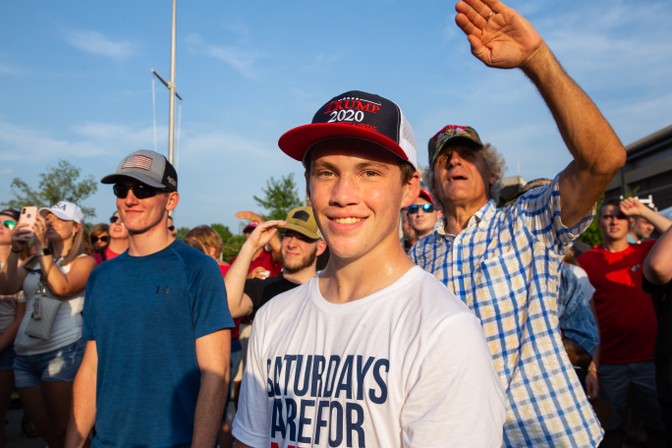 Matthew Ritchie, 18, an incoming student at Texas A&M University from Kernersville, North Carolina
"I want to be here. I feel unity here. Everyone is like-minded here and celebrating the U.S. and our president," Ritchie said. Trump "has done a good job so far. He's been able to get more jobs back into the U.S. They're building more cars here; the economy is growing."
Could he imagine casting his first-ever vote for someone other than Trump? "If there were grounds for impeachment, I would look at those. But it would have to be very credible for me to change my mind." As for Trump's tweets about the congresswomen, "I don't believe it was racist. He's just making a point and speaking his mind. That's important. There aren't enough people who say that nowadays. Everyone is politically correct. You can't get out what you want to say. I like that in a person. He speaks from the heart and speaks his mind."
---
Darlene Schadt, 69, a real-estate agent from High Point, North Carolina
"One thing 'the squad' keeps saying is that he's not legitimate," Schadt said. "How ridiculous." What Trump said about the congresswomen "was okay with me, because I felt the same way. You can be critical, but you can't be vile and constantly ugly. Every way of life that we Americans like, they disagree with. They have that kind of venom going on." Trump's critics "throw shit at him every day, all day long. It makes us want to support him more."
---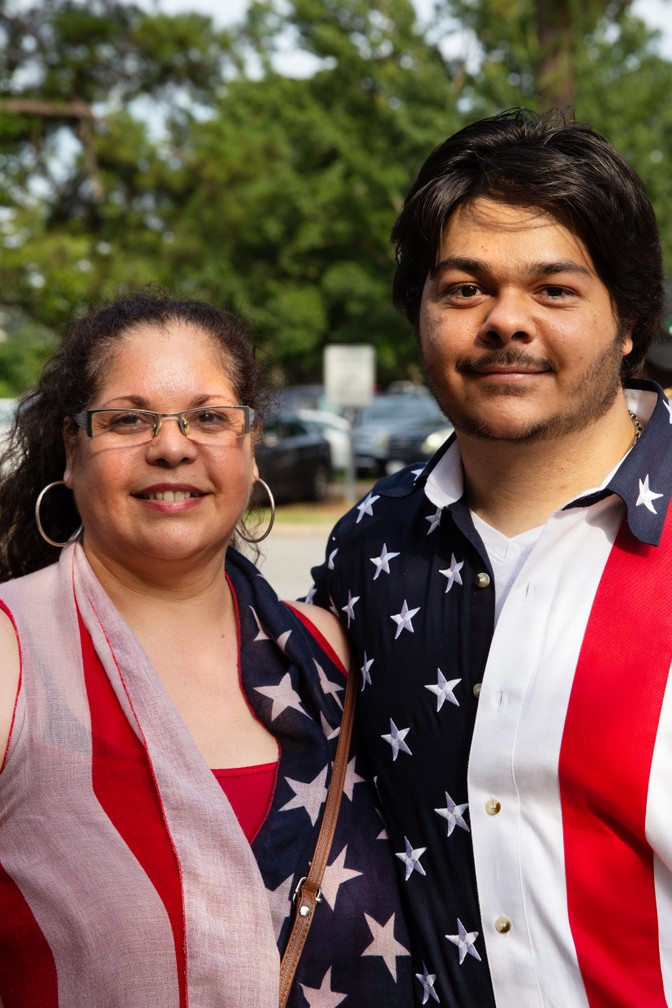 Nancy Chiu, 53, a nurse, and her son Chen Chiu, 23, who works for a software company, both from Raleigh, North Carolina
Chen Chiu said his mother, a naturalized citizen, "didn't like where she was at in Cuba. There was no food. You had no freedom of speech. So she left. She came to the U.S. seeking a better home. She left family and friends. There is so much freedom here."
Nancy Chiu said she plans to vote for Trump in 2020, dismissing criticism of him as "fake news." "He's following his agenda," she said. "Nothing is perfect."
Asked about Trump's criticism of the congresswomen, her son said: "They are Americans. My mom was Cuban. She didn't like how things were going there. She saw the opportunity and she left."
---
Gary Welker, 47, owner of a tattoo business and a lawn-care service from Hubert, North Carolina
"You ask what appeals to me [about Trump]. The easiest way to say it: everything. Everything about him," Welker said. "Everything about what he's doing for this country." Referencing the separation of migrant families at the U.S.-Mexico border, and motioning to a man standing nearby in line, he said: "If I had my child with me right now, and I would punch that young man in the mouth, I would go to jail and my child would be taken away. So if they come into this country illegally, they should be taken from their children. Coming here illegally is wrong. There are ports of entry and legal ways to do it. Do it the right way."
Are the congresswomen Trump attacked Americans who belong in this country? "I don't know," he said. "Why don't you answer that?"