The Atlantic Politics & Policy Daily: Roby Waived
Republican Representative Martha Roby, one of just 13 GOP women in the House, is retiring. Plus: Speaker Pelosi and AOC hash things out in a private meeting.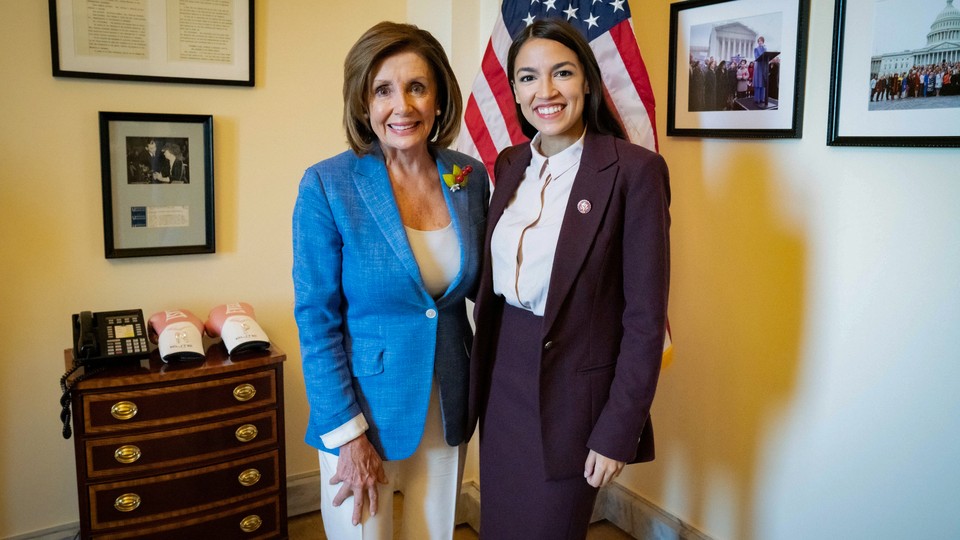 What We're Following Today
It's Friday, July 26.
‣ The Senate Intelligence Committee concluded yesterday that Russian hacking efforts targeted election systems in all 50 states in 2016.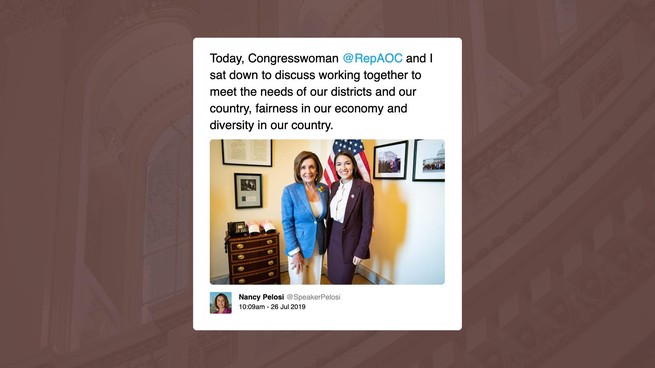 (Office of Speaker Nancy Pelosi / Twitter)
‣ House Speaker Nancy Pelosi met privately with Representative Alexandria Ocasio-Cortez of New York today in an effort to, as Pelosi put it, "clear the air" after a series of public disagreements between the two lawmakers.
‣ Representative Martha Roby of Alabama, one of just 13 Republican women in the House, announced that she will not run for reelection in 2020.
Here's what else we're watching:
Innnteresting: House Republicans overwhelmingly rejected the president on Thursday by voting against a budget agreement supported by Donald Trump. It doesn't add up to a GOP mutiny against him, Russell Berman writes, but it does show that Trump's grip on congressional Republicans isn't always as strong as it appears.
Turning Up the Heat: Representative Jerry Nadler, chair of the House Judiciary Committee, said that his panel will ask a federal judge to unseal grand-jury evidence related to former Special Counsel Robert Mueller's investigation. The court filing will declare that the panel needs the information to decide whether to recommend articles of impeachment against Trump. The escalation is significant for Nadler, the lawmaker positioned to lead any potential impeachment effort.
Caught in the Middle: Several countries, including Japan, South Korea, and Australia, have the United States as a major national-security ally and China as a top trading partner. As tensions rise between the latter two, those countries are in an awkward position: What happens "when Mom and Dad can't stop feuding, decide to spend some time apart, and start contemplating divorce?"
---
Snapshot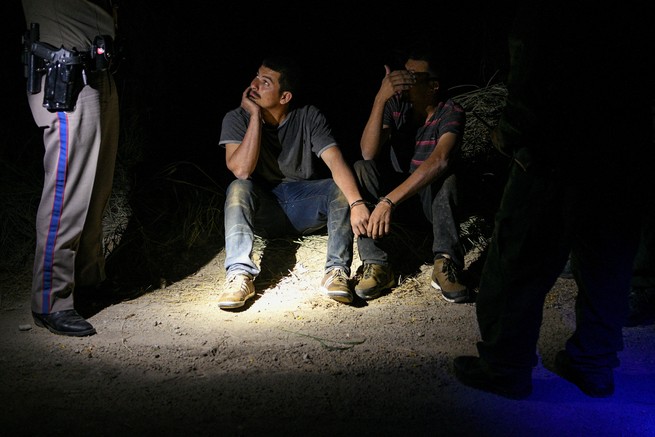 (Loren Elliott / Reuters)
Migrant men are apprehended by law enforcement after illegally crossing the Rio Grande into the U.S. near Mission, Texas.
---
Ideas From The Atlantic
Barr Won't Get His Macabre Holiday Celebration (Garrett Epps)
"Yesterday, Attorney General William Barr announced that five executions will be carried out by the federal Bureau of Prisons from December 9 to January 15. The timetable is breathtakingly ambitious: The federal government has carried out a grand total of three executions since Congress reinstated the death penalty, in 1988." → Read on.
The Press Has Adopted Trump's Reality-Show Standards (Adam Serwer)
"In any other administration, in any other time, a special prosecutor, former FBI director, and decorated Marine testifying that the president of the United States was an unprosecuted felon who encouraged and then benefited from an attack on American democracy in pursuit of personal and political gain would bring the country to a grinding halt." → Read on.
Unlimited Donations to Candidates, Coming Soon? (Richard L. Hasen)
"It is somewhat of a mystery why the [Supreme] Court has not taken more campaign-finance cases as vehicles to free up more big money in politics." → Read on.
---
What Else We're Reading
A colonel is accusing a top military nominee of sexual assault (Helene Cooper, The New York Times) (🔒Paywall)
2020 tests if Democrats can rely on multiracial coalition (Nicholas Riccardi and Errin Haines Whack, Associated Press)
Why 5 freshman Democrats sided with Trump and Saudi Arabia on a key Yemen vote (Akbar Shahid Ahmed, HuffPost)
Republicans are becoming more like Democrats. So why are Democrats so upset? (Damon Linker, The Week)
---
About us: This newsletter is a daily effort from The Atlantic's politics writer Elaine Godfrey, with help from Christian Paz. It's edited by Shan Wang.

Were you forwarded this email? Sign yourself up here. We have many other free email newsletters on a variety of other topics. Browse the full list.