The Activist Left Already Knows Who It Wants for President
Many of the MSNBC moms and energized youths at the annual Netroots Nation conference have already settled on their top candidate—with a surprising second choice.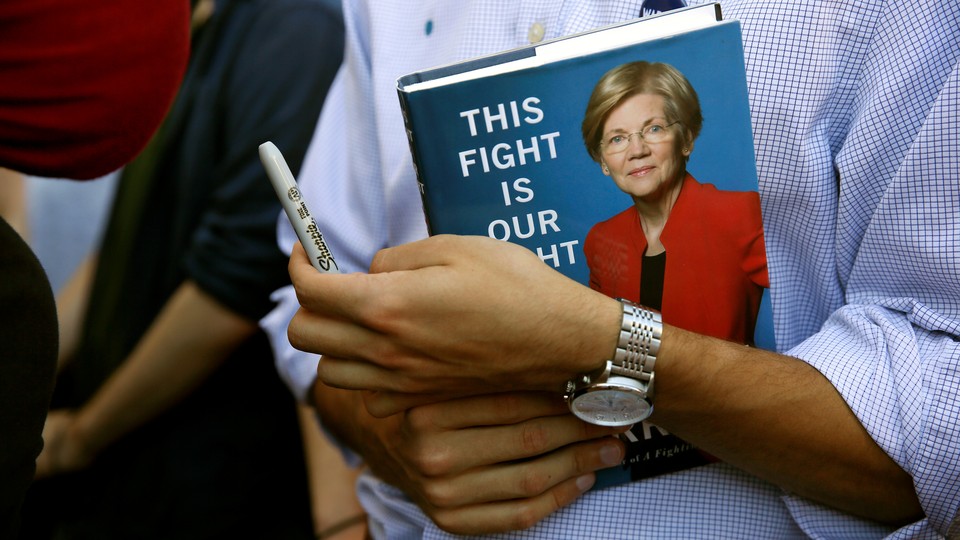 PHILADELPHIA—It's still early. There will be 16 more months of speech making and glad-handing and glitzy ballroom fundraisers before Election Day. Not committing to a presidential candidate just yet would make sense. But here at Netroots Nation, the premier annual convention for progressive activists, many attendees already seem fairly certain about their choice: They want Elizabeth Warren, the progressive senator from Massachusetts, to be their next president. And if they have to pick a second choice? It's Senator Kamala Harris of California.
It's not necessarily intuitive that the same person would support both women: Warren is a folksy public-school teacher turned anti-corruption advocate, while the blazer-wearing Harris is more of an establishment type, with a long career climbing the ranks of power in California. Warren has pledged not to hold high-dollar fundraising events in favor of grassroots-style meet and greets, while Hollywood heavyweights have been some of Harris's biggest campaign boosters.
But in interviews with two dozen progressive activists at Netroots, most people told me that, while they prefer Warren, they'd choose Harris if things were to go south for the Massachusetts lawmaker. They view both senators as passionate and capable. Some even suggested that the two women should run on the same ticket. "They bring different things to the table, but one thing is clear when you talk to each of them: their competency," Rod Sullivan, a 53-year-old attendee from Iowa City told me. They would operate differently as presidents, he added. But each of them "could do this."
Netroots Nation, a conference that's been around since the early 2000s, is run by the liberal political blog Daily Kos and typically draws a few thousand progressive activists, organizers, and strategists. It offers three days of programming led by policy advocates and lawmakers, and panel topics range from felon disenfranchisement and the Green New Deal to embracing "Hijabi power." In Seinfeld-ian terms, Netroots is the Bizarro version of the annual Conservative Political Action Conference for conservative activists: It's chaotic and diverse, with crunchy, co-op vibes.
This year, you couldn't swing a cat inside the Pennsylvania Convention Center without hitting someone wearing a Warren pin or a Nevertheless, She Persisted T-shirt. The senator was met with "Warren! Warren!" chants and a standing ovation at the presidential forum yesterday—a much more enthusiastic reception than saw her 2020 peers in attendance: former Housing and Urban Development Secretary Julián Castro, Senator Kirsten Gillibrand of New York, and Washington Governor Jay Inslee. (Harris did not attend the conference, opting instead to speak at a national convention for a black fraternity in Atlantic City, New Jersey.) The Warren fandom was similar at last year's conference, months before she declared her candidacy, when her keynote address brought progressives to their feet again and again. "Warren has a good track record to show she really knows how to get the job done," Carmen Martinez, 29, from Washington, D.C., told me. "I love how she has a plan for everything." Every Warren fan I met echoed those sentiments.
The Democrat has become well known in the 2020 field for cranking out populist policy proposals one by one, such as a set of executive actions for raising wages for women of color. Most recently, Warren unveiled an immigration plan that would decriminalize crossing the border illegally and increase aid funding to Central America. Her campaign has rapidly gained steam in recent weeks: The first poll released after the first set of primary debates last month, from NBC and The Wall Street Journal, showed Warren and former Vice President Joe Biden leading the herd of 2020 candidates. And she raised more than $19 million in the second quarter of the year, besting every candidate but Biden and South Bend, Indiana, Mayor Pete Buttigieg.
Voters' attraction to Warren could be rooted in her rapid-fire release of plans for what she'd do as president. Or it could be simpler than that. "I really feel like she would throw herself in front of a bus for us," Sullivan said. "There's nobody who's more earnest."
Harris, too, has been having a bit of a moment. The senator from California set herself apart from her Democratic rivals during the first debates by confronting Biden directly about his comments on working with segregationist senators early in his political career, as well as his opposition to federally mandated busing to integrate schools. The performance helped put her on the map for some progressive voters.
One attendee, who requested anonymity because her views don't reflect those of her employer, told me that while Warren is her first choice, the debate demonstrated that Harris has a certain "star quality" to her. "African American women are the base for Democratic politics," she said, "and I think she knows how to communicate with them."
Quentin Savwoir, a 33-year-old organizer living in Las Vegas, who also supports Harris as one of his top two candidates, told me that he was raised by a single mother and has only sisters. "I trust black women—I will follow them over a cliff," he said.
Some Warren supporters I spoke with suggested that Harris might make for a more practical choice in the general election. "Warren is my heart; Harris is my head," the 33-year-old Jered Weber from Denver, Colorado, told me. "Harris has more potential to tack more to the center when she needs to, and I think she might be more electable."
Many of the folks who voiced support for Harris also acknowledged the former state attorney general's complicated and contentious record on criminal-justice issues. Some of her work "has really alienated a lot of the black community," said Morgan Fletcher, a young gender-equity advocate from New York City who said she's eager to see how Harris addresses her record in future debates. Others, though, want to cut Harris some slack. "I have so many arguments with friends who are like, 'She's a cop!'" Savwoir told me. "She has had to participate in an oppressive system that she didn't build, and we can't expect her to tear it down."
A handful of attendees told me that they want both women on the same ticket, with Warren at the top. A Harris vice presidency in particular would be a win for "reflective democracy," said one leader of a progressive organization, who requested anonymity to speak candidly. "She's not a progressive-movement person yet, but eight years of being with Warren in the White House would show her how."
Not all the Netroots attendees I spoke with were crazy about a Warren-Harris combination. I met a couple of Buttigieg stans, one fedora-clad Inslee fan, and a few people who said they were keeping their options open. Notably, though, there was no love at all for Biden, the Democratic front-runner. Asking the progressive attendees what they thought of the former vice president resulted in nearly the same reaction every time: a deep breath, then a pained sigh. They're not mad at him for running. They're just disappointed. "Biden should have ridden into the sunset, Obama on the horse next to him," said Lynne Brown, a retiree and local Philly activist, with a sad sort of chuckle. (There was even a panel called "Why Joe Biden Is the Least Electable Major Democrat for President in 2020.")
And perhaps surprisingly, very few people offered praise for Senator Bernie Sanders, Warren's democratic-socialist foil from Vermont. "If I have a chance of voting for an old white man or a less old white woman, I'm going to vote for a less old white woman," Weber told me.
Three years after Hillary Clinton's astonishing defeat, it seems, overall, that the activist class is really, really ready for a woman to be president. There may be an eternity in political time left before the Democratic primary is over. But that desire is already clear.
"There's been so much talk about Bernie Sanders being the front-runner, Joe Biden being the front-runner," Sarah Blahovec, a 26-year-old disability-rights advocate from Alexandria, Virginia, told me. "It's been nice to see women and women of color really shaking things up."