The White House Is Preparing for a 'Dud' or a 'Dumpster Fire'
The administration is girding for potential fallout from Robert Mueller's testimony, but like the rest of the country, officials don't know exactly what to expect.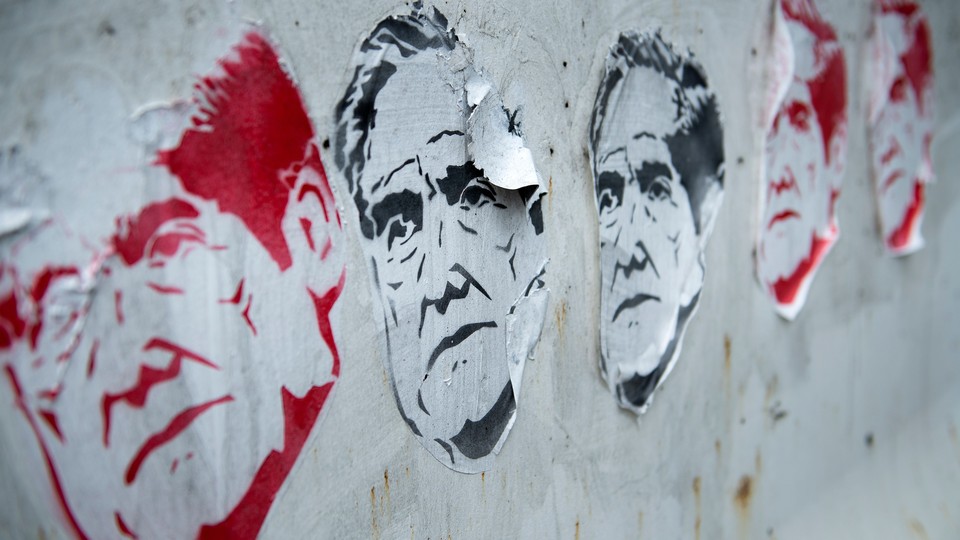 Updated at 9:15 a.m. ET on July 24, 2019.
Speaking to reporters in the Oval Office on Monday, President Donald Trump was coy about whether he planned to watch Robert Mueller's testimony before Congress today. First, he said he wouldn't tune in, before changing his mind in real time: "Maybe I'll see a little bit of it."
Let's put an end to the suspense: The first hearing began at 8:30 a.m. ET, smack in the middle of what Trump's schedulers call "Executive Time," their code for the president watching Fox & Friends and pushing out tweets from the White House residence. It's a good bet he'll be riveted to the TV all day—soaking in the coverage as he and his allies try to spin the hearing their way.
"It's going to be a dud, or it's going to be a Dumpster fire," said a White House official, who, like others I interviewed for this story, spoke on the condition of anonymity in order to talk frankly. "It's not going to be something in between."
Inside the White House, officials don't know quite what to expect when Mueller appears before the House Judiciary and Intelligence Committees. Trump has been hard at work trying to undercut him and cast the spectacle as a meaningless exercise. A second White House official told me the hearings could fizzle into nothing more than a "book on tape" if Mueller limits himself to reading excerpts from his 448-page report. But this public confidence belies some underlying anxiety: The administration and outside allies are girding for potential fallout, aware that if Mueller unexpectedly veers into new territory, he could make impeachment more palatable to a Democratic leadership that has resisted it thus far.
The Republican National Committee planned to set up a "war room" to monitor the back-and-forth exchanges between Mueller and the five dozen lawmakers he's facing in both hearings, a committee staff member told me. RNC Chairwoman Ronna McDaniel is one of a series of surrogates putting out statements and commentary as the hearings play out, with Republican aides using social media to amplify a pro-Trump message and booking sympathetic allies for TV and radio appearances, the staff member said. Jay Sekulow, one of Trump's main outside attorneys who defended him in the Russia investigation, planned to watch the testimony unfold live. "We'll respond as appropriate," Sekulow told me. But "I don't expect any new revelations. [Mueller in a public statement in May] said his testimony is his report, and his report is his testimony. I don't think he'll go beyond that."
Yet Democrats seem largely unfazed, believing that televised hearings are a surefire way to galvanize public opinion. In their push to bring the Mueller report to life, as some Democrats have put it, it's easy to imagine lawmakers asking some version of this question: "Mr. Mueller, did President Trump engage in behavior that rises to the level of criminal conduct, and is it your view that he can be properly held accountable only through impeachment proceedings?"
The White House is betting that Mueller would sidestep such a query, sticking to the Delphic formulation that he used in his rare public appearance in May, when he said, "If we had confidence that the president clearly did not commit a crime, we would have said so." Yet if Mueller's answer edges even a little bit close to "Yes" on both questions, it would mean trouble for Trump, reinvigorating the debate in Congress over the president's fate and putting more pressure on House Speaker Nancy Pelosi to accommodate the faction of her caucus that wants him ousted. As it is, few people seem to have actually read the Mueller report, upping the chances that Mueller will be presenting brand-new information to at least some Americans watching. A poll taken for CNN in late April, about a week after the report was released, showed that 75 percent of respondents hadn't read any of it, and only 3 percent had read the entire thing.
One message that Trump's allies promoted in advance is that Democrats are wasting time and taxpayer money by trotting out the former special counsel. "There's no apple left, but Democrats are still trying to get bites at it," Tim Murtaugh, a Trump campaign spokesman, told me.
It's futile to look for consistency in Trump's portrayal of the Mueller report, because a rich contradiction lies at the heart of his approach. When he believes something is exculpatory, he casts it as hard fact. Anything else, he dismisses as the work of a vengeful prosecutor. Ahead of Mueller's testimony, Trump clearly felt threatened by what might come next and has been lashing out. The president woke up this morning focused on the hearings. In a series of early-morning tweets, he complained that Mueller shouldn't be allowed to testify alongside one of his deputies, Aaron Zebley. "It was NEVER agreed that Robert Mueller could use one of his many Democrat Never Trumper lawyers to sit next to him and help him with his answer," Trump tweeted.
And the president this week has repeatedly accused Mueller of bias. He's alleged that he turned down Mueller for the job of FBI director, which became vacant after he fired James Comey. And in Oval Office comments on Monday, he revived his accusation that Mueller was still stewing over a "business relationship" that went sour, an apparent reference to Mueller's attempt eight years ago to get his membership fee refunded from Trump National Golf Club in Northern Virginia. "He's got big conflicts with me," Trump said.
At times, though, Trump seems to forget whether he's supposed to bash Mueller or elevate him. After Mueller closed the Russia investigation without bringing criminal charges against the president, Trump said that the special counsel acted honorably. In May, Trump referred to the Mueller report as an authoritative account on par with "the Bible." In a pair of hearings that could last much of the day, it wouldn't be at all surprising for Trump to toggle between messages, depending on how Mueller answers each question.
It's likely Trump will be watching how his allies in the House Republican caucus approach the hearing too. If Democrats are still taking bites out of the apple, peckish Republicans might nibble on what's left. The second White House aide voiced hope that Republican lawmakers will use the hearings to press Mueller on the origins of the probe. Trump and his associates on Capitol Hill have long argued that the investigation began in 2016 as an illegal attempt to spy on Trump's campaign, though given that Mueller wasn't appointed until May 2017, he may be reluctant to touch that particular topic.
From Trump's standpoint, there's one outcome that would be indisputably positive: The hearing turns out to be "a dud" that does nothing to turbocharge impeachment talk. Ironically, for that to happen, Trump needs to have been wrong about Mueller this whole time. He needs to have been wrong about Mueller acting like a rogue prosecutor carrying out a "witch hunt," or an aggrieved golfer upset about membership dues, or a spiteful job applicant taking retaliatory shots at the president who spurned him. He needs Mueller to use his televised platform today to give measured and judicious answers befitting a longtime public servant. Indeed, Trump must hope that Mueller is the man he genuinely seems to be, as friends and colleagues describe him—not the caricature the president created and lampooned for political advantage.