The Dirty Secret of Mueller's Testimony? Voters Might Not Care.
Rather than expecting fireworks from the former special counsel's appearance before Congress, many seem wary of getting their hopes up.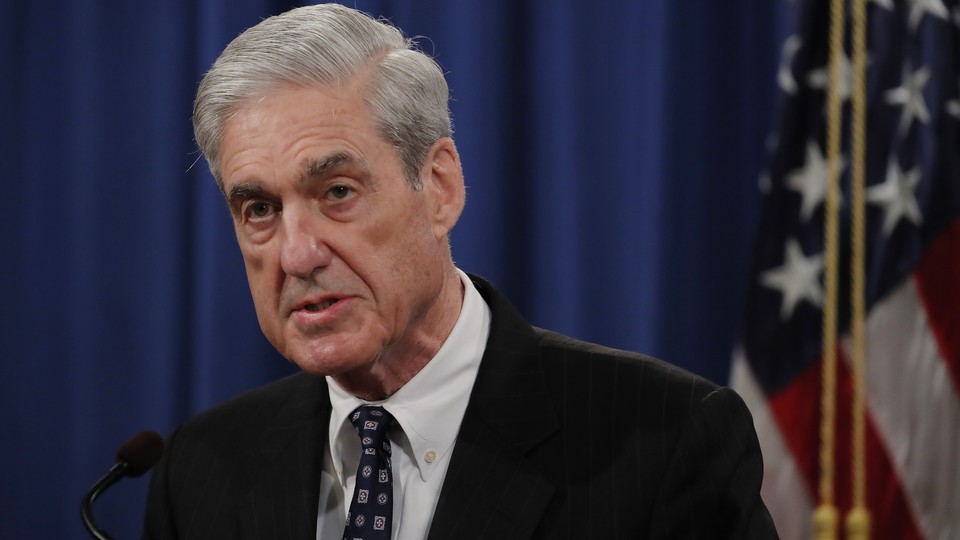 CONCORD, N.H.—Don't get your hopes up.
That's the message voters in the nation's first primary state have for Democrats looking to Robert Mueller's testimony before Congress this week as a game-changing moment in the drive to impeach President Donald Trump.
"I don't think it's going to make a difference. I wish it would," said Lin Van Allen, 66, a retired nurse who saw Elizabeth Warren speak in her hometown of Peterborough earlier this month. "I keep thinking something will happen to change things, and it never does."
The former special counsel will sit before two House committees on Wednesday, reluctantly appearing under subpoena in what has been billed as one of Congress's most highly anticipated hearings in years. Democrats have demanded that Mueller appear in person so they can press him to elaborate on the findings in his 448-page report on the Trump campaign's role in Russian interference in the 2016 election and possible obstruction of justice by the president. They also want him to answer questions about Attorney General William Barr's handling of the report. The Mueller investigation found insufficient evidence to conclude that the Trump campaign conspired with Russia during the election, but it pointedly did not exonerate the president of committing obstruction of justice in his efforts to thwart the probe into the 2016 election.
Trump's most vocal critics see Mueller's testimony as perhaps the last, best chance to turn public opinion in favor of impeachment—a crucial barometer in their bid to pressure Republicans and persuade House Speaker Nancy Pelosi to begin the formal effort to remove the president, which she has steadfastly resisted. Impeachment backers point out that few Americans have actually read Mueller's exhaustive two-volume treatise, and they argue that nothing that's come out about Trump so far can compare to the image of the highly respected, apolitical G-man describing possible criminal activity by the president on national television.
Yet here in New Hampshire, voters sizing up Democratic candidates see the Mueller hearings as more of an anticlimax than an inflection point.
"I feel like he's just going to say, 'Read the report.' I don't think he's going to drop any bombshells," said Amanda St. Ivany, 37, a nurse from Lebanon, New Hampshire, who was attending a recent Kirsten Gillibrand event in Concord. St. Ivany told me that she would probably watch some of Mueller's testimony and that she supported the launch of impeachment proceedings "to keep our democracy working."
St. Ivany's low expectations for Mueller's appearance matched what more than a dozen Democratic and independent voters told me in interviews: While some plan to watch the broadcast, and most said his testimony was important as a matter of process, none believed it would do much to alter a political dynamic that they see as lamentably immutable.
"I've had my hopes up before, and I don't want to get them up again," said Dorothy Minior, a 65-year-old software researcher at the Warren event in Peterborough.
Democrats had wanted Mueller to testify soon after he finished his investigation in April, but the special counsel's reluctance to submit himself to what will likely turn into a partisan spectacle led to a delay. The leaders of the judiciary and intelligence committees spent weeks trying to negotiate a voluntary appearance by Mueller before ultimately resorting to a subpoena. His testimony comes after yet one more delay—a one-week postponement so that the Judiciary Committee could have an extra hour of Mueller's time that will allow all of its members to question him. Junior lawmakers on the panel had protested the original two hours the committee was due to have, which meant the hearing would likely have ended before several of them got a chance to speak.
Rather than building suspense, the lag time seems to have had the opposite effect—like air slowly leaking out of a balloon. And if anyone popped that balloon, it was Mueller himself. On May 29, in his lone public appearance of the past two years, a televised press conference that lasted for about 10 minutes and featured no questions, the former FBI director made clear that he did not want to testify and that if he did appear before Congress, he "would not go beyond the report." "The report is my testimony," Mueller said.
That message got through. When I asked Pat Swingle, a 71-year-old retired teacher from Jaffrey, New Hampshire, about Mueller's upcoming testimony, her face lit up. "It's about time!" she said as she waited in line outside Warren's event in Peterborough.
I asked what she wanted to hear him say. "That the president obstructed justice," Swingle replied instantly.
Did she expect him to say that?
"No, I don't," Swingle conceded. "I think he's going to say the same thing he said in his 10-minute comment thing."
Views about Mueller's appearance are understandably wrapped up in the related question of impeachment, and on this, the sample of anti-Trump voters in New Hampshire I spoke to largely matched nationwide polling. Most wanted to see the president held accountable in some way, but they did not support starting a process that was doomed to fail in the Senate and that could distract from other issues—including the 2020 election itself. "I think we need to have an election," said Deborah Cummings, 60, a Massachusetts independent who drove north to see Gillibrand in Concord. "I think impeachment is going to waste a lot of time and money."
It's also a tricky topic for the Democratic candidates themselves. Most of the leading contenders have come out in support of beginning impeachment hearings against the president, essentially endorsing the early removal from office of a man whom they are simultaneously running to defeat at the ballot box. Warren was one of the earliest and most vocal backers of impeachment among the top-tier candidates. But over the course of an hour in Peterborough, she never mentioned the subject—or the Mueller investigation at all—and barely invoked the president's name. Mueller's name was barely mentioned over two nights at the first Democratic debate in Miami last month.
Gillibrand has also come out in support of impeachment hearings. When I asked her whether New Hampshire voters had brought up the Mueller report and impeachment during her week-long tour of the state, she said she had heard concerns "about attacks on our democracy."
"I think people are very concerned about Russians trying to harm our elections, trying to subvert our elections," she said. "And I do think New Hampshire voters are concerned that President Trump does not stand up to Putin or other dictators around the globe." Gillibrand then reiterated her call for impeachment hearings, although she framed her position less as a means of ousting Trump than of allowing Congress to have a stronger legal case to obtain documents and testimony that the administration is withholding.
Though the Justice Department has not tried to stop Mueller from testifying, it has discouraged two of his deputies from submitting to private interviews with House committees. For Democrats, however, the bigger worry over Mueller is not that the Trump administration will constrain his testimony, but that, with respect to the president, he will constrain himself.
"My expectations, I think, are realistic," Representative Adam Schiff of California, the chairman of the Intelligence Committee, told my colleague Todd Purdum in a recent interview. "The special counsel's going to try to confine his comments to the report."
Schiff further acknowledged that views on the investigation "are very hardened." "So," he added, "the degree to which Bob Mueller can bring this to life for people who haven't had the opportunity to read the report—which is most Americans—is yet to be seen."
Where voters and congressional Democrats seem to agree is that Mueller's testimony is important on principle alone, even if his appearance on Capitol Hill serves merely as a venue for him to say in person, and on camera, what he has already put down on paper. "The saying of it matters," said Lorraine Stockwell, a 63-year-old teacher from Temple, New Hampshire.
Allyn Phelps, a 35-year-old from Massachusetts who was in Peterborough to hear Warren speak, told me Mueller's testimony was "very important" as a "way for us average Americans" to understand what was in his report. He said he wanted Congress to start impeachment proceedings against Trump. But when I asked Phelps what Mueller could say that could change anything—that could shift the seemingly frozen dynamic that has kept impeachment at bay—he paused.
"Actually," this voter said, "I guess I don't really know."