Can Mueller Persuade America to Impeach?
Pro-impeachment Democrats are once again putting all their eggs in the former special counsel's basket.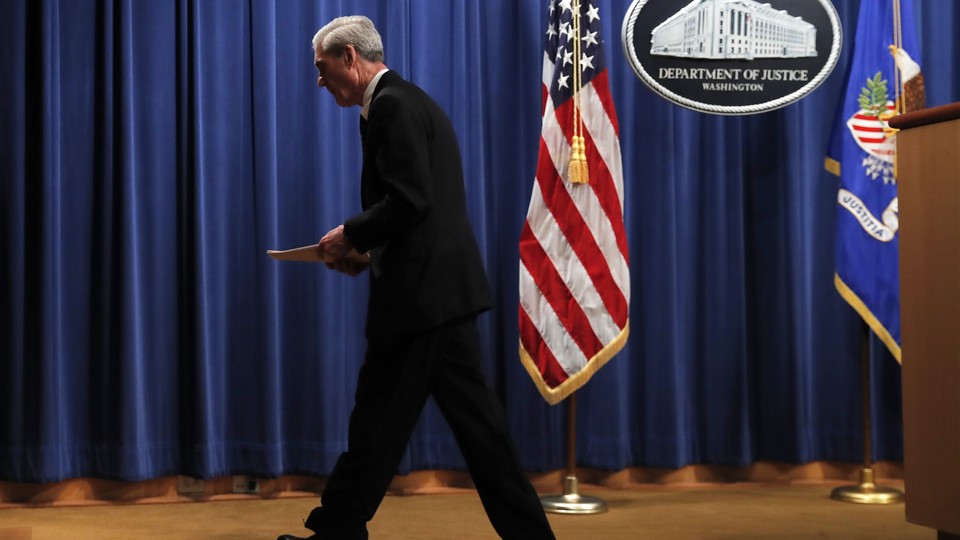 It's been nearly two months—a lifetime in the world of U.S. politics in 2019—since America first heard from former Special Counsel Robert Mueller, and since a number of Democrats, as a result, professed their newfound support for impeaching Donald Trump. In the past seven weeks, the national conversation has largely shifted away from the Russia investigation to the humanitarian crisis on the southern border, the so-called squad, and the racist vitriol coming from the president's Twitter account. But tomorrow Mueller will once again slide to the forefront of the public consciousness, with the former special counsel scheduled to testify publicly before both the House Intelligence and Judiciary Committees.
Pro-impeachment Democrats are determined to take advantage of it: They want Mueller, speaking in the clear, confident tones of a man who owes no party his allegiance, to describe the most damning findings of his two-year investigation—and in so doing, convince the American people that impeachment is the necessary next step. "People don't get the gravity" of Trump's behavior, making a televised hearing necessary, Representative Madeleine Dean of Pennsylvania, a member of the Judiciary Committee who has called for impeachment proceedings, told me. "After Wednesday's hearings, there will be three things that will be very clear to the American people," says Representative Ted Lieu, a longtime backer of impeachment and another member of the committee. "One: Russia attacked our elections. Two: The Trump campaign welcomed that attack and embraced it. And three: The president committed multiple felonies."
Yet it's far from certain that the famously tight-lipped former FBI director will offer anything close to a dramatic performance. There's a real risk that tomorrow's hearings could lead to an unsatisfying conclusion for Democrats, who are, for the second time this year, in the position of having placed all their metaphorical eggs in Mueller's basket.
Pro-impeachment Democrats, after all, were disappointed in April, when the former special counsel opted not to charge the president with a crime, after they'd spent two years hyping the Mueller report and its potentially incriminating conclusions. Making matters worse for the party, Attorney General William Barr publicly offered his own spin on the findings before Mueller ever addressed the public, giving the president room to claim a complete and total vindication that the report itself doesn't support.
Since then, Democratic lawmakers have continued their committee investigations into the president's alleged obstruction of justice, and support for impeachment on the Hill and on the campaign trail has slowly continued to build, though House Speaker Nancy Pelosi, among others, remains in opposition. Pro-impeachment Democrats see tomorrow as a chance to counter arguments that the narrative around Mueller's findings is already baked in, and that a sufficient amount of public support for impeachment can't be won. Many of those Democrats are on the committees before which Mueller will appear: 15 out of 24 Democrats on Judiciary and seven out of 13 on Intelligence have publicly called for an impeachment inquiry to begin.
The public learned the facts "over a two-year period in dribs and drabs," Representative Adam Schiff, the Intelligence Committee chairman, told my colleague Todd Purdum in a recent interview. Had that information "come out all at once in a report by a special counsel, I think the president would have been quickly forced from office."
Committee members are hoping that, through their questioning, they can prod Mueller to create digestible sound bites or shareable social-media moments for the folks watching at home. "The American public is very busy, and a 448-page, dense report is likely not something that every person is going to have the chance to read," Dean told me. "It is our job to bring it to life for them." And there is power in visuals, too: "A lot more people watched The Godfather the movie than read the book," Representative Raja Krishnamoorthi of Illinois, a member of the Intelligence Committee, told me.
Krishnamoorthi is part of the other audience for Mueller's testimony: the Democrats on Capitol Hill who have not yet called for impeachment. He told me he's fully prepared to change his stance after tomorrow. "I'm keeping my mind wide open to what he has to say, because it's that important," Krishnamoorthi said. Representative Ro Khanna of California, who also hasn't called for impeachment and isn't on either committee, told me he wants his colleagues to ask two key questions so that he can better understand Mueller's decision making. Democrats "need to ask Mueller in multiple ways whether he would have indicted the president if it weren't for the president's office," he said, "or whether he anticipates that the evidence is sufficient that the president may face criminal proceedings [after] his time in office." Either of those admissions "would be explosive" for him and for other persuadable viewers, Khanna said.
Mueller, though, has given no signal that he intends to reveal new information. He showed great reluctance to appear before Congress. He's pledged to stick to the contents of his report, saying in his May statement to the press that "any testimony from this office would not go beyond" those findings. And congressional aides who have reviewed Mueller's past Hill appearances to prepare for tomorrow's questioning are expecting more one-word answers than game-changing admissions.
It's very possible, in other words, that Democrats will end up holding two relatively uneventful hearings tomorrow, with committee members asking open-ended questions and Mueller offering unenthusiastic, staccato responses. Such a performance would leave Democrats back right where they started on impeachment—with no clear path forward in sight—and give Trump even more room to accuse Democrats of wasting time on a fishing expedition.
Given these liabilities—and with national support for impeachment potentially waning, according to one recent poll—some Democrats think it's best for their party to view tomorrow's events simply as a way to educate voters on the president ahead of the 2020 election.
"Getting the truth out is the most important thing," Representative Sean Patrick Maloney of New York told me. He's another member of the Intelligence Committee who hasn't yet called for Trump's removal. "If it becomes impeachment, so be it," he said. "If it becomes information for the American people to cast an informed ballot next year, then that works for me, too."