Republicans Take Their Shot at Mueller—And Narrowly Miss
Time and again, they chose to pontificate rather than prosecute.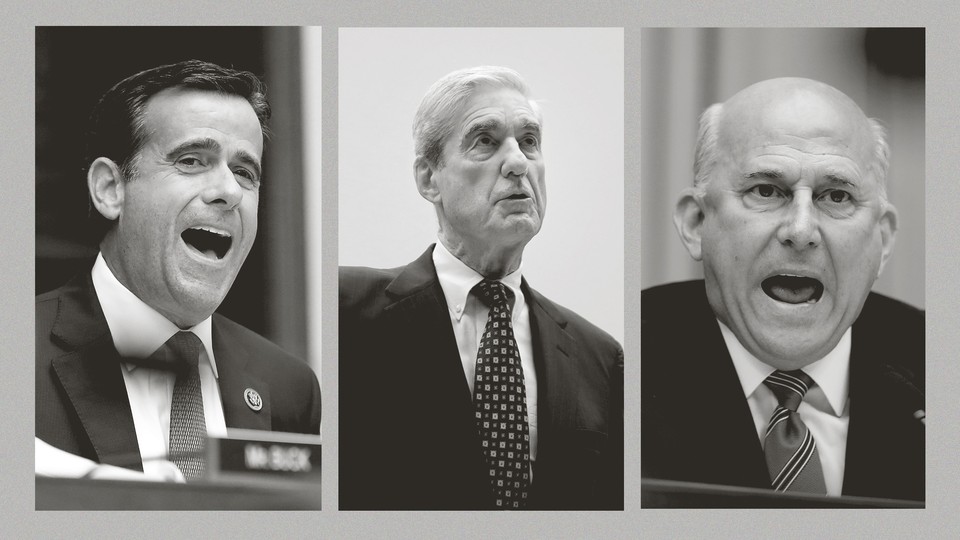 The House Republicans just couldn't resist a rant.
They had been hammering Robert Mueller from afar for the better part of two years, accusing the former special counsel of politically motivated bias, of "a witch hunt," of needlessly dragging President Donald Trump through the mud despite deciding not to charge him with a crime. And for more than three hours this morning, GOP members of the House Judiciary Committee finally had Mueller sitting before them, with the same opportunity as Democrats to elicit answers that would bolster the arguments they've been making for months.
They came close, but they missed—choosing to punctuate their limited question time with the pontificating of a politician rather than the pointed, well-crafted queries of a prosecutor.
Representative John Ratcliffe of Texas, a Republican who addressed Mueller early in today's hearing, raised a key decision the special counsel made when writing his 448-page report that left him open to criticism: Mueller did not seek to indict Trump for obstructing justice in connection with the president's efforts to thwart the special counsel's probe, but Mueller nonetheless chose to write that his investigation "does not exonerate him." Moreover, Mueller laid out, in exhaustive detail, numerous episodes involving the president that could be construed as obstruction of justice, even as he declined to charge or even accuse Trump of committing a crime.
Mueller has said he and his team were strictly following relevant laws and Department of Justice rules—in particular an Office of Legal Counsel opinion preventing the indictment of a sitting president—but as Ratcliffe pointed out, no law or government guideline directs prosecutors to tell the public whether a subject has been exonerated or not.
"Can you give me an example other than Donald Trump where the Justice Department determined that an investigated person was not exonerated, because their innocence was not conclusively determined?" Ratcliffe asked Mueller.
"I cannot, but this is a unique situation," Mueller replied before the congressman cut him off.
Ratcliffe was onto something. As Republicans have argued, under the U.S. legal system, the government's burden is not to prove someone's innocence of a crime, but to prove the person's guilt. Prosecutors are under no obligation to declare a subject exonerated—either they charge the subject with a crime, or they don't. Democrats made a similar complaint of another former FBI director, James Comey, when he held a 2016 press conference in which he declared that Hillary Clinton had been "extremely careless" in handling her government emails, even as he announced that the Democratic presidential nominee was not being charged with a crime.
If Mueller was really following federal rules and regulations, why did he go out of his way to state that Trump was "not exonerated"? Wasn't that overstepping his bounds as an impartial prosecutor to suggest malfeasance on the part of a citizen—in this case, the president—who was not being formally accused of a crime?
Those would have been perfectly legitimate questions to ask Mueller, who may or may not have given candid answers to them. But Ratcliffe didn't do that. Instead, he—like many fellow Republicans who followed him—used the remainder of his five minutes of questions to offer up his own opinions rather than to solicit Mueller's. The congressman chose to criticize the former special counsel rather than interrogate him.
"You wrote 180 pages about decisions that weren't reached, about potential crimes that weren't charged," Ratcliffe said. "Respectfully, by doing that you managed to violate every principle in the most sacred of traditions about prosecutors not offering extra prosecutorial analysis about potential crimes that aren't charged."
He finished his monologue with a damning accusation. "I agree with the chairman this morning when he said Donald Trump is not above the law. He's not," Ratcliffe said, referring to Democratic Chairman Jerrold Nadler. "But he damn sure shouldn't be below the law, which is where your report puts him."
Ratcliffe's approach set a pattern for Republicans on the committee. Whereas Democrats largely used their time to essentially televise Mueller's report while using him to confirm its key findings on camera, the GOP lawmakers repeatedly raised points of criticism with Mueller without actually forcing him to answer their chief complaints. They chose to make it personal, even emotional—in contrast, for example, to the prosecutorial style of questioning that Senator Kamala Harris of California used effectively in her confrontations with Judge (and now Justice) Brett Kavanaugh last year and Attorney General William Barr this spring.
Representative Louie Gohmert of Texas, who had previously tangled with Mueller during the former special counsel's many appearances before the committee as FBI director, brought up another potential vulnerability that Trump has repeatedly highlighted: Mueller met with the president a day before he was named special counsel, in what Trump has claimed was "an interview" to return as FBI director after Comey's firing. That meeting is a key piece of the president's charge that Mueller had a conflict of interest that should have prevented his appointment as special counsel.
Mueller testified that he couldn't remember whether Trump mentioned Comey's firing during their one meeting. "If he did, you could have been a fact witness to the president's comments and state of mind on firing James Comey?" Gohmert asked. "I suppose that's possible," Mueller replied.
The admission was intriguing. But Gohmert had no follow-up; he instead moved on to the matter of Peter Strzok and Lisa Page, the investigators who were reassigned from Mueller's probe in 2017 after they were discovered to have sharply criticized Trump in text messages while investigating Clinton a year earlier. Gohmert concluded with a harangue in the form of a perfunctory question in which he accused Mueller of "perpetuating injustice." Given a chance to respond, Mueller dismissed Gohmert. "I take your question," he repeated.
Other prominent Mueller critics on the Republican side, Representatives Jim Jordan of Ohio and Matt Gaetz of Florida, also chose to make points rather than a sincere effort to get the former special counsel to engage with their arguments. Jordan and Gaetz each went down the rabbit hole of the opening of the FBI inquiry into whether the Trump campaign conspired with Russia to influence the 2016 election, which pre-dated Mueller's appointment as special counsel. Mueller easily evaded their questions by pointing to internal Justice Department deliberations—which he had said he would not discuss—and the inquiry that Barr opened into the origins of the investigation.
Mueller's long-awaited appearance before Congress has largely been viewed in the context of the opportunity it afforded Democrats—to broadcast the damaging revelations of his investigation of Trump to a far wider audience, and perhaps even to build the case for impeachment. But it was equally a moment for Republican critics of the investigation to dent the seemingly pristine veneer of the former FBI director's reputation and sow doubts about his decisions and motives. The 74-year-old Mueller was not at his best—he appeared less than sharp at times, often asking lawmakers to repeat questions and stumbling frequently in his responses. And Republicans came close to piercing him on several occasions.
But time and again, they stopped short, their questions fading into speeches, as Mueller—their supposed target—limped away with his reputation still mostly intact.