Robert Mueller Kept His Promise
"The report is my testimony," the special counsel had previously said. During six hours of questioning today, that proved to be the case.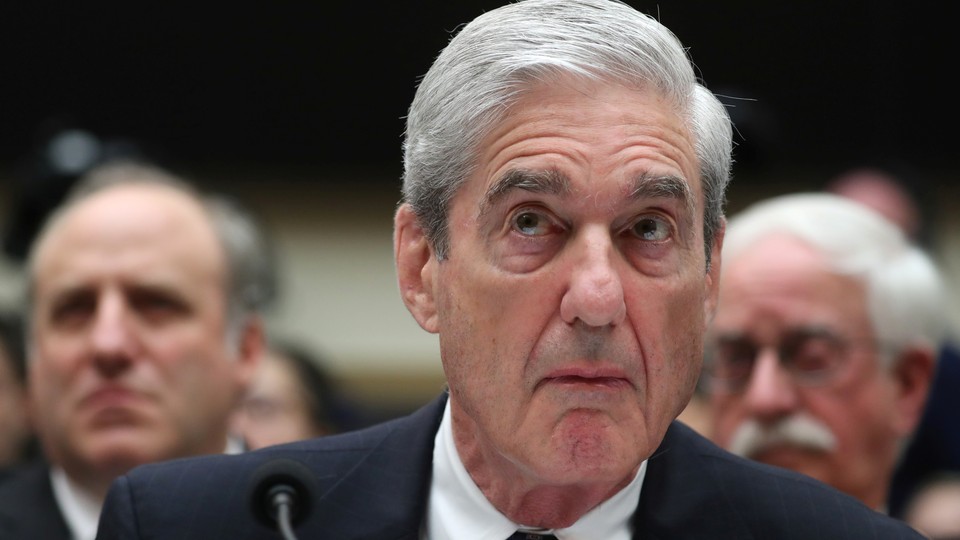 Democrats can't say Robert Mueller didn't warn them.
For months, the former special counsel told them in every way he could—in private negotiations, in his sole public statement on his investigation, through letters from the Justice Department—that he did not want to testify before Congress, and that if he did, his appearance would be a dud.
Today, Mueller fully delivered on that promise.
Over the course of more than six hours of testimony before two House committees, Mueller sidestepped, ducked, deflected, and generally frustrated lawmakers of both parties, but especially Democrats who were looking to his long-awaited appearance as their last, best chance to build a case against President Donald Trump. He deferred to his 448-page report; he refused to speculate; he declined to discuss, opine, or "get into that"; he told them, again and again and again, that their questions were "beyond my purview."
"The report is my testimony," Mueller had said, memorably and ominously, during his lone comments to the press back in May. He meant it.
The chief goal for Democrats, whether they admitted it or not, was to elicit from the former special counsel some bit of new information, or at least a damning sound bite that would cast his two-year investigation in a fresh light and summon a renewal of public outrage about the president's actions. Mueller's entire goal was to avoid doing either, and he largely succeeded.
In a telling exchange early in the day, Judiciary Committee Chairman Jerrold Nadler asked Mueller to explain "in plain terms" his decision to neither accuse nor exonerate the president of a crime. Mueller responded instead with a sentence loaded with legal jargon. "The finding indicates that the president was not exculpated for the act he allegedly committed," he replied. He was not going to be anyone's sound-bite prop.
There were compelling moments, to be sure, both in Mueller's appearance before the Judiciary Committee in the morning and the Intelligence Committee in the afternoon. Under initial questioning from Nadler and later from Intelligence Chairman Adam Schiff, Mueller confirmed yet again that his investigation did not exonerate Trump and that it resulted in the criminal convictions of several people close to the president. In perhaps his most direct refutation of Trump's repeated attacks on the probe, Mueller declared, "It is not a witch hunt." For good measure, he later added that Russian interference in the 2016 election "was not a hoax."
Schiff in particular was effective at throwing Mueller a series of rapid-fire questions that neatly summarized the key results of his probe. And toward the end of the day, Democrats succeeded in drawing out from him a warning about the danger posed by Russia and other countries currently seeking to interfere in U.S. elections—and a concern that campaigns will be emboldened to accept foreign assistance. "I hope this is not the new normal, but I fear it is," Mueller said, in a rare instance of divulging his personal opinion.
Perhaps this was all the Democrats reasonably could expect; in the days before the hearing, Schiff and others were saying they hoped for little more than an opportunity to broadcast Mueller's conclusions to a national audience of millions who undoubtedly had not read his written report. Indeed, Democrats may have been overly restrained in their own questioning, owing to Mueller's warning about all the things he wouldn't discuss. Fearful of wasting their limited time with inquiries that would go unanswered, lawmakers didn't even bother to ask Mueller about Attorney General William Barr's handling of his report, and they trod lightly on the elephant in his opus—whether it was all a gigantic referral of impeachment to Congress. ("I'm not going to comment on that," Mueller said to that one, in characteristic fashion.)
At one point, Mueller did seem to make news: In response to a question from Representative Ted Lieu of California, he said it was "correct" that the reason he did not seek to charge Trump with obstruction of justice was the Office of Legal Counsel opinion that a sitting president could not be indicted. The implication was that if not for that Justice Department position, he would have brought charges against Trump. But by the afternoon, Mueller had walked that back, telling the Intelligence Committee that he wanted to clarify that his team chose not to make a determination at all about whether Trump committed a crime.
If there was a surprise in Mueller's appearance, it was in how rusty a witness he was. In 12 years as FBI director, Mueller appeared before Congress dozens of times, making him one of the most frequent witnesses on Capitol Hill of any official in the government. But this was his first hearing in six years, and the 74-year-old showed clear signs of age today. He struggled to follow many lines of questioning, especially from fast-talking younger members, and he frequently asked lawmakers to repeat themselves. Each member of the committees got five minutes to question Mueller, and precious minutes were wasted as the former special counsel tried to find references in the printed report sitting next to him. At one point in the afternoon, Mueller could not summon the word conspiracy—the legal standard his team used instead of the more colloquial collusion in determining whether the Trump campaign acted criminally in coordination with Russia in 2016.
"This is delicate to say, but Mueller, whom I deeply respect, has not publicly testified before Congress in at least six years. And he does not appear as sharp as he was then," tweeted David Axelrod, the longtime confidant to former President Barack Obama. "This is very, very painful," he added later.
Mueller was strongest in defending his investigation against Republican attacks of bias. "I don't think you've reviewed a report that is as thorough, as fair, as consistent as the report that we have in front of us," he declared at one point.
And though he was reluctant to comment on the president at all, he seemed to be inviting lawmakers to ask him about the implications of his finding that Russia made "a systematic" effort to interfere in the 2016 election. "Over the course of my career, I've seen a number of challenges to our democracy. The Russian government's effort to interfere in our election is among the most serious," he said to close his opening statement. "As I said on May 29, this deserves the attention of every American."
Yet even on this topic—far removed from domestic politics or the potential criminality of the president—Mueller was extremely cautious. He declined multiple opportunities to offer advice to Congress on how to bolster the security of the U.S. election system, other than to offer the most generalized endorsement of information-sharing and new legislation. When Representative Jackie Speier of California gave him the open-ended chance simply "to tell the American people what you would like them to glean from this report," Mueller showed flashes of eloquence, but he couldn't quite hammer home a clear, specific message.
"Well," he said, "we spent substantial time assuring the integrity of the report, understanding it would be our living message to those who come after us. But it also is a signal, a flag, to those of us who have some responsibility in this area to exercise those responsibilities swiftly, and don't let this problem continue to linger, as it has for years."
Mostly, Robert Mueller seemed like he just didn't want to be there. He wanted America to read the report he spent two years compiling, and he seemingly wanted Congress to do its job—whether to take action against the president, to pass new laws, or something else—in response. On both accounts, Mueller wasn't about to do it for them. He had said at the outset that he would not "summarize or describe the results of our work in a different way in the course of my testimony today." In that there was broad consensus: The former special counsel clearly accomplished his mission.