The Woman at the Center of Trump's Iran Policy
John Bolton and Mike Pompeo are the public faces of the "maximum pressure" campaign. But the Treasury official Sigal Mandelker is the one actually running its most important component.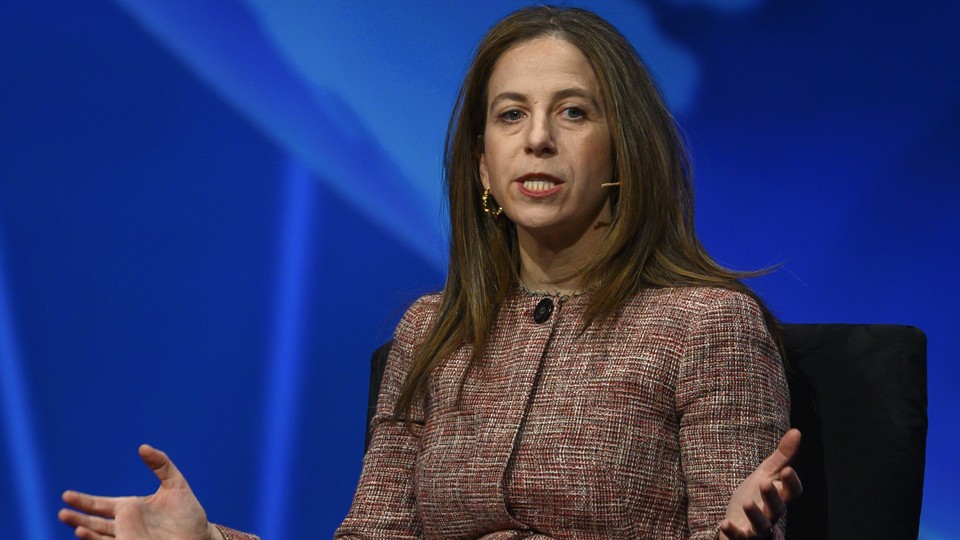 This summer, tankers are exploding, disappearing, or getting seized near the Gulf; drones are getting destroyed in tit-for-tat attacks; and a war of words and tweets is erupting between Donald Trump and Iran's supreme leader. That's where all the drama is, but in fact most of America's punitive actions against Iran are taking place in a world not physical but financial. Sanctions are the key tool the United States uses against what it sees as the Islamic Republic's provocative behavior—especially for the past three presidential administrations running, and never more so than in this one. And the Treasury official Sigal Mandelker is the one with her hand on the lever.
In the exchange of provocations and bellicose rhetoric between the United States and Iran, two hawkish top officials, John Bolton and Mike Pompeo, may be the public faces of Trump's "maximum pressure" campaign against the Islamic Republic. But it's Mandelker, and the office she oversees as the undersecretary of the Treasury for terrorism and financial intelligence, doing much of the actual execution.
She's a lawyer whom former colleagues have described to me as brilliant, a member of the conservative Federalist Society, and a former clerk for Justice Clarence Thomas. She speaks with an incongruous passion about the complicated, and often eye-glazingly dull, subject of sanctions and financial crime enforcement. Because Trump is anxious to avoid war with Iran but also eager to push the Iranians, she is one of the most powerful officials designing the strategy Trump's administration hopes will force Iranian capitulation—or, failing that, perhaps even the government's collapse.
Trump himself touts the achievements of that campaign. "Iran is in big trouble right now. Their economy is crashing," he said yesterday. "It's coming to a crash. They're trying to bring soldiers back home because they can't pay them. A lot of bad things are happening to them. And it's very easy to straighten out or it's very easy for us to make it a lot worse," he said, a short while after reports broke that Iran had seized a British tanker in the Gulf, and one day after the U.S. announced it had destroyed an Iranian drone. (Iran denied it was theirs.)
Trump's critics, and particularly the Obama-administration officials who helped design the Iran deal Trump ditched in favor of new sanctions, question whether this even counts as a strategy. "I know that it is about maximum pressure, but to what end?" asked Wendy Sherman, who led the U.S. negotiations for the Iran deal, onstage yesterday morning at the Aspen Security Forum.
Mandelker was the only Trump official in a panel otherwise filled out by Obama-administration veterans, including the moderator. She was one of the few Trump officials who showed up to the forum at all. "Without a doubt, the sanctions are working," she said, citing Iranian complaints that their oil exports were at their lowest levels ever, and that Iranian proxies such as Hezbollah were appealing for donations.
The sanctions campaign certainly has been consequential in crippling Iran's economy. Whether it's effective in achieving its policy goals is another question, and one that can't necessarily be evaluated yet. The administration wants to force the Iranians back to the negotiating table, and despite a steady increase in provocations in the Gulf region, there have also been feints toward diplomacy: Trump saying he wishes the Iranians would call him and dispatching Senator Rand Paul to meet with Iranian Foreign Minister Javad Zarif, and Zarif floating the outlines of a possible deal in interviews this week. If indeed negotiations result, then the sanctions will have achieved a key diplomatic goal of the administration—but they haven't done that yet, and perhaps they never will.
But there's another stated goal, and this is the one Mandelker gets especially animated about. "Bad actors need money to do bad things," she said, sounding incensed as she ticked off a litany of Iranian misdeeds, from threatening Israel to supporting Syria's Bashar al-Assad, who she noted has killed his own people with chemical weapons. "That is why we have this massive sanctions regime … Every time we apply that pressure, that crunch on them, we deny them the ability to get that kind of revenue, we make the world a safer place."
She takes it personally as a child of Holocaust survivors, and has spoken publicly about the 1940s-era Treasury Department's role in freezing Nazi assets around the same time her parents were hiding in Eastern Europe. "They were hiding underground, in forests, in ditches and under haystacks," she said in a speech at the Holocaust Museum in April. "I grew up hearing their stories, including about moments of great courage, some of which resulted in survival and others that ended in death." She spent part of her earlier government career in counterterrorism roles. Stuart Levey, who under the George W. Bush administration was the founding official in the role Mandelker now holds, recalls working with her in the Justice Department following September 11 and says she was constantly at her desk in those days, trying to figure out new ways to target al-Qaeda.
The world of financial warfare has changed since then, largely because of the very office Mandelker now oversees. The United States has been going after Iran's cash flow for decades, ever since the 1979 Islamic Revolution. American restrictions on doing business with the country were so complete that President George W. Bush once mused aloud that the U.S. might be "all sanctioned out" on Iran.
But since then, Treasury has been coming up with ever more inventive ways to make it hard for Iran to do business—not just with the United States but with anybody. Beginning around 2006, Treasury officials including Levey focused on finding ways to cut off Iran from the global financial system. The Obama administration then made moves to restrict Iran's ability to export oil. And now the Trump administration has moved to strangle Iran's oil exports still further, and its whole economy along with it. At the same time, the administration has used sanctions as a weapon against every major pillar of political power in the country, including the Islamic Revolutionary Guard Corps and Iran's supreme leader, Ayatollah Ali Khamenei. And it has threatened to wield them against other countries doing business with Iran, in effect forcing international cooperation with the pressure campaign.
"I think the reality is, there have been stages of greater and greater complexity with respect to the sanctions regime," Juan Zarate, a former Treasury official in the Bush administration, told me. "And there's also a lot of room for creativity as to what the Treasury decides to focus on … and ways of sequencing and choreographing what to do."
Trump says the pressure on Iran will keep escalating, both physically—via America's military arsenal countering Iran at sea —and financially. Though much of Iran's economy is already sanctioned, Treasury has managed to keep finding new targets to hit, often by trying to bring down complex money-moving networks to stop revenue flowing to the Iranians. Whether that tactic ends up supporting an ultimately successful strategy is another question.