The 10 Presidential Candidates Who Support Busing
Many 2020 Democrats agree that school segregation is a significant problem, but not all of them want the federal government to step in.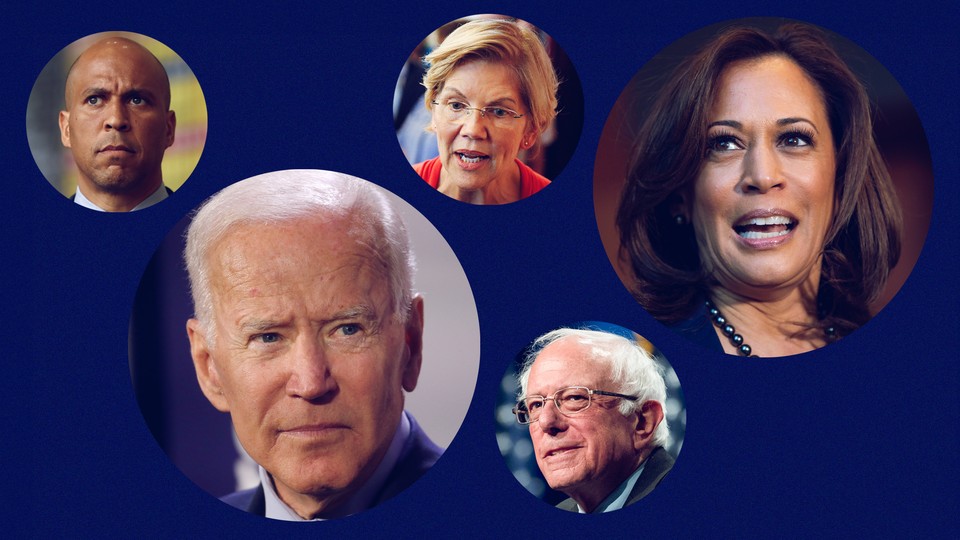 Updated at 5:09 p.m. ET on July 11, 2019.
In the two weeks since Senator Kamala Harris of California delivered a pointed attack on former Vice President Joe Biden over his past criticism of federally mandated school busing, it's become clear that the two Democratic candidates don't differ all that much in their views: They both support voluntary busing, but seem hesitant to endorse it as a federal mandate.
But at least 10 2020 Democratic candidates do support federally mandated busing as a means of desegregating America's schools. "If localities are not taking action to desegregate schools, Elizabeth believes the federal government has a constitutional obligation to step in to deliver on the promise of Brown v. Board, including, if necessary, busing," a spokesperson for Senator Elizabeth Warren of Massachusetts told us. Sabrina Singh, a spokesperson for Senator Cory Booker of New Jersey, echoed the sentiment. "At a time of increasing segregation of schools, we should consider every tool at our disposal—including busing—to support desegregation and ensure equal opportunity for all kids," she said.
Nearly 50 years after the Supreme Court upheld the constitutionality of busing—and 65 years after the Court ordered schools desegregated—the debate over the practice, and the use of federal muscle to hasten desegregation of public schools more broadly, has again grabbed national attention. With school segregation worsening over the past several decades, presidential candidates have been forced to take a position, exposing fault lines within the party.
The busing discussion reached a turning point during the first Democratic-primary debate, on June 27, when Harris suggested that Biden had been wrong to oppose federally mandated busing when he was a senator in the 1970s. (Biden's position has been that busing should be required by the courts only in cases of de jure segregation rather than de facto segregation, or where communities voluntarily decide to do it.) "There was a little girl in California who was part of the second class to integrate her public schools, and she was bused to school every day," Harris told the former vice president, her voice quaking. "That little girl was me." It was the defining line of the debate, inspiring the creation of a T-shirt Harris's campaign is now selling for $29.99. The point Harris was highlighting was clear: When busing would have mattered most as a method of desegregating schools, in the 1970s, Biden didn't enthusiastically support it.
But since that back-and-forth, Harris has fielded daily questions about her own views on federally mandated busing—Would she support it today?—and her answers have been murky. Pressed by reporters in Iowa last week, Harris said that busing "is a tool among many that should be considered" for desegregating schools, but did not offer a firm answer as to whether she supported mandatory busing. "For local school districts, for municipalities, I am in favor of whatever they need to do to work on integration based on race," she told reporters. A day later, Harris said that she would support mandatory busing in situations where local governments are hindering integration efforts, but that "today it is very rare that we require the courts or the federal government to intervene."
Harris's hedging on the issue has given Team Biden room to argue that the two see the issue similarly. "It's disappointing that Senator Harris chose to distort Vice President Biden's position on busing—particularly now that she is tying herself in knots trying not to answer the very question she posed to him!" tweeted Kate Bedingfield, Biden's communications director.
Other 2020 Democratic candidates, though, are more unequivocal on the issue. After reaching out to the campaigns of all 25 Democratic candidates for president, 10 responded that they support federally mandated busing: Warren; Booker; Senator Bernie Sanders of Vermont; Representative Beto O'Rourke of Texas; Representative Seth Moulton of Massachusetts; Representative Tim Ryan of Ohio; Andrew Yang; Miramar, Florida, Mayor Wayne Messam; former Senator Mike Gravel of Alaska; and former Representative Joe Sestak of Pennsylvania. Three presidential candidates—the author Marianne Williamson, Senator Michael Bennet of Colorado, and Washington Governor Jay Inslee*—said they are supportive of busing as a method of desegregating schools only in cases where the practice is voluntarily undertaken by local school districts. Former Representative John Delaney of Maryland  did not voice support for busing of any kind. And 10 candidates did not respond to multiple requests for comment.
Several candidates have highlighted problems with school funding, but details of how exactly they will fix them have been scant. The notable exception is Sanders, whose Thurgood Marshall Plan for Public Education, named in honor of the star civil-rights lawyer turned Supreme Court justice, aims to make public schools more equitable by "rethinking" the system by which property taxes fund public schools, tripling funding for at-risk schools, and vigorously enforcing federal desegregation orders.
"Bernie believes the federal government must do everything possible to address the problem of segregated schools," a spokesperson for the Sanders campaign told us. "Not only will he fund school transportation to help integration, he'll execute and enforce desegregation orders and appoint judges who will enforce the 1964 Civil Rights Act in school systems."
Rebecca Sibilia, the founder of EdBuild, a nonprofit focused on equity in school funding, argues that the details of candidates' school-integration plans will ultimately be most important, in part because of the limitations of desegregation established in Milliken v. Bradley, the 1974 Supreme Court case that reinforced local control of schools and hindered court-ordered busing in the North. "The problem is that the federal government is so constricted by this ruling that there are many, many cities for which desegregation" would not make a significant difference, she says. (For Warren's part, her first law-review article, published in 1975, criticized the Milliken ruling, saying that the effect of the decision "could thus be the 'separate and unequal' schools.")
"So long as we are going to uphold the idea of local control, we are going to find it very difficult to do anything meaningful" toward making schools more equitable, Sibilia says. One thing is clear, at least: Schools—and their fundamental disparities—have the nation's ear. How long will it listen?
---
* This story has been updated to clarify Governor Jay Inslee's position on busing.