Julián Castro's 'Latino Candidate' Trap
Castro is running as a Latino politician against Donald Trump's xenophobia, but he doesn't want to be pigeonholed as only a minority candidate.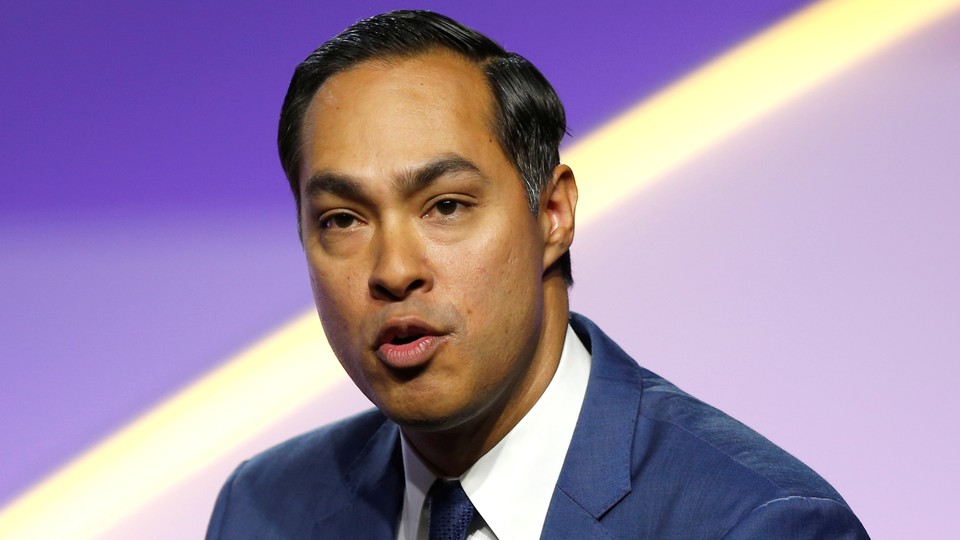 MILWAUKEE—Gently, and just for a moment, Julián Castro moved his shoulders to the beat. Walking out onstage as the featured speaker at the League of United Latin American Citizens conference's unity luncheon here, Castro was feeling the drums, the little bit of trumpet.
A few weeks before, bouncing from camera to camera in the spin room after his breakout performance at the first Democratic presidential debate, in Miami, Castro was feeling the pressure. That night, I watched him pull out his phone, frustrated that there weren't more tweets about the performance from his account. "I want you to just keep hitting it, over and over," he told his press secretary, Sawyer Hackett, chopping his hand through the air for emphasis. He was the last candidate to leave the venue that night, past midnight, after most of the reporters had filed their stories and gone home. He waited for a car on the street outside with his identical twin brother, Representative Joaquin Castro of Texas. (They still get mistaken for each other all the time, but they're pretty easy to tell apart.) He showed up on the traveling set of Morning Joe a few hours later, apologizing for how much he was sweating. He hadn't slept all night, he explained.
Now Castro needs to prove that his campaign is more than just that one debate.
"Some of it is, you got to make some people believe," Castro told me. We were sitting down about an hour before his speech at the Netroots Nation liberal-activist convention in Philadelphia two weeks ago. Castro dug into a salmon-and-rice dish that must have been the healthiest thing on the menu at the Cheesecake Factory. ("It's not really that healthy," he assured me; "it's sugar and butter.") "I think of it as the end of The Matrix," Castro said. "You remember the end of The Matrix, when he's starting to believe?"
Castro knows he has some work to do if he wants to break through in more than online chatter. He's loosened up over the past few years. He's faster with the one-liners. At a Working Families Party event in Milwaukee, Castro said that President Donald Trump "is unfit for office," to which someone in the crowd said, "No shit!"
"You said that very well," he replied.
But everything around Castro has changed, too. In 2016, observers thought it was a smart political calculation for Hillary Clinton to consider him as a running mate, partly as an appeal to minority voters. She was defeated by a president who launched his campaign by calling Mexican immigrants rapists. Now the Democrats have a 2020 candidate in Castro, who is the grandson of a Mexican immigrant, whose life is a true realization of the American dream. "This election is all about whether we're going to give in to the dark hearts of some," is how he put it during a recent stop in New Hampshire, "or [whether] we're going to be an America where everybody counts."
Next year, for the first time, Latinos will outpace African Americans as the largest minority group in the electorate. There is a crisis at the border that has been brought on by the crisis throughout Central America, a humanitarian nightmare of detention centers filled with minors and other migrants who have been separated from their families as part of Trump's immigration policy. Trump has mastered the manipulative art of surfing a divided country by turning immigrants into enemies. A new Centers for Disease Control and Prevention study says Trump's presidency has led to health problems and premature births among Latina women. The president recently told four nonwhite congresswomen that if they don't agree with him, they should "go back" to where they came from, and a "Send her back!" chant broke out at his most recent rally, in reference to Representative Ilhan Omar of Minnesota.
So here's Castro, one of the most prominent Latino politicians in the country, the second major Latino Democratic candidate for president, following Bill Richardson in 2008. The immigration activist and former Washington Post reporter Jose Antonio Vargas (who revealed in 2011 that he is undocumented) tried to pump Castro up after that first debate in Miami. "About time the news media—esp political journalists—take Julian Castro seriously. He is mounting a historic campaign. In a country where 57 million are Latinx, he would be the first Latinx president," he tweeted. "You, your story, and your candidacy [are] a true inspiration—so thank you for coming," was how Marina Dimitrijevic, the Wisconsin state director of the Working Families Party, introduced Castro three weeks later, in Milwaukee.
Castro is still at 1 percent in most polls, despite a momentary lift in those first few days after Miami. He has enough money to keep going through the fall, thanks to the burst of donations after that debate performance: $1.1 million of the total $2.8 million he raised in the second quarter came in over the four days between his time onstage and the end of the filing period, on June 30.
The tension of Castro's campaign is that he's running as a Latino politician against Trump's xenophobia, but he doesn't want to be pigeonholed as only a Latino candidate. He has proudly noted that he had to manually add the accent mark in his first name when he filed the paperwork to run for president. Some of his campaign gear was designed by the San Antonio artist Cruz Ortiz, and his staff emailed reporters with the phone numbers of Latino leaders who support him ahead of the debate. During the debate, he pierced through former Representative Beto O'Rourke's rhetorical haze by asking him what, specifically, he was going to do about immigration, and whether, specifically, he would support Castro's proposal to decriminalize border crossings. (Castro clearly savored taking O'Rourke down a peg, annoyed for months about the outsize attention the fellow Texan was getting, though polls later showed that even though people liked Castro's performance, they largely don't support that proposal.)
Both Castro and his aides grimaced that night when moderators posed questions to him as the only Latino onstage. Afterward, they noted that comparable questions didn't go to, say, Senator Cory Booker of New Jersey on African American issues, or Senator Elizabeth Warren of Massachusetts on women's issues, let alone any of the white male candidates being asked to answer for white men.
During our lunch in Philadelphia, Castro told me that he felt the tension between what's expected of him because of who he is and the kind of broader leader he wants to be. "Whether at HUD or as mayor of San Antonio, I've been a leader for everybody, and there's no question that on the issue of immigration, that's something very close to my heart, in part because of my family and where we come from, but it's also an issue that is right at the center of what this president is pushing in this election," he said. "This campaign has been about trying to stay focused on delivering a strong message to all Americans, even while carrying the torch right now of being the only Latino running in a time when many Latinos feel like there's a target on their back."
Castro and his staff have been frustrated about what they see as a lack of attention for being out in front of key issues, from his proposal to change the border-crossing law to calling for Trump's impeachment. In Milwaukee, a Latino reporter asked him whether he risks being stereotyped as "just" a Latino candidate. Castro noted that he's released plans on housing, education, police reform, and eliminating lead poisoning. "I'm not going to back up from speaking out for immigrant communities that are vulnerable right now just because I'm brown," he said. "At the same time, I'm trusting that … Americans out there—when they see me on the debate stage, or at a town hall, or in any other way—are big enough to understand that I would be a president for all Americans."
---
Barack Obama's biracial, international life story was part of what made him the Democrats' answer to eight years of George W. Bush, and Castro, Obama's former Housing and Urban Development secretary, is hoping he can be the party's answer to four years of Trump. There's no denying that Castro's own story is impressive. Raised by a single mother, he and his brother both attended Stanford and Harvard Law, then both came home to San Antonio and entered politics. He first served on the San Antonio City Council at age 26, lost his first run for mayor at 30, and won the job four years later, at 34. Three years after that, Obama picked him for the same Democratic-convention keynote slot that had launched his own national political career in 2004. But while Obama's DNC speech was a lightning bolt, Castro's speech was generally forgettable. Obama's led to a successful presidential campaign, while Castro's led to a phone call with Obama from the driveway of a Panda Express two years later, accepting his offer to be HUD secretary. Castro rightly assumed the job would put him in consideration to be Clinton's running mate in 2016—though he didn't come nearly as close to being a finalist as he wanted or expected. He recently told Warren that he admires how she's been able to weave her personal story into her policy rollouts.
"I understand the struggle that a lot of people go through, because I understand that struggle myself," is how Castro put it to me in Philadelphia. He comes at the topic of immigration in a way no one in the field has quite articulated—I watched him choke up when speaking about the conditions at the Homestead detention camp, outside of Miami, a few weeks ago.
"This president is failing us, but we're also failing ourselves to allow this to happen," he told me there. Immigrants need to come, Castro said, going beyond the moral argument by saying it's because the Social Security trust fund is running out, and without them, Baby Boomers will be broke. "That's not an argument that's based on emotion. That's not an argument that's based on just what's happening today," Castro told me. "It's based on the personal interest of every single senior citizen out there, no matter what your background is."
Castro was one of just two candidates who pundits agreed had a great first debate. He was one of just four candidates to appear in Milwaukee for the League of United Latin American Citizens town hall. ("He not only has my vote, but he has my money," Hector Flores, a former president of the group, said afterward on Univision.) He is one of just six candidates under consideration for the Working Families Party endorsement. He was one of just four candidates who pitched themselves to Netroots Nation. While many other campaigns are stacked with longtime political operatives and consultants, Castro's is led by his brother and him, always each other's top political strategists, sometimes sounding as though they're speaking in stereo. He's put together an impressive team of up-and-coming aides, branching out from the old San Antonio crew that he brought with him to HUD, but they're still on the rise. When the campaign let Ira Glass of This American Life sit in on his debate prep ahead of Miami, nearly everyone in the room admitted to having never been part of a debate-prep session before.
He's optimistic that the race is still open—especially when he looks at the successful campaign of another bookish young mayor, of a city one-15th the size of San Antonio. I asked him whether he feels jealous that former Vice President Joe Biden is the one touting his connections to the former president all the time, and he labeled Biden as what's been left behind, knocking him for keeping border crossings criminal thanks to a law written by, in his words, "a segregationist senator" in 1920. "It's clear that between him and me, one of us has learned the lessons of the past, and one of us hasn't," Castro said in Milwaukee.
"When I think of health care, when I think of the economic recovery that the Obama administration helped bring about, the number of jobs that were created in the country, the longest positive job growth in the country's history, there's a lot to be proud of. I embrace that; I'm not running away from that," Castro told me. "At the same time, I'm running for a Julián Castro administration, not another term of Barack Obama."
Domingo Garcia, the national president of LULAC, sees Castro's potential, arguing that Latino power in the general election could make the difference in Arizona, Colorado, Florida, Texas, Wisconsin, and even Iowa, where the Latino population is 5 percent of the state. Latino participation in the Iowa caucuses hit a record high in 2016, and Garcia believes it will continue to rise—not to mention the heavily Latino electorate awaiting in the Nevada caucuses, if Castro can make it that far into the primaries. "If Castro's able to survive to Houston," Garcia told me, referring to the site of the third debate, "then he could catch fire."
Castro met the Democratic National Committee's 130,000-donor threshold to qualify for Houston. But first, he'll have to deal with a tougher draw for the second debate, in Detroit. He's slated for the second night, when most of the attention will be on the Joe Biden–Kamala Harris rematch. Breaking out when no one is expecting it is one thing. Breaking out again, especially on a stage with better-known candidates also looking to break out again, is a whole lot harder.
And if people want to talk identity politics, Castro said yesterday in Detroit at the NAACP convention, don't look at him. Look at the White House.