Trump Left the Nuclear Deal. Now Iran's Fighting Back.
The Islamic Republic has followed through on its threat to breach the nuclear accord. What happens next could determine whether the deal can survive.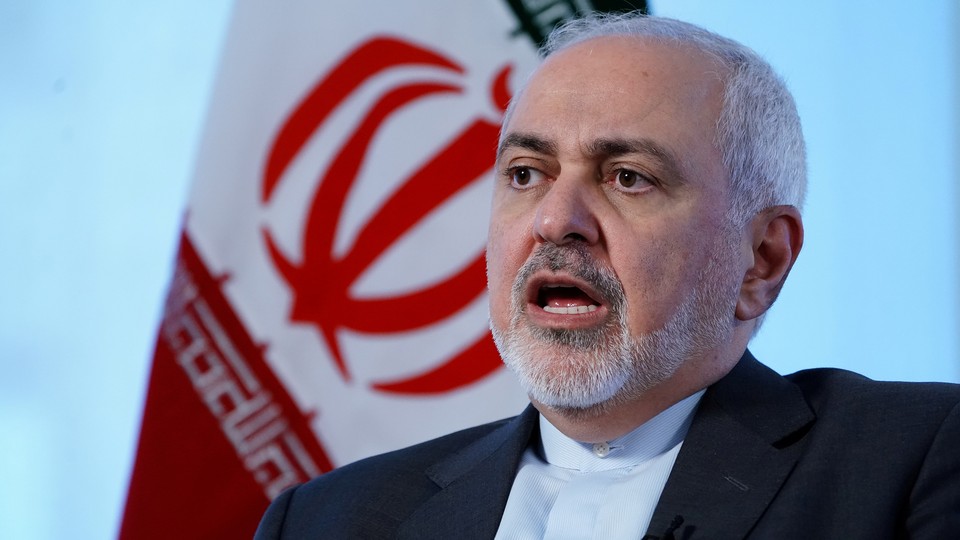 Iran threatened for weeks, and today the threat came true: Foreign Minister Javad Zarif announced that Iran had committed its first significant breach of its nuclear deal with world powers, breaking a limit on its uranium stockpile.
At issue is a mere few kilograms of uranium out of hundreds Iran is allowed under the deal. Iran has taken only a small step toward a bigger stockpile. Where it goes from here will determine whether that turns into a giant leap out of the deal.
"What they do next will tell us if it's a breach that portends the demise of the deal, or a determination by the EU in particular that it warrants a snapback of sanctions," says David Albright, the president of the Institute for Science and International Security and a former UN weapons inspector.
Though President Donald Trump ditched the nuclear deal a year ago, Iran and the pact's other parties for the most part kept observing its terms. But Iran's leaders have warned that if they could see no economic benefits from the deal—a difficult proposition given the United States' repeated rounds of crippling sanctions on the country—they had no reason to stay.
The White House issued a statement saying that it had been a mistake to allow Iran to enrich uranium under the deal in the first place. "The United States and its allies will never allow Iran to develop nuclear weapons," the statement said. "Maximum pressure on the Iranian regime will continue until its leaders alter their course of action. The regime must end its nuclear ambitions and its malign behavior."
There was no announcement of new sanctions, though the administration was already planning as of last week to sanction Zarif, and may do so within days.
The breach is a minor one in practical terms; it does not seriously shorten how much time Iran would need to race to a nuclear weapon, which some estimates put at up to a year. Iran has in the past exceeded the deal's limits on certain centrifuges and on heavy-water stockpiles, but has generally corrected these breaches quickly, sometimes after getting caught, Albright says. Today is the first time Iran has come forward to proudly and publicly announce a violation, though even then Zarif said the step was reversible and conditional on the Europeans fulfilling their commitments under the deal, and he denied that Iran was violating the agreement.
What the breach does do, however, is stick a finger in the eye of Europe, whose diplomats spent weeks scrambling to set up a mechanism to trade with Iran despite U.S. sanctions, to give Tehran some of the deal's promised benefits. They finally got it up and running last week, only to have Zarif say it wasn't enough.
Administration officials had previously said that Iranian threats to surpass the stockpile limit represented an attempt to "blackmail" the Europeans into concessions. But Iran is taking a gamble that it can step over certain lines and that European powers, desperate to preserve the deal, will keep backing down or offering concessions.
"Iran's very carefully creating a situation where it's incrementally changing things," Albright says. "But the tipping point from Europe is hard to predict, because clearly they don't want to snap back sanctions. They fear the unknown much more than the United States does."
Iran's leaders may be correct in the short term. British Foreign Secretary Jeremy Hunt wrote on Twitter that he was "deeply worried" by Iran's announcement, but that the U.K. "remains committed to making the deal work & using all diplomatic tools to deescalate regional tensions." President Emmanuel Macron of France—which is a party to the deal along with Germany, the U.K., Russia, and China—told reporters over the weekend that a stockpile-limit breach would not automatically trigger sanctions. The deal has a dispute-resolution mechanism that can take more than a month to reach a determination of noncompliance with the deal and result in more sanctions from the Europeans. In the meantime, though, Iran's economy is suffering acutely from a unilateral U.S. campaign of sanctions, including an effort to choke off the country's oil exports entirely.
The risk for Iran is that there may come a point when European powers lose patience. Iran has attempted to divide the United States and its European allies, all of whom have opposed Trump's withdrawal from the deal. Yet with repeated provocations, Iran may ultimately drive the Europeans to join Washington's pressure campaign—thus effectively killing the agreement permanently.
That's certainly what Iran hawks are hoping. Israel's Benjamin Netanyahu has called for the Europeans to reimpose sanctions, as has Republican Senator Ted Cruz, who has introduced legislation to sanction INSTEX, the European mechanism to facilitate trade with Iran.
As for what the United States would do, Trump has left it vague: "You'll see," he told reporters over the weekend. He has said in the past that Iran cannot get a nuclear weapon, and his administration has laid out a series of varying red lines for military actions, including the death of an American by Iranian proxy or even, per a later Trump tweet, "any attack by Iran on anything American." A little over a week ago, Trump pulled back from ordering a military strike on Iran over the country's downing of an American drone in what the U.S. said was international airspace, having decided it would be "disproportionate," because Iran hadn't killed anybody. (The drone shoot-down was Iran's most provocative attack to date, following weeks of tanker explosions near the Strait of Hormuz that the U.S. has attributed to Iran. Yet even these actions have appeared calibrated—the explosions avoided sinking any ships and the drone attack was one on hardware, not humans.)
Trump has also stated his belief, prior to Iran's announcement today, that the Iranians were already violating the agreement—which suggests at least some degree of being willing to live with such violations without a military response. On Meet the Press recently, he told Chuck Todd: "I think they have violated the agreement, because I think in the areas that we're not allowed to inspect they're doing things. And I think they have been for years."
Meanwhile, despite the fact that Secretary of State Mike Pompeo has said some 80 percent of the Iranian economy is already under sanctions, the U.S. keeps finding new sanctions to use. Last week it sanctioned the country's supreme leader himself. Iran's escalations, whether with regard to the nuclear deal or targeting U.S. interests in its region, have so far been calibrated. But the risk is, they may not stay that way.