The Democrats' New Strategy for Capturing Black America's Attention
When the 2020 candidates publish op-eds in outlets like Essence, their choice of venue is just as important as what they write.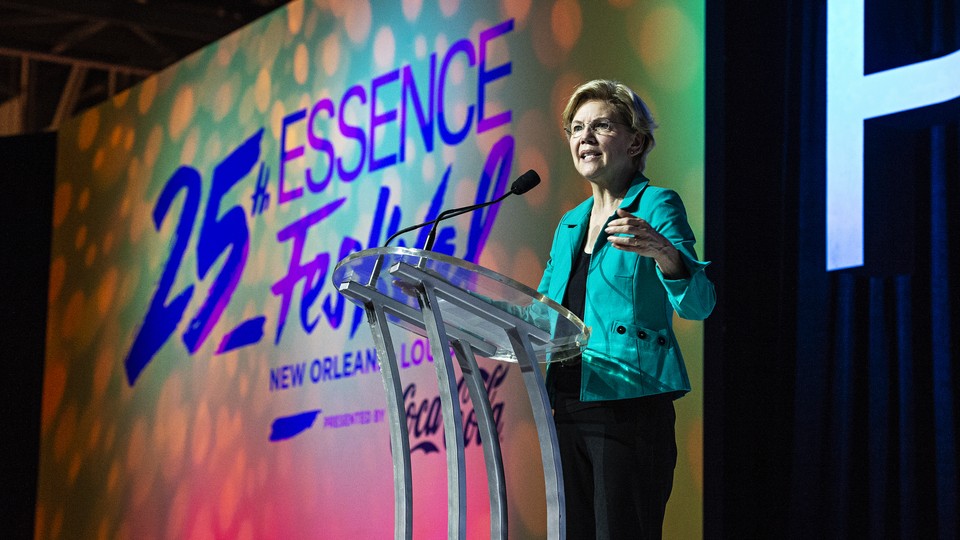 Updated on July 16, 2019 at 5:19 p.m. ET
When Elizabeth Warren wanted to make, in her words, "a new commitment to Black women," she went to Essence magazine. It was an obvious place for such a declaration: the most popular magazine in black households, where black women are most likely to be the breadwinners. That piece, from this month, was her second column for the publication: In April, the senator from Massachusetts had written one about how she plans to improve the treatment of black women in the health-care system in the midst of America's worsening maternal-mortality crisis.
Warren is not the only candidate who has taken this targeted approach to reaching black women voters, a demographic that could play a decisive role in the Democratic primary's outcome—not to mention the general election. Last month, Senator Cory Booker of New Jersey published a column in Essence on Juneteenth, and his mother wrote another for the magazine a few weeks later. Booker also wrote a recent piece for the online LGBTQ publication The Advocate, in which he responded to the murder of a black transgender woman named Brooklyn Lindsey in Kansas City, Missouri. Essence has given Senator Kamala Harris of California, the only black woman currently running for president, a monthly column, affectionately called "Kamala's Corner." A month before his loss in a 2018 Senate race, former Representative Beto O'Rourke of Texas also wrote in the magazine about the maternal-health crisis. And several candidates appeared at the Essence Festival in New Orleans last week, to address the largest annual gathering of black women in the country.
In some ways, these op-eds and appearances are a predictable extension of the stump speeches told on the campaign trail over barbecue: The candidates typically share a story about a particular person who opened their eyes to a policy issue. They plug the plans they have to address that issue. Ruminate thoughtfully if a plan doesn't exist. Validate. Empathize. Demand better.
But their careful choices of venue and subject matter aren't just about affirming the concerns of some of America's most vulnerable people. The columns in particular are filling a void in a flooded media landscape, where even mainstream publications are not covering subjects such as maternal mortality, the death of trans people, and rank inequality adequately. When these issues are addressed, they're often framed in terms of singular incidents, rather than placed in the context of institutionalized racism. By putting op-eds in publications marketed to marginalized communities, candidates are addressing those populations directly and bringing broader awareness to their issues—potentially reaching audiences that have largely ignored both. By virtue of their star power, they are forcing a larger-than-typical group of Americans to pay attention. In this way, where the candidates choose to place their words is as important as what they have to say.
The stakes for the candidates cannot be underestimated. Black voters have a history of congregating around and collectively uplifting a single candidate, often functioning in primary races as kingmakers. For black voters, Barack Obama's unlikely victory over Hillary Clinton in the 2008 Iowa caucus marked a huge turning point; it demonstrated that he could win, and helped solidify support among black voters in South Carolina. In similar fashion, black voters in Alabama propelled the Democrat Doug Jones into a Senate seat nearly a decade later. (Ninety-six percent of black voters, and more specifically, 98 percent of black women, supported him.)
"Political solidarity is not an innate characteristic of black America; it is a survival tactic that adverse experience has reinforced time and time again," Theodore R. Johnson, a senior fellow at the Brennan Center for Justice, wrote recently in The Atlantic. "Black Americans have been made acutely aware that their individual fates are linked to the well-being of the whole group."
It's this dynamic that drives black voters to be deeply precise with their selection of candidates, and this time, an eventual matchup against President Donald Trump looms over the decision-making process. It's still too early in the race to determine which candidate will garner the bloc's support, but there seems to be greater competition for the black vote than has been seen in recent elections, and candidates seem desperate to make lasting connections that will endure through the primaries.
At Essence, editors consider 2020 a historic election. When asked about the magazine's strategy to publish candidate op-eds amid its beauty and fashion coverage, Yesha Callahan, the editorial director for news and politics, replied: "We're the only [outlet] that caters to black women, [who] are a political force to be reckoned with. I want it to be a place that black women can come and speak about issues, everything from politics, incarceration, voting rights, maternal health." Kirsten Allen, Harris's deputy national press secretary and African American–media director, told me that the senator wants to meet voters "where they are … to earn their support," and that her pieces for Essence are "part of that process." Sabrina Singh, Booker's national press secretary, echoed that sentiment: "We know that we have to meet voters where they consume their news," she said. (The Warren campaign could not be reached for comment.)
It's not insignificant that top candidates are vying for the black vote and engaging voters through the black press in such a harsh media environment for these outlets. Earlier this month, The Chicago Defender printed its last edition after spending more than a century telling the story of black life in America. Ebony and Jet magazines recently dismissed the remainder of their staffs, and it appears that those institutions may soon be closing their doors for good. Angela Ford, the executive director of the Obsidian Collection, an archival project focused on digitizing African American newspapers, remembers growing up in Chicago with Ebony, Jet, and an edition of the Defender on the coffee table every day. "You could tell a black person was talking to another black person, and that was comforting," she told me. "To surrender that, and only hear about yourself through a white lens, is really unsettling."
That's not to say that the state of black media isn't still vibrant: Essence is now an independently black-owned magazine, after the Shea Moisture founder Richelieu Dennis acquired it from Time Inc. last year. Digital outlets such as The Root, Blavity, and The Undefeated represent promising publications for young audiences. Black Twitter, too, has created a space for real-time communication. But still, the loss of some of these institutions signals the end of an era.
Legacy black publications have elevated the concerns of black people since before the ugliness of Jim Crow, the rage of the civil-rights era, and the tangle of excitement and anguish that has fueled America's unsteady progress since then. For context, the first black-owned-and-operated newspaper, Freedom's Journal, launched in 1827 with a succinct mission: "We wish to plead our own cause." While the weekly remained in circulation for only a couple of years, it was a beacon for black liberation and an advocate for the abolition of slavery some 30 years before the end of the Civil War. The long history of these publications is one that celebrates the complexity of the black community—even when the rest of the world ignores it—filtering the news of the world through the unique lens of marginalized people.
The candidates currently seeking the Democratic nomination are not the first ones to target black media. Jane Rhodes, a mass-media historian and an African American–history professor at the University of Illinois at Chicago, told me that The Chicago Defender played a role in Obama's political rise. "Obama learned in the early 2000s that you needed to be there, you needed to get to know that media organization," she said. "He went to the offices of the Defender, participated in their forums … and that made a huge difference in building a huge upswell of support and a constituency."
To Ford, this moment in American politics signals an increased need for the black press—and represents a challenge for the candidates who want to engage black voters. "Black people celebrate a specific outreach to [their] community … [but] they are more intuitive than the rest of America," she said. "If you listen to someone's answer, you can tell in 15 seconds if that somebody is on your side or if they're pandering to you." Among the candidates counting on specific media outlets to deliver them to black America, the primary message appears to be that black women will set the pace for what the nation needs.
"If we're going to save this country—we need to trust Black women to show us the way," Warren writes.
"Let's follow the lead of the women who are confronting this [maternal-health] crisis every day. The key to tackling it head on will be listening to women of color and learning from their experiences," O'Rourke says.
"I've vowed to listen just as much, if not more, than I talk … about what I'm hearing on the trail, in your homes, your towns and schools," Harris echoes.
Quoting the author Ralph Ellison, Booker writes, "'I am invisible, understand, simply because people refuse to see me.' We must see the truth of this crisis" of violence against trans women.
See black women. Listen to black women. Trust black women.
At best, this formula is a potential road map for a candidate to capture the crucial, but currently splintered, black vote. At worst, it's the kind of pandering that contributes to a unique political exhaustion known intimately by black women: being noticed only when something needs fixing or tending to, and then swiftly ignored. Rhodes applauded how the candidates, overall, are focused on issues crucial to many black voters, such as education and housing. But she cautioned that the candidates' investment in black media is no substitute for really engaging the community. "My view is that it's a quick one-off. It can be a way to appear that you care about black communities, but are you really spending time there?" Rhodes said.
"Folks are sitting back and they're watching and they're waiting," she said. "They're waiting for substance. They're waiting for candidates who actually hear them and are engaging with them."
Having a group of politicians, no matter what party, who can speak intelligently about and show consideration for the lives of black women is a good thing. Meeting them on their own terms—in the publications they read and the places they socialize, even as some of those traditional spaces shrink—is an even better thing. The challenge for the candidates will be demonstrating to black voters what they'll do with all their seeing, and listening, and trusting. The differences in the crowded field of Democrats jockeying for black America's attention will be felt in the space between politicizing black communities' pain and planning to address it.