Holding Democrats to the Trump Standard
Can Democrats still win if they don't play the president's game?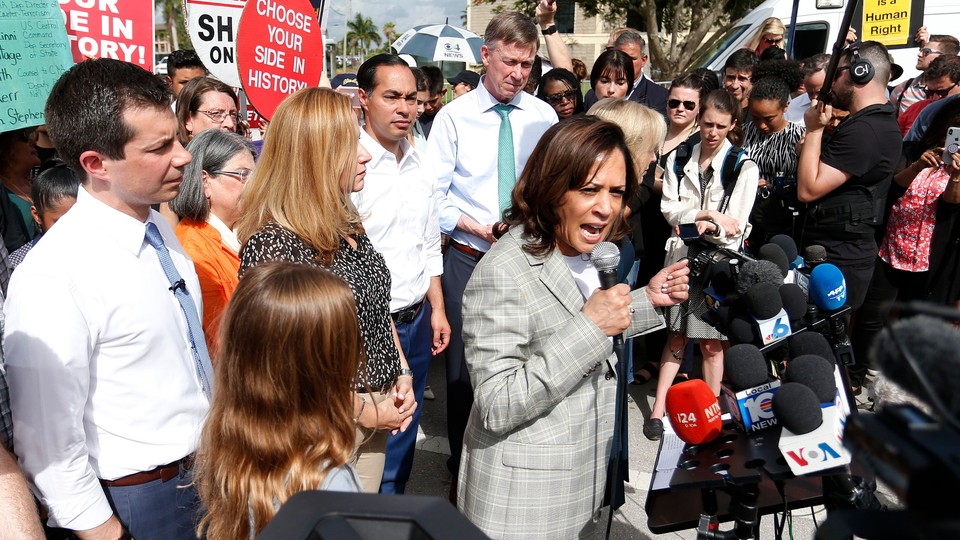 Sometimes it seems like Donald Trump is president in one dimension, and the Democratic-primary race is taking place in another.
Democrats are engaged in a back-and-forth over whether the federal government should have superseded local authorities on public-school busing in the 1970s, and over the relative merits of the process as a tool to achieve racial integration. President Trump has offered that busing "certainly is a primary method of getting people to schools."
After Russian President Vladimir Putin told the Financial Times that Western-style liberal democracy is "obsolete," Trump said he thought he understood the point, "if you look at what's happening in Los Angeles, where it's so sad to look, and what's happening in San Francisco, and a couple of other cities, which are run by an extraordinary group of liberal people." Last week, during the first primary debates, in Miami, Democrats were pushed to provide concise and specific answers about national-security issues. This was just a few hours before Trump joked about election security with Putin and ambled over the barrier in the demilitarized zone (DMZ) to give the North Korean dictator Kim Jong Un yet another made-for-TV moment, without asking him to give up a single warhead along the way.
The Democratic candidates were recently asked to describe their first acts in office. Trump has spent some of his recent time in the Oval Office showing off a model of a new Air Force One color scheme, and appeared not to know what kinds of military tanks he has lined up for display on the Fourth of July.
Democrats are wrangling over progressivism and moderate proposals, and how much to tilt toward democratic socialism. The 2020 candidates are frequently grilled on their plans for cutting carbon emissions, while Trump regularly confuses climate change for weather patterns."We need a higher standard in our discourse, and we need a higher standard for the leader of our country," Senator Amy Klobuchar of Minnesota told me over the phone from Iowa last night. She said she'd just received a question about carbon sequestration on marginal farm land, and was pleased with herself that she knew the answer. I asked her what she thought Trump's response to the same question would be, and she started laughing.
"He has been held to a historically low standard of what a president should be, and I think that's a reflection on how disconnected the American people feel from their political institutions," Senator Michael Bennet of Colorado told me by phone yesterday. "He just rolls over everything that is in his path. Can you imagine what the reaction would have been if Barack Obama had wandered into the DMZ with no plan, no strategy? Every day there's something like that."
In Miami, Democrats engaged in a substantive debate about health care and complex issues such as private insurance and Medicare for All. Trump keeps promising that he's coming up with his own health-care plan, but all he's managed to do so far is bludgeon Obamacare, nine years into Republicans building an agenda out of a slogan to "repeal and replace" it, of which they've done neither. Democrats have been pressured to release their taxes, and battered about what's revealed in them, such as Senator Bernie Sanders of Vermont becoming a millionaire or former Representative Beto O'Rourke of Texas giving close to nothing to charity. Trump still claims that he's under what would have to be one of the most extended audits in American history, and uses that as an excuse not to release his returns.
When I asked Representative Seth Moulton of Massachusetts yesterday if he felt he and the other Democratic candidates were being held to a different standard, he responded that "of course" they were. "But we should be," Moulton said. "We're a party of high standards. I don't know anybody in this party who wants to be held to the same standard as Donald Trump."
---
In April, several women accused former Vice President Joe Biden of unwelcome physical contact, and he faced pressure from some quarters not to run for president at all. The writer E. Jean Carroll's detailed allegation of Trump forcing himself on her in a Manhattan dressing room has been overlooked by the president's allies, waved away by Senate Democrats, and didn't make the front page of The New York Times. (Carroll is now the 24th woman to accuse Trump of sexual assault.)
Two weeks ago, on the day Biden recalled making compromises with segregationists, Trump said that the wrongly imprisoned Central Park Five had "admitted their guilt." (Trump helped lead a racist campaign to prosecute them in 1989; they were exonerated in 2002.) On Thursday, Donald Trump Jr. retweeted an accusation about Senator Kamala Harris of California's American heritage, because her father was Jamaican-born.
Out on the trail, the Democratic candidates are regularly scolded to make sure their campaigns are about more than just condemning the president, while Donald Trump rarely talks about anything other than himself, whether taking credit for stock-market gains or addressing the troops in South Korea on Sunday.
Democrats come out with big plans—such as Senator Elizabeth Warren of Massachusetts's proposal for universal child care, or Senator Cory Booker of New Jersey's ambitious gun-control plan—and they're immediately asked how they'll pay for them.
"I hear that question," Harris said, batting back a question at the debate on Thursday about how she would pay for her plans, "but where was that question when the Republicans and Donald Trump passed a tax bill that benefits the top 1 percent and the biggest corporations in this country?"
Democrats struggle with how much to invoke Obama and how much to move past him, while Trump on many days seems obsessed with his predecessor—mainly with undoing Obama's legacy. Many of the candidates have been scrutinized for the role family members—Jane O'Meara Sanders, Hunter Biden, Maya Harris, Joaquin Castro, to name a few—play in their campaigns, while Ivanka Trump glided into sessions with world leaders at the G20, then headed to the Kim meeting with her husband, fresh off his own whiff of an Israeli-Palestinian peace summit in Bahrain that neither Israel nor the Palestinian Authority attended.
And then there are the basics: The Democrats are roasted if they fudge a fact, while Donald Trump barely gets through a tweet without saying something as connected to reality as an extra scoop of ice cream is to a healthy diet.
Of course, the pro-Trump media help obscure the skew, such as when the Fox News host Tucker Carlson tagged along to the Kim meeting with a handheld video camera, then asserted that others were obviously out to get the president. Around the same time, Carlson's Fox News colleague Laura Ingraham gushed on Twitter, "WOW. 'Trump becomes first sitting US president to set foot in North Korea.'" In 2016, Ingraham tweeted, "It's 5 PM, which means Pres Obama must be meeting with some dictator somewhere. Are there any left?" She's not the only one with that kind of flip: Mercedes Schlapp, a former White House official now working for Trump's reelection campaign, tweeted in 2016: "@BarackObama visiting Cuba is equivalent to visiting North Korea."
Trump has waved away any attempts to discuss what's happening at the migrant-detention facilities being run on federal property, and he certainly hasn't volunteered any answers, other than to blame Democrats for not giving him the money he wanted for a border wall. But on this issue, too, it was the Democrats who were asked for specifics as to what they'd do about the children in custody.
---
Over several days last week, many Democratic candidates drove to the center of the Homestead Air Reserve Base, just over 30 miles from the debate site in Miami, inland from the beaches serving $15 cocktails. They joined the activists who shouted "We love you!" in Spanish to the teenagers who are being held in temporary white tents. The migrants at Homestead are given fluorescent-orange baseball caps to wear, and they can usually only be seen as they walk between tents.
Warren, Klobuchar, and Representative Eric Swalwell of California all visited the Homestead facility before the first debate, last Wednesday. On Thursday morning, O'Rourke drove up shortly after Sanders had driven away. O'Rourke listened to some of the activists describe the conditions inside, then walked to the stepladders on the other side of the road so that he could look into the base. Are Americans facing up to what's going on?, I asked O'Rourke as he got close.
"We are not. And I guarantee you, it is not just going to be a stain on our consciences; it's going to change the character of who we are," O'Rourke said.
On Friday, five Democrats tried to tour the facility together (a sixth, Marianne Williamson, showed up later). Harris; Senator Kirsten Gillibrand of New York; South Bend, Indiana, Mayor Pete Buttigieg; former Colorado Governor John Hickenlooper; and former Housing and Urban Development Secretary Julián Castro got as far as the processing center, with Harris trying to get farther by telling a guard, "I'm a member of the Homeland Security Committee."
They'd been expecting to be refused entry, and they were. Aides who told me this had already organized the spot for the press conference to complain about not being let in. "This is about children!" Gillibrand said. "This administration has no humanity. What will it take for President Trump to have an ounce of compassion? What will it take for the Republican Party to have an inch of spine? I can't tell you, because we have not seen it." Castro, who has made speaking honestly about the border crisis and potential solutions central to his campaign, accused the administration of hiding terrible conditions, sexual abuse, and psychological damage.
"In no other context would we allow little children to be treated like this," Castro told me afterward. "If a parent in a suburb was treating their child the way some of these children are being treated in these detention facilities, Child Protective Services could come in and take that child away. This speaks to who we are and who we need to become as a nation. This president is failing us, but we're also failing ourselves to allow this to happen."
Even among the appreciative activists, there's a demand for more from the Democrats than from Trump. "It's nice that they're coming," Mariana Martinez from the End Child Detention coalition told me, as O'Rourke stood on the ladder, waving a giant cutout heart, "but just making a scene for their presidential campaigns isn't good enough for us. We're asking for a commitment."
Trump says he doesn't like the camps, but blames Obama, and the Democrats' refusal to do what he wants on border policy. He responded to the viral photo of a drowned father and daughter last week by saying that the Rio Grande "can be a very rough river of sorts." But Trump hasn't gone to Homestead or any of the other facilities, or said he has any interest in seeing the conditions himself. "We're doing a fantastic job under the circumstances" is how he put it in a Meet the Press interview last week. He's the one who could address what's happening at the camps if he wanted to, and whether he believes the conditions are fine or necessary or something he wants to change. He hasn't even done a photo-op in front of supposed wall construction at the border in a while.
That's the kind of commitment most have settled on getting out of Trump.