The DNC Army That Could Soon Descend on Swing States
To avoid repeating the errors of 2016, the party is training young people of color to be campaign organizers for the eventual Democratic nominee.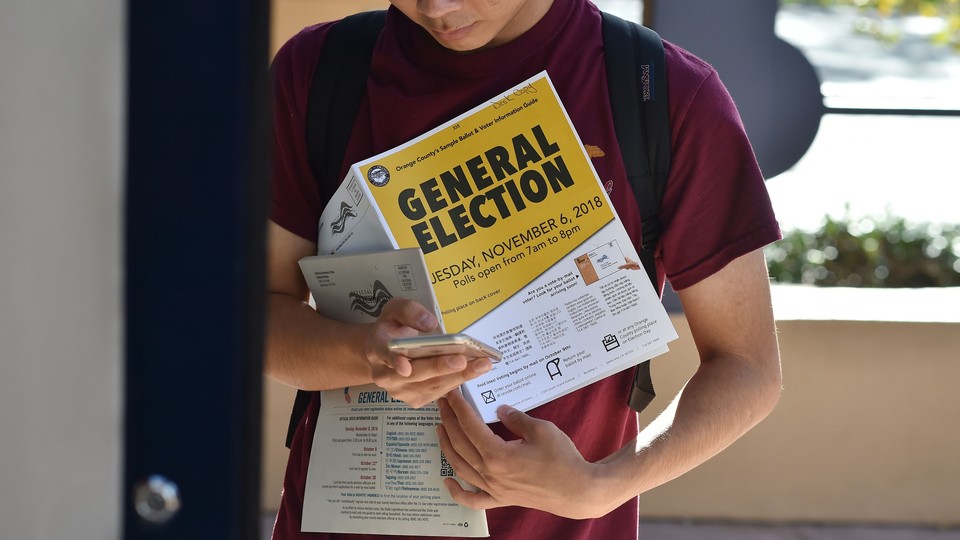 ATLANTA—A sort of heat-induced hush settled over the city's concrete downtown. The morning rain had just stopped, and the sun peeked out occasionally from behind the clouds to bake the sidewalk. Cars and people seemed to move through the streets at half their usual pace, dreamily, through thick layers of humid air. And inside a university building on Luckie Street, 300 college juniors were learning how to listen.
The best practices of effective listening are to offer supportive nods, ask clarifying questions, and paraphrase what the speaker has said, an instructor told the students, who were seated in four rows in a windowless classroom. He played three video clips on a projector and asked the students to consider how they were reacting in real time to what they heard: a few minutes of stand-up from the comedian George Carlin, a recording from an NPR segment on the 2020 presidential election, and an interview with a young white woman from the Rust Belt who said she felt forgotten by the politicians in Washington. He reminded the group to have a "learner," not a "judger," mind-set. "Don't make assumptions," he explained. "Always wonder, Why?"
The lesson, called "Getting to Know the Community," is part of a new training program from the Democratic National Committee that teaches young people, mostly people of color, how to be campaign organizers. Called Organizing Corps 2020, the eight-week course is designed to school 1,000 college juniors from seven battleground states across the country. The DNC has high hopes for the student trainees: Come summer 2020, it hopes to put them to work for the eventual Democratic presidential nominee.
The initiative seems designed to correct for a longtime problem in political campaigns: the underrepresentation of people of color. But it could also be viewed as the Democrats' attempt to right the wrongs of 2016—a response to the pervasive criticism that the party failed to invest early, or earnestly, in communities of color; to develop young and emerging talent; and to mobilize disengaged voters from marginalized communities. The effort has been publicly supported by leading Democrats, and even some of the DNC's most vocal progressive detractors say they feel their concerns are starting to be heard. But there are real logistical questions about the program's sustainability. And some of those same progressives say they still have serious doubts about the party's willingness to make long-term investments in young people of color.
To alleviate those doubts, the DNC will have to demonstrate that it's not trying to harness their energy for only short-term gains in 2020—and that officials want them to have a permanent, high-profile role in the Democratic Party.
By now, the fallout from 2016 should be familiar. Since Donald Trump's victory blindsided Democrats, many progressives and anti-establishment types have argued that Trump didn't win because he was more appealing to voters than Hillary Clinton; he won, the argument goes, because Clinton failed to turn out voters. These critics accuse her campaign, and the Democratic Party more broadly, of failing to attract and build on the kind of multiracial coalition that Barack Obama depended on in his two elections. And they've warned that the party could make similar mistakes in 2020 if it prioritizes white swing voters over the party's base: young people, women, and people of color.
DNC Chairman Tom Perez has suggested that the party has learned its lesson from 2016, especially when it comes to black voters, whom critics allege the DNC has undervalued and underinvested in. "We lost elections not only in November 2016, but we lost elections in the run-up because we stopped organizing," Perez told a mostly black crowd at a fundraiser in July 2018 for the DNC's I Will Vote initiative, which focuses on registering new voters. "African Americans—our most loyal constituency—we all too frequently took for granted. That is a shame on us, folks, and for that I apologize. And for that I say, It will never happen again!"
Organizing Corps, then, could have two uses for the DNC: It could help demonstrate to voters and future leaders of color that the party values them, while benefiting the party's candidate in the short term. The program, which is run in conjunction with the Collective PAC, an organization working to elect black candidates, and 270 Strategies, a progressive consulting firm, has recruited students from a dozen cities in Michigan, Wisconsin, North Carolina, Pennsylvania, Florida, Arizona, and Georgia—all swing states with sizable minority populations that Democrats think they can flip from Trump next year. All of the students will be paid $4,200 for the eight-week training, with the expectation that, after they graduate in 2020, they'll return to their home region to work on behalf of the Democratic nominee.
Typical presidential candidates employ about 300 staffers nationwide by the end of the primary season, but once they earn the party's nomination, they need to find roughly 2,700 more, Rachel Haltom-Irwin, Organizing Corps' executive director, told me. Rather than hiring the typical crew of former Capitol Hill interns and kids with connections, campaign leaders will—the DNC hopes—have a full reserve of would-be hires to draw from, almost 80 percent of whom will come from communities of color; each will have gone through training on the basics of campaigning, from digital strategy to data collection to communication skills.
"We are looking at a possible scenario where we are going to win or lose by very thin margins in key battleground states," said Haltom-Irwin, who was also the national get-out-the-vote director for Obama's 2012 reelection campaign. Campaigns often parachute into communities with paid organizing efforts just months or weeks ahead of a presidential election. The purpose of the new initiative, Haltom-Irwin said, is to recruit the best talent and get them to work early on. "We're making sure they're from the community and they look like the voters they're organizing," she added.
If the program works as intended, the trainees could ultimately constitute a significant share of campaign workers nationwide. "We're saving [the nominee] time on hiring," Haltom-Irwin said, "and time is the most precious resource on a campaign."
But it's still an if—that outcome, at present, is not a given. The DNC still has to figure out the program's next steps, including how exactly students will be funneled into campaign jobs. And while officials have established that the process will run through the DNC, they aren't guaranteeing that every single student will be able to secure employment on the eventual nominee's campaign.
"But they do have a pretty good advantage," says Brandon Gassaway, the DNC's national press secretary, "as it is, essentially, a fellowship program sanctioned by the DNC for the same work they'd be doing as an organizer." It's "really an extra layer of experience that folks just starting out in their careers don't typically have," Gassaway adds.
When I spoke with students in between training sessions, they seemed excited to be part of the DNC's efforts, even as they echoed criticisms of the party's record.
"The Democratic Party took a hard look at 2016 and wanted to make sure that wasn't repeated," said the 21-year-old Julian Lehrer, a student at Arizona State University. The party needs young leaders to "rise through the ranks and lead us to victory" in states such as Wisconsin, Michigan, and Arizona, he said.
"It's such a critical time for people to get involved, and I think we lost sight of that in the last election," said Rafael Muñoz-Echavarria, a student at the University of Wisconsin at Milwaukee. The 22-year-old, who has never campaigned or otherwise been involved with the Democratic Party before, told me that Clinton's failure to energize voters in Wisconsin in particular—where she lost to Trump by just 0.7 percent—was a topic at one of the group's meetings that week. "People don't feel engaged; they don't feel like the political arena is accessible to them," he said. "We're here to do something about that."
During an introductory seminar on the "foundations of organizing," the students sat together, in a stadiumlike lecture hall, to learn the four basic steps of the DNC's model for interacting with voters in their communities: connect, listen, engage, activate. They also read aloud, popcorn-style, from an essay on community organizing written by Obama, snapping their fingers and uttering soft mhmms when they heard something they liked. They snapped a lot.
In another session, the trainees learned to create their own "personal stories"—their background and motivation for organizing—and paired up to rehearse. The exercise was one of the most crucial parts of the program, trainers told me, the core of the corps. In order to connect with voters, organizers have to share a piece of themselves; they call it, in the breathy tone of someone explaining his spirituality, their why. "We've got to bring the why to people, and engage them on their why," Jonae Wartel, Organizing Corps' chief program officer and a former Obama-campaign organizer, told me.
Stories they had. I met students whose own precarious status as recipients of the Deferred Action for Childhood Arrivals program had spurred them into activism, and others whose relatives' incarceration had inspired their advocacy for criminal-justice reform. Jessica Mendoza, a 23-year-old student at Northern Arizona University, told me that she had grown up in a low-income neighborhood on the west side of Phoenix as one of 12 children. When she was in fourth grade, her father was deported to Mexico and she didn't see him again for 15 years.
She often felt trapped in her existing circumstances, she said. But it was student debt that galvanized her politically. Mendoza is the first person in her family to attend college, and she's racked up thousands of dollars in loans. "I realized the only way I was going to make change was to organize," Mendoza said, especially "around the communities that we didn't get to in 2016."
Last year, Mendoza watched party organizers from all over the country descend on Phoenix to mobilize voters ahead of the midterm elections. The city has nearly 600,000 residents who are Hispanic or Latino—roughly 37 percent of the city's population—but she noticed that many of the parachuting party organizers couldn't speak Spanish. "Just being able to work with the people that know their communities is crucial," she said.
These face-to-face, community-based conversations—what campaign operatives call "relational organizing"—are what the DNC says it wants to promote with the Organizing Corps program. Its goals, especially its intentional recruiting of young people of color, have won the support of many of the party's emerging leaders, including the former Georgia gubernatorial candidate Stacey Abrams, whose nonprofit organization is working to sign up more than 800,000 unregistered voters in the state, and Andrew Gillum, the former Florida gubernatorial candidate, who told me in an interview that the training is "long overdue."
Gillum emphasized the fact that students are paid for the training. Many internships and entry-level jobs in politics are "based off an ability to volunteer or self-fund, and oftentimes that leads to a non-diverse coalition of people," he said. "I'm proud the DNC nationally and DNC state parties are taking this challenge very seriously, by helping to stipend young people to go back and work in these really important battleground states."
Tory Gavito, the president of the progressive network Way to Win, told me in an interview that she sees the creation of Organizing Corps as "a victory for those of us who have been working on the outside, agitating to have the Democrats listen to us." The party benefits, too, says Minyon Moore, the former CEO of the DNC and an adviser to Clinton in 2016, who's been critical of the organization in the past. "Now they're gonna have 1,000 [organizers], or probably more, trained and ready to go," she told me.
The students who complete the course will be expected to spend the next school year registering voters and recruiting more potential corps members. But, just as the DNC has no formal hiring system in place, there's not yet a formalized plan to keep students involved. Once the summer training is over, program leaders will hold a meeting to begin formulating their strategy—one that will need to keep the students engaged so that they stay committed to the program, and don't decide during the next year to take another job after graduation. Many of the Organizing Corps students I spoke with have never worked in politics before, so it's possible—even likely—that some may ultimately decide that campaign life is not for them.
"It's an admirable thing to try to do," says Yolanda Caraway, a longtime Democratic official and DNC member, referring to the party's attempts to recruit and develop young people of color. But "what are you going to do with them after that?"
Nearly every Democratic strategist and activist I spoke with hedged their optimism about Organizing Corps with similar concerns. They also wanted to know whether the DNC plans to expand its training to other Republican-leaning states, such as Alabama or New Mexico, or to otherwise widen its pool of potential organizers.
"This is one program, but all of that strategy needs to come with money or investment now," says Aimee Allison, the president of Democracy in Color, an organization focused on what it calls the "progressive New American Majority." "What we need to see from the Democrats is hundreds of millions of dollars into mobilization early enough for people on the ground."
In response to some of these criticisms, Gassaway, the DNC press secretary, said in a statement that the party is "committed to ensuring that communities of color and the next generation of leaders are represented and integrated into every element of our general-election campaign infrastructure." Noting his own background as a campaign organizer, he added that Organizing Corps is the "first step" of that effort and that the DNC "will continue to evaluate investments across the map as the campaign continues."
Cici Battle, who oversees Young People For, a national leadership-development organization for college-aged people, argues that an extended commitment to the young organizers is paramount. "Engagement and investment of people of color cannot just be temporary," Battle says. "It's not just creating a Facebook group so they can stay in contact." It's about establishing a long-term vision for the party, activists such as Battle say, and building up a strong, diverse infrastructure of organizers that lasts well beyond 2020.
At the end of the first full day of training, Perez himself addressed some of these concerns. The students and instructors filled the yard of Georgia State University's Dahlberg Hall for a celebratory barbecue. It was steamy outside, but luckily they'd avoided the rain. Students sat around tables wrapped in blue plastic sheets, ate pulled pork, and listened to a curated playlist that included plenty of Beyoncé. Sticky notes lined a nearby window, offering handwritten motivational quotes and advice submitted by former Obama organizers.
Perez, the keynote speaker, had flown in to help kick off the program, and he began his welcome speech with yet another acknowledgment of the failures of 2016. "One of the problems we got ourselves into as a party is we lost sight of the distinction between mobilizing and organizing," Perez told the corps members. Mobilizing, he explained, is a "short-term sprint," while organizing is about building deeper relationships with voters.
If Organizing Corps is successful, by this time next year the Democratic presidential nominee will have an army at the ready—equipped with effective personal stories and DNC-approved listening skills, and working to build relationships with voters in swing states across the country. In some of these states, where the Democrats' margin for error is minuscule, the students' work could help make the difference between winning and losing—which means it could help make the difference between winning and losing the White House. But first the corps members will have to stay invested through the next year—and be ready to apply for campaign work after graduation.
"The reason I hope that 100 percent of you come back in a year is because our democracy is on fire, and it's a five-alarm blaze," Perez told the crowd of students at the barbecue. "It's young people who are gonna rescue our democracy."