The Clarence Thomas Effect
The notoriously quiet Supreme Court justice has had a far-reaching influence on the personnel of the Trump administration, which may be his most lasting legacy.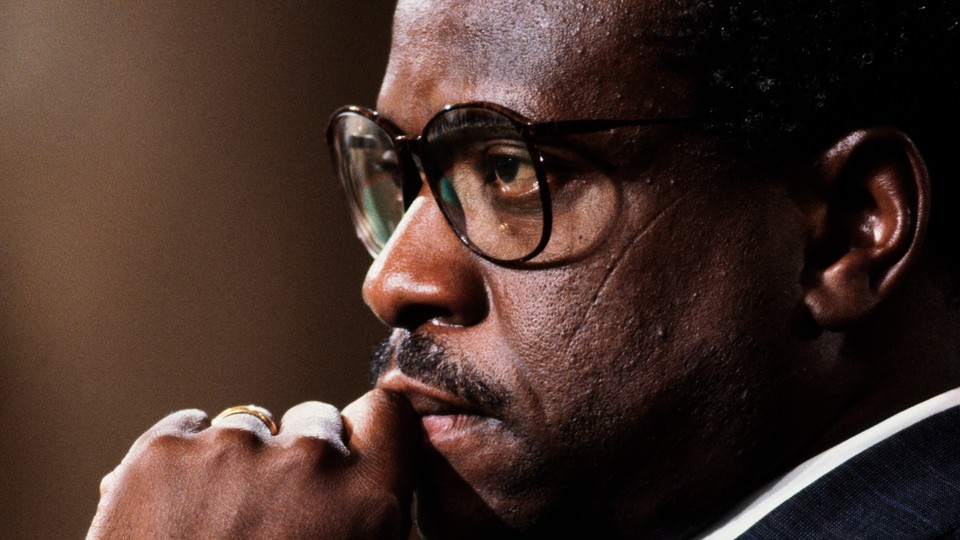 Clarence Thomas is the longest-serving justice currently sitting on the Supreme Court. For much of his tenure, court watchers and critics have dismissed his jurisprudence as largely irrelevant, demoting him to the late Justice Antonin Scalia's judicial sidekick. In the public imagination, he is most remembered for his worst moment. Last fall's confirmation hearings for Justice Brett Kavanaugh resurrected the debate over Anita Hill, the woman who famously accused Thomas of sexual harassment during his 1991 confirmation hearings.
And yet, during his time on the Court, Thomas has written prolifically and introduced ideas that have gradually gained influence among other justices. Of all the Supreme Court justices, Thomas takes an approach to the law that is arguably the purest embodiment of the conservative judicial philosophies known as textualism, which holds that the plain meaning of the text of a law is all that matters in judicial interpretation, and originalism, which holds that the Constitution should be interpreted only as its authors intended.
The most significant part of Thomas's legacy, however, may take shape long after he has stopped writing opinions. Personnel is policy. Thomas's vast network, more than that of any other justice, has defined President Donald Trump's administration and the federal judiciary Trump has built. Through his clerks and mentees, the notoriously silent justice may end up with an outsize voice in the legal system for years to come.
Numbers are the first evidence of the sizable Thomas effect. He has had more of his former clerks nominated to federal judgeships under Trump than any other justice, past or present: 10, compared with Anthony Kennedy's seven and Scalia's five. Roughly one-fifth of Thomas's former clerks either are in the Trump administration or have been nominated to the federal bench by the president. The clerks whom Thomas trained, has mentored, and actively stays in touch with are taking up lifetime appointments, and on the whole, they are quite young: Allison Jones Rushing, who now sits on the Fourth Circuit Court of Appeals, is just in her mid-30s.
[Read: Conservative women are leading the defense of Kavanaugh]
These relatively small numbers offer insight into the broad influence Thomas has had on the Trump-era legal establishment. Even clerks who aren't in formal positions of public service have gained prominence under Trump: Laura Ingraham, the conservative commentator who clerked for Thomas during his early years on the bench, has hosted one of the top-rated programs on Fox News since October 2017 and is an outspoken supporter of the president. Another former clerk, Carrie Severino, the chief counsel and policy director of the Judicial Crisis Network, has been one of the most vocal advocates for Trump's judicial nominees, including Kavanaugh.
The Thomas effect started taking shape early on in the Trump administration. As Slate's Dahlia Lithwick and Mark Joseph Stern noted as early as mid-2017, when the pattern was still nascent, "Everywhere you turn in Trumpland, you'll find a slew of Thomas' former clerks in high places." In part, this effect may have been driven by the people making the hires. Gregory Katsas, who clerked for Thomas on the D.C. Circuit and the Supreme Court, joined the Trump administration right after the inauguration as a deputy assistant to the president and deputy counsel. Later, when Katsas was nominated to his own judgeship on the D.C. Circuit Court, he told U.S. senators that he had been involved in "interviewing and recommending candidates for various executive and judicial appointments." At least three other people who have worked in Trump's White House counsel's office are also former Thomas clerks: John Eisenberg, David Morrell, and Kate Todd. When the Trump administration released its list of potential Supreme Court nominees in November 2017, four former Thomas clerks were included: Thomas Lee, Margaret Ryan, David Stras, and Allison Eid.
Any new administration has a huge number of positions to fill across the executive branch. When Trump took office, he also faced significant judicial vacancies—142 empty seats, according to data from the American Bar Association. By comparison, when Barack Obama took office in 2008, there were only 53 federal judicial vacancies. These jobs are filled like any other: through personal networks and recommendations. Under Trump, the most influential source of potential candidates for these vacancies has been the Federalist Society, a professional network for conservative and libertarian lawyers. "It happens that a lot of the people in the White House counsel's office are Federalist Society members, and as a result of having been Federalist Society members, they have their own set of contacts," said John Malcolm, who works on judicial issues at the Heritage Foundation and is chairman of the Federalist Society's criminal-law practice group. The organization's executive vice president, Leonard Leo, has had an influential role in advising the Trump administration on possible nominees.
Although stories about the Federalist Society often focus on the intellectual role and legacy of the late Justice Scalia, who was an early faculty adviser to the group at the University of Chicago, Thomas is a central figure in the Federalist Society universe. William Eskridge, a law professor at Yale known for his work on LGBTQ legal issues, told me the Federalist Society is "a social circle. It's a professional circle. It's a circle that gives [the justices] law clerks. It's a circle that gives them positive publicity." And, he added, "Thomas is at the center of that."
[Read: The Supreme Court hands a victory to the pro-life movement]
Scalia famously described himself as a "fainthearted originalist," although he later repudiated that label. By contrast, Thomas's originalism has been "unflinching," as one conservative law professor wrote in a recent column for The New York Times. Scalia himself told a Thomas biographer that Thomas does not believe in the legal principle of generally following settled precedent. "Among Federalist Society members, he probably would be their No. 1 favorite justice of anyone on the Court," Severino told me. "As wonderful as Justice Scalia is, Thomas is someone who has inspired a lot of young lawyers."
The Thomas effect may be due to more than just the power of networks, however. Thomas has been on the Supreme Court bench since 1991, and his clerks are entering their professional peaks during a Republican administration. Several former clerks told me Thomas goes out of his way to stay in touch with his clerks and cultivate their careers; they have monthly lunches and regularly get together for intergenerational reunions. Each year, Thomas takes his clerks on a field trip to the site of the deadliest battle in the Civil War. "I want them to go to Gettysburg and to think about … the price that was paid for this country to exist," he said in an interview with the appeals-court judge Diane Sykes at a Federalist Society event in 2013. "I love my law clerks," Thomas added. "These kids are my family."
Thomas's clerks tend to fit a particular profile. They come from all over the country, including law schools outside the Ivy League, which makes them particularly suitable candidates for federal judgeships. "Judges have to have ties to the local area typically," said Saikrishna Prakash, a former Thomas clerk and professor of law at the University of Virginia. "The Thomas clerks, because they come from more regions in the country, and certainly go to law schools all over the country, are more apt to go outside of the I-95 corridor." After their clerkships, these lawyers often go into public service, taking up positions in U.S. attorneys' offices or as professors, which means they don't mind the pay cut that often comes with a move to the federal bench. (A federal district-court judge can expect to make slightly more than $200,000 a year; by comparison, partners at top-tier law firms can earn multimillion-dollar salaries.) And, like Thomas, they tend to be very conservative, committed originalists and textualists. As Eskridge put it, they are true believers.
The Trump administration's most marked achievement in terms of shifting the federal judiciary has come through Circuit Courts of Appeals. Trump has far outpaced his recent predecessors, with 42 confirmed appointments to these courts over the past two and a half years; by comparison, Obama had gotten less than half as many appeals-court judges confirmed by this point in his first term. These seats are where Thomas clerks will have the most influence—and are outpacing the former clerks for conservative justices. Former Thomas clerks have now been confirmed to the Fourth, Fifth, Eighth, Ninth, and Tenth Circuits, along with two judges confirmed to the D.C. Circuit Court of Appeals—Katsas and Neomi Rao, the former head of Trump's Office of Information and Regulatory Affairs. The D.C. Circuit is particularly influential, because it is responsible for reviewing the actions of federal agencies; in recent years, it has issued important decisions on topics ranging from Obamacare to gun rights.
Thomas is famously silent during oral arguments. But as a writer, he has been prolific: He wrote the most concurrences, dissents, and opinions of any justice during each of the past five terms, according to data from SCOTUSblog. Over time, his work has significantly shifted the window of acceptable legal opinions on various issues, said John Yoo, a former Thomas clerk and law professor at UC Berkeley who is best known for his work on the George W. Bush administration's torture memos. "When I clerked for him, he published some opinions I thought were really radical, and the legal profession would never be interested," Yoo told me. "Now those opinions are heavily debated in law schools and are very influential." He specifically mentioned Thomas's concurrence in a 1995 case on affirmative action, Adarand v. Peña, and another concurrence in a case on the Constitution's commerce clause, United States v. Lopez.
On the Court, Thomas's purist approach may cost him the ability to convince his fellow justices on controversial cases. "He's less of a traditional politician," Yoo told me. "I think he's more interested in saying, 'This is the correct view of the Constitution,' rather than assembling five votes. And that's a trade-off." Thomas's views often come out in dissents or concurrences, offered solo or joined by just one or two other justices. "He has not, until recently, written any of the blockbuster majority opinions," Yoo said, "because to do that, you have to horse-trade to get votes." (Notable majority opinions by Thomas include a 2001 case concerning the rights of a religious student group, Good News Club v. Milford Central School, and a 2018 First Amendment case involving a crisis-pregnancy center, NIFLA v. Becerra.)
This is all the more reason the rise of Thomas's former clerks is important. His approach to controversial legal questions—generally opposing affirmative action, favoring limited power for federal agencies, defending gun rights, and more—has been developed and popularized over his decades on the bench, and will be carried forward by a new generation of judges. He openly defies what he sees as bad precedent—just last month, Thomas wrote in a concurrence that "the Constitution itself is silent on abortion."
[Adam Cohen: Clarence Thomas knows nothing of my work]
Other conservative justices' clerks have had a significant footprint in the Trump administration. Two of former Justice Anthony Kennedy's clerks, Neil Gorsuch and Brett Kavanaugh, now sit on the Supreme Court. Trump's secretary of health and human services, Alex Azar, and his solicitor general, Noel Francisco, both clerked for Scalia, as did the White House counselor Emmet Flood and the recently confirmed Seventh Circuit judge, Amy Coney Barrett, who is widely thought to be on Trump's short list for any potential future Supreme Court slots.
Thomas's influence, however, is particularly broad, reaching from the Department of Justice to the White House to the federal bench. Thomas is now 71 years old. If he follows the path of his colleagues Stephen Breyer and Ruth Bader Ginsburg, who are both in their 80s, he could easily have a decade or more to go on the Supreme Court. His greatest legacy, however, may be in the intellectual seeds he has planted in the generation of lawyers who came up studying his work.
---
Olivia Paschal contributed reporting to this article.