Democrats Battle Over the Past and Present of Immigration
The 2020 presidential candidates know they're against Donald Trump, but they are sharply divided over what kind of enforcement should be used at the border.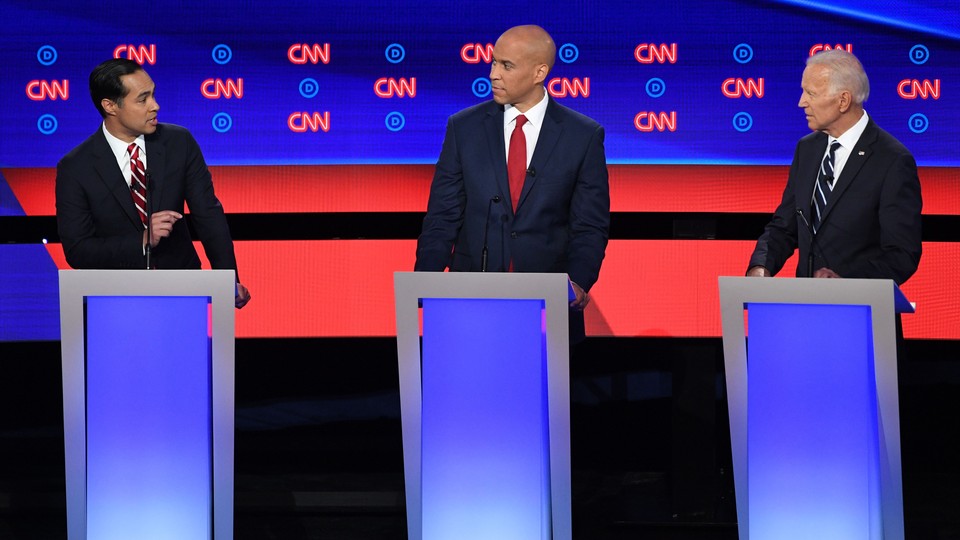 Democrats know they're against President Donald Trump's immigration policies, which have included crackdowns on illegal crossings at the southern border, and his rhetoric, which has demonized people from other countries. But the top 2020 Democratic candidates at tonight's debate could not agree on how to approach the most fundamental question about American immigration: whether the government should be able to enforce its borders at all.
Former Vice President Joe Biden, the current Democratic front-runner, was the clear target for a series of attacks from the more progressive candidates onstage tonight. Throughout his campaign, Biden has played up his association with President Barack Obama, seeing it as his best advantage. But in this case, Biden's opponents cited Obama's immigration policies, which included a significant hike in deportations, as a black mark. "You invoke President Obama more than anybody in this campaign," Senator Cory Booker of New Jersey said, addressing Biden. "You can't do it when it's convenient and dodge it when it's not."
[Read: The Democrats' visceral fear of losing to Donald Trump]
Most of tonight's candidates endorsed a change in the way illegal crossings are treated under the law, arguing that they should be civil violations rather than criminal ones. "The criminal courts [are] giving Donald Trump the ability to violate the human rights of people coming to our country," Booker said. Processing illegal crossings in civil courts would eliminate the need for the "awful detention facilities that I've been to, seeing children sleeping on pavement, people being put in cages, nursing mothers, small children," he added. Several of his colleagues in the Senate, including Kirsten Gillibrand of New York and Kamala Harris of California, agreed with this approach—and pointedly called out Biden for his role in an administration that took a far tougher stance on enforcement.
Biden became defensive. "The fact of the matter is, when people cross the border illegally, it is illegal to do it unless they're seeking asylum," he said. "People should have to get in line." Later, when other candidates pushed him to say whether he had encouraged Obama not to pursue deportations, he effectively pleaded the Fifth, saying that his counsel to the former president was private.
[Read: Democrats make the case that they're the moral party]
These questions about immigration pose a difficult challenge for Democrats as they approach an election cycle in which Trump will likely double down on his opposition to illegal immigration.
During the debate tonight, Trump tweeted about the issue.
The cages for kids were built by the Obama Administration in 2014. He had the policy of child separation. I ended it even as I realized that more families would then come to the Border! @CNN

— Donald J. Trump (@realDonaldTrump) August 1, 2019
This claim is not true: Family separations were rare under Obama, while the Trump administration actively pursued a separation policy. And separations have continued, despite the Trump administration's claims that it had suspended the program.
Trump, and his Republican allies, have painted Democrats as effectively supporting open borders, with no limits on how many immigrants should be admitted to the country, and no enforcement against those who have entered illegally. These kinds of policies may be popular among progressive activists, but Democratic voters tend to hold more moderate views. Biden's position—that immigration is generally good, but it should happen legally—has been common among Democrats even in recent years. His progressive opponents, however, are pushing a far more expansive view of how immigrants should be welcomed to America.
This issue will require a tricky balance for whichever Democrat tops the ticket in 2020. The party, including longtime leaders like Biden, is united in its condemnation of Trump's rhetoric against immigrants and asylum seekers. While that moral stand is clear, the way it should translate into policy is much more complicated.
And the intra-party debate is already ugly. Progressive candidates for president are arguing that any kind of criminal enforcement against illegal immigration is effectively siding with Trump. As former Secretary of Housing and Urban Development Julián Castro said to Biden, "It looks like one of us has learned from the lessons of the past, and one of us hasn't."