Joe Biden Enters Attack Mode
The former vice president, who was largely playing defense one month ago in Miami, took a different strategy tonight in Detroit.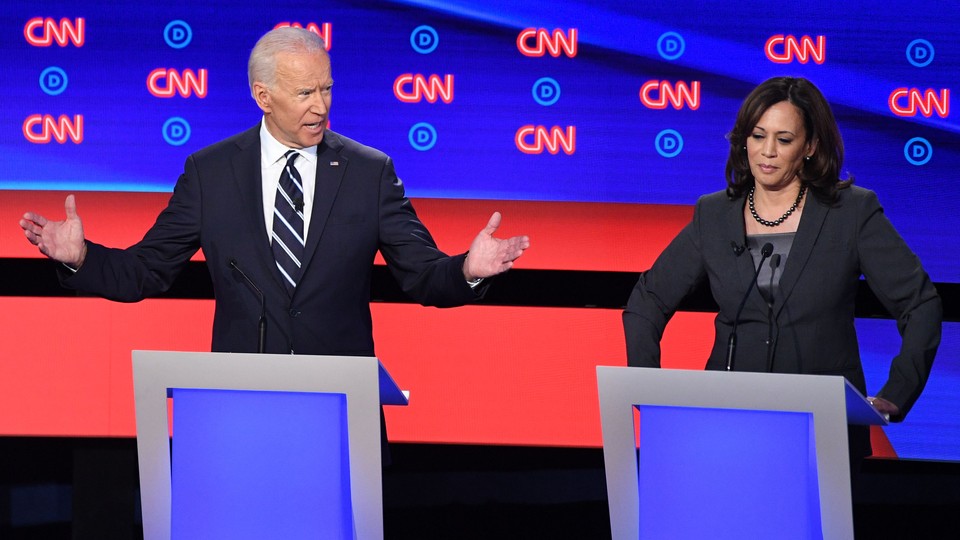 This post will be updated as the debate continues.
Joe Biden started tonight's Democratic primary debate with a plea for the 2020 rival who eviscerated him a month ago.
"Go easy on me, kid," the former vice president said to Senator Kamala Harris of California when he greeted her onstage just before the event began.
It was a sly bit of gamesmanship from Biden, for he had no intention of going easy on her.
Standing next to each other in the center of the stage, the two leading contenders in the second round of the Detroit debate sparred over health care in the opening minutes, as Harris was asked to defend her plan to phase in Medicare for All over a period of 10 years. The CNN moderator Jake Tapper gave Biden an immediate chance to respond, and he jumped at the chance.
"My response is the senator has had several plans so far, and any time someone tells you you're going to get something good in 10 years, you should wonder why it takes 10 years," Biden said, adding that Harris's proposal would nonetheless cost $3 trillion to taxpayers. "This is the single most important issue facing the public and to be very blunt and to be very straightforward, you can't beat President Trump with double-talk on this plan."
It was not exactly a showstopping zinger, but Biden was delivering on his promise to be "less polite" in this debate after he was caught off guard by Harris's aggressive attack on his record on race in the first debate in June. Harris replied that Biden's critique was inaccurate and cited as a validator the praise her proposal received from an architect of the Affordable Care Act, Kathleen Sebelius, who served in the Obama administration alongside Biden as secretary of health and human services.
Harris was not the only target of Biden's fire. The Democratic poll-leader used his opening statement to castigate President Donald Trump and stand up for America's diversity. "Mr. President, this is America," Biden said, "and we are stronger and greater because of this diversity, Mr. President, not in spite of it,  Mr. President. So Mr. President, let's get something straight. We love it. We are not leaving it. We are here to stay and we're certainly not going to leave it to you."
Biden also took a shot at Julián Castro after the former housing and urban development secretary criticized his record on immigration. "I found that the secretary, we sat together in many meetings, I never heard him talk about any of this when he was the secretary," he said.
Biden's more aggressive posture did not inoculate him from attacks from his rivals. He remains the front-runner in the polls, and more than half of his opponents tried to take on his record over nearly a half century in public life. Biden parried those attacks with mixed success, as he dismissed jabs from New York Mayor Bill de Blasio but appeared shakier during an exchange with Senator Cory Booker over criminal justice.
Overall, Biden showed up to this debate with far more energy and, evidently, preparation than he demonstrated during his uneven performance in June. He had seemed then like he wanted to skip over his pesky challengers in the Democratic primary and go straight to Trump. If nothing else, Biden showed tonight that he finally realizes he'll have to debate his party first.