Searching for Beto
The breakout star of the 2018 midterms has had a disappointing 2019 presidential run. Can he turn it around?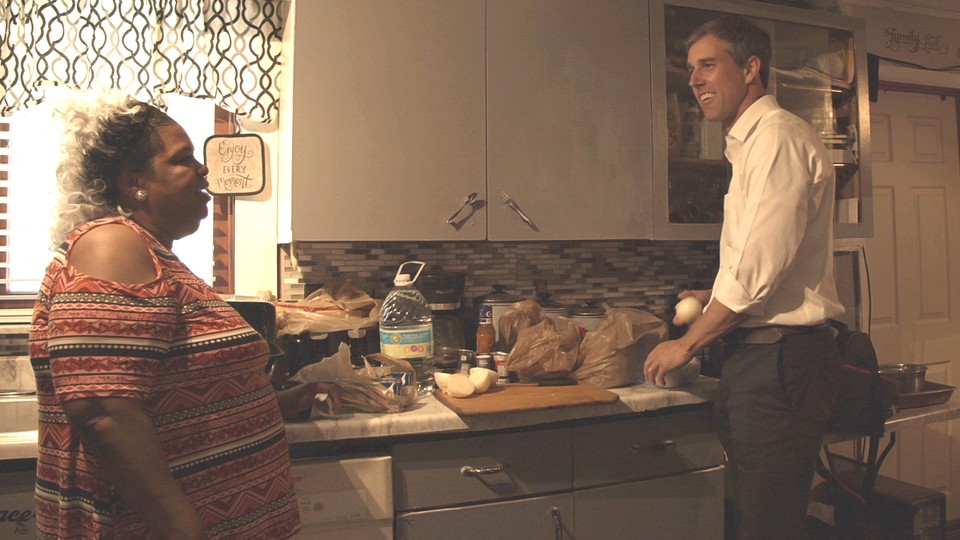 Updated at 4:59 p.m. ET on July 29, 2019
FLINT, Mich.—"Do you need me to check the sturdiness of the noodle?"
Beto O'Rourke leaned over a pot of boiling water. Mae and David Collins and their 17-year-old twins had invited him over for dinner. (A nonprofit group had connected them before the candidate's visit to Michigan last week.) The former Texas representative and not-so-long-ago Democratic sensation sat around the Collinses' dining-room table, talking about what had gone wrong since lead poisoned their water and a generation of the city's children—a crisis that, five years later, still hasn't been entirely resolved. Of course, this was O'Rourke having a searching conversation, so a staffer was squeezed into the corner live-streaming the exchange almost from the moment he'd walked in the door carrying groceries. Wally, the family dog, barked in the other room—"He's damaged from the water," Mae Collins explained. Wally was still drinking out of a bowl filled from the faucet long after the Collins parents realized they needed to keep their children away from the taps. The dog's hair went white, and, according to his owners, he's now angry and on edge all the time.
It's one thing to talk about government failure. It's another, O'Rourke believes, to speak directly to potential Michigan voters about what the Flint water crisis has meant for their homes and their lives and their communities—to hold up for the camera the jugs of water they have to buy just to make pasta. At home in Texas, the candidate is the cook, but his wife, Amy O'Rourke, took the lead in Flint on Wednesday night. (He did chop the onions and came back to add all the pieces to the sauce.) He joked about throwing a piece of spaghetti against the wall to see whether it would stick. Instead, he grabbed a piece and sucked it in over a few bites: approved. "We got it just in time!" he said.
They took their time cooking dinner; no one was in a rush to eat. His team brought pie and a chocolate cake for dessert. They said he wanted time to really get to know the Collins family. Other candidates were in debate prep, but this was how O'Rourke spent a long night six days before a debate, just 70 miles away in Detroit, that his biggest supporters agree is crucial for turning around what might prove to be the most drastic drop in a Democratic presidential campaign since Howard Dean screamed his way into political history in 2004.
Media coverage has gone from "Betomania"—the national excitement over his tight Senate race against Ted Cruz last year, the one that led Barack Obama to say he saw himself in O'Rourke—to how he's going to "bring back Betomania." On Wednesday, I was the only reporter with him in this Flint family's kitchen as he drained the boiled water and added butter to the noodles. ("That's the secret," he told the live-stream audience.)
Out on the trail, O'Rourke has talked up how he was counted out in 2005, during his first city-council race in El Paso, Texas, or when he won his House seat in a primary against an incumbent in 2012. "The biggest misconception about me, given where we are in the polls right now, is that our chances have narrowed and diminished in this race," he insisted earlier Wednesday in Detroit at the NAACP convention, which had invited him and seven other candidates to the state.
O'Rourke's second-quarter fundraising total, announced two weeks ago, started to cement the sense of flop from polls that had him down to 1 or 2 percent, after being in third place when he announced in March he was running. He raised $3.6 million from April through June, meaning that after raising a blowout $6.1 million in his first 24 hours in the race, he picked up just $6.9 million in the three and a half months that followed. O'Rourke and his aides know how much is riding on the second debate next week, but they're also struggling with what to do: He became a national name partly based on a viral video of him defending Colin Kaepernick's kneeling during the national anthem. Re-creating that in a rapid-fire, multi-podium debate is pretty much impossible.
Plus, he has to compete directly with South Bend, Indiana, Mayor Pete Buttigieg, whom he'll share the stage with for the first time on Tuesday night. Both candidates are young white guys (O'Rourke is 46, Buttigieg 37), branding themselves as the bright, shiny future of the Democratic Party. Buttigieg's explosion tracks with O'Rourke's implosion. Any hopes O'Rourke has of rising again may depend on Buttigieg collapsing, which he shows no signs of doing; his polling has remained decent, and he raised $24.8 million for the second quarter, more than anyone else running.
They're not that similar—it's heart versus head. O'Rourke is the inspired storyteller, Buttigieg the precision analyst. O'Rourke nannied and chased dreams of being in a band after graduating from college; Buttigieg was a Rhodes scholar and went on to work at McKinsey. O'Rourke sees the future of America in the cross-border swirl of El Paso and new Democrats in Texas; Buttigieg sees it in the Rust Belt turnaround of South Bend and forgotten Democrats in Indiana. Nevertheless, many people watching the race closely—including on each campaign—do not see room for both candidates.
They have different styles on the trail. O'Rourke drove to the Homestead detention facility the morning after the first debate in Miami. Surrounded by a clump of reporters, he mounted a stepladder and waved a large paper heart, calling out to the detainees in Spanish. Buttigieg went the next morning with four other presidential candidates and spoke about how Americans deserved to know what horrors their tax dollars are going toward. Afterward, he stopped for a long CNN appearance with the camp as the backdrop, and was rushed into his car for the next campaign stop without realizing that the frustrated advocates had wanted him to climb the ladder too.
Last week, as O'Rourke dug into his plate of spaghetti, I asked him what he made of Buttigieg. "He comes across to me as a very thoughtful, very smart person. And that's—that's definitely my superficial takeaway," he said. When I asked Buttigieg to talk about O'Rourke, he declined through an aide.
Of course, Buttigieg isn't the only one in O'Rourke's way in the scramble to get in the mix with the leading candidates. Among the most obvious others is Senator Cory Booker of New Jersey, who is also talking up human connections and the need to come together. Booker was in Flint on Wednesday afternoon too, though without any public events—he was meeting with Mayor Karen Weaver and local state Representative Sheldon Neeley (who's also the head of the black legislative caucus). He walked through the farmers' market and an arcade with Little Miss Flint. (Booker beat her at Street Fighter; she beat him at Ms. Pac-Man.)
O'Rourke is sensitive to the criticism that he is superficial and his campaign is thin on policy plans. He has released several big proposals—on immigration reform, on a caregiver tax credit, on tackling structural inequity in education. "I talk about a $500 billion permanent education fund and $20 to $25 billion that spins off every year that's invested in addressing the gap in equity funding for majority-minority schools. Does that connect with you? I don't know—maybe it does, maybe it doesn't. Maybe those are all abstractions and numbers." He began to trail off. The most succinct explanation I've heard O'Rourke give of what he thinks his campaign is about came at the beginning of June, in South Carolina, when he had just a few minutes onstage to make his case at Representative Jim Clyburn's fish fry. O'Rourke told the crowd he was "making sure that the full story of the United States of America is told to the people of the United States of America—because we know that when everyone's story is included in our national story, it is only then that we can right the wrongs and set this country on the right path."
As he sat in a folding chair under a tent on the Collinses' driveway in Flint, O'Rourke brought up the civil-rights movement, and how laws changed only when people saw the protests in carefully captured encounters on TV. "I want to do everything I can to bring those stories forward and also tell them. I think that's how we connect as humans," O'Rourke told me.
This is both philosophical and practical to him.
"I can only say that personal connection is fundamental. I just don't know enough about the other candidates to dish on them and say they're all numbers and policies, because I just don't know," O'Rourke told me. "That's how I've always connected, when people have shared, or other policy makers have shared a story—even just reading history, [Lyndon Johnson] talking about the class he taught in Cotulla, Texas. You can tell there's an emotional connection. Those Mexican American children he knew really didn't have the same shot that he did as a white kid in that state, and he knew civil rights was the way to begin to address that. That's powerful stuff for me."
A couple of hours earlier, at the NAACP convention in Detroit, O'Rourke told the story of a black man, Lawrence Nixon, who had shown up at an El Paso firehouse in 1924 with his poll-tax receipt and was turned away. He finished by talking about Thelma White, also from El Paso, who attempted to integrate Texas Western College.* Thurgood Marshall was one of her lawyers when she sued the state to be admitted.
Buttigieg spoke right after O'Rourke at the NAACP event. He talked about the "journey of South Bend," how there had been no "recognizable promotion or accountability information" for the police department when he'd come in as mayor, and how he'd worked to create that system, starting by hiring the first African American person as corporation counsel. He touched on his extensive "Douglass Plan" for black economic empowerment. Twice he mentioned that he thinks racial divisions could unravel America, a line he's repeated since a white police officer killed a black man in South Bend last month, setting off weeks of community protests and outrage.
Afterward, Buttigieg flew to California for fundraising events and to tour Vector90, a co-working space in Los Angeles founded by the late rapper Nipsey Hussle, who was shot on the street in March. O'Rourke drove to an event in Flint at 100K Ideas, a business incubator with a hipster vibe. Aleah Glory Phillips, a 20-year-old aspiring musician, told him that she wanted to be in a punk band, too, and tour the country. "Do it!" O'Rourke told her. "Put everything in the car and drive."
"I'll settle for Bernie, I'll settle for Biden—but he seems dope, he seems cool," Phillips told me afterward. He seems relatable, she said, loving that he loves The Clash.
Two older women, Claire McClinton and Laura Macintyre, stood behind Phillips in line for photos. They griped about the location; a fancy place like that was hardly the real Flint, where about 40 percent of residents live below the federal poverty line, McClinton said, lamenting that the questions weren't about what was happening in town. But, she told me, she still kind of liked him.
"He was different from all the people who come here, where they do all the talking," McClinton said. "At least he listened."
Over his spaghetti a few hours later, I asked him whether the idea of President O'Rourke felt more distant these days, or less.
"It seems more possible, the more people I meet, the more people in Flint, Michigan, who come out and tell me, 'I've been supporting you from day one, and I'm counting on you and I love the way that you're doing this—please keep it up,'" O'Rourke told me. "Every person I meet adds to my belief in this being possible, and at the end of the day, that's what I have."
O'Rourke promised David Collins he'd be back. "Next time I'll grill for you—I make a great flank steak. It's great grilling weather," he said. "Tacos, if you wanted, because it's an El Paso thing."
---
*A previous version of this story misidentified the college Thelma White attempted to integrate. It is Texas Western College, not Western Texas College.