The Atlantic Politics & Policy Daily: The Optics Nerve
Robert Mueller in an age of performance-art politics and news media turned drama critics. Attorney General Barr orders the federal death penalty to be reinstated.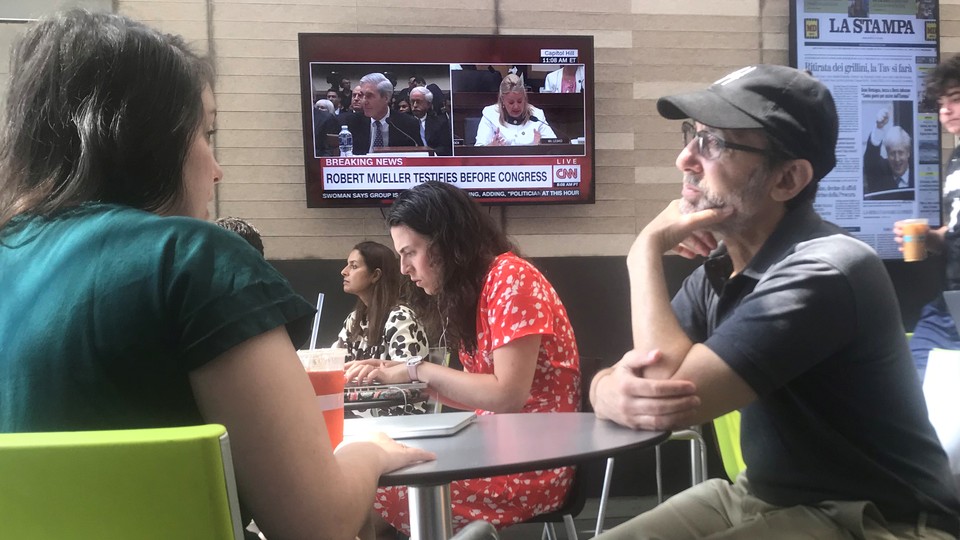 What We're Following Today
It's Thursday, July 25.
‣ Attorney General William Barr ordered the federal death penalty to be reinstated for the first time in 16 years, clearing the execution of five inmates.
Here's what else we're watching:
Ignore the Commentariat: Throughout the entire Mueller saga, much of the media has focused on optics and performance, rather than the actual substantive punch of the special counsel's report, argues Todd S. Purdum. Yesterday's testimony, he writes, "was much more than a mere show."
What Women Want: Polling has consistently shown that white, working-class women disapprove of President Donald Trump's rhetorical style more than their male counterparts. And research shows that this group of women represents about half the votes cast from the white working class.
'We're Not Sweden!': The idea of establishing a national program for paid maternity leave or paid leave for people caring for sick family members is gaining popularity in the U.S. So why don't more conservatives support it?
On the 2020 Trail: San Antonio Mayor Julián Castro is one of the most prominent Latino politicians in the country, and he's running as a foil to the president's xenophobia. But he doesn't want to be pigeonholed as just a Latino candidate. Can he break out again during the second round of Democratic debates next week?
"I'm not going to back up from speaking out for immigrant communities that are vulnerable right now just because I'm brown … At the same time, I'm trusting that … Americans out there—when they see me on the debate stage, or at a town hall, or in any other way—are big enough to understand that I would be a president for all Americans."
---
Snapshot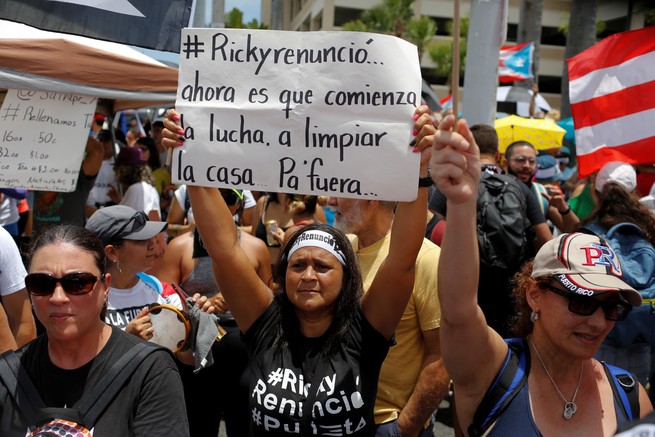 (Marco Bello / Reuters)
A woman holds a sign that reads, "Ricky resigned. Now the fight begins. Clean the house. Out," during a rally to celebrate the resignation of Puerto Rico Governor Ricardo Rosselló in San Juan.
---
Ideas From The Atlantic
The Millennial Left Is Tired of Waiting (Ben Judah)
"The key political partnership of the Millennial left was born over noodles. Saikat Chakrabarti met Alexandria Ocasio-Cortez at Potjanee, a Thai restaurant near his apartment in the West Village, in March 2017. She was looking to get into politics; he was helping fund people getting into politics through the Justice Democrats." → Read on.
When Using Racist, Define Your Terms (Conor Friedersdorf)
"There is no broadly agreed-upon definition of racist, even if we narrow the pool from Americans generally to New York Times subscribers or NPR listeners or CBS viewers … Absent any consensus, journalists ought to clarify which meaning they're using in a particular article. But even when explicitly grappling with the appropriateness of using racist in coverage, journalists often make no attempt to do so." → Read on.
Forget the Theater Criticism—Mueller's Conclusions Are the Real News (David A. Graham)
"Presented with a story about Russian interference in the election and shenanigans by the president of the United States, the press has largely ignored some six hours of testimony. Instead of detailing the substance of the hearings, reporters quickly began weighing how they change the odds for impeachment." → Read on.
ESPN Backs Itself Into a Corner (Jemele Hill)
"ESPN, like any major network, hires commentators who have big personalities and bold opinions. And yet the executives often seem more concerned with placating some white fans than respecting the fact that so many men and women of color are profoundly appalled by the Trump administration's policies and the president's hurtful rhetoric."  → Read on.
---
What Else We're Reading
'I believe in my work.' How Rep. Ilhan Omar rose from refugee to Trump's top target (Alana Abramson, Time)
The Democratic Party is actually three parties (Thomas B. Edsall, The New York Times) (🔒Paywall)
A weary old man with a warning (Dan Zak and Jada Yuan, The Washington Post) (🔒Paywall)
Meghan McCain is having a weird year (Carrie Battan, Elle)
Elizabeth Warren has a radical plan to beat Trump at his own game (Joshua Green, Bloomberg Businessweek) (🔒Paywall)
Sanders Campaign Labor Charge Alleges Staffer Retaliation (Hassan A. Kanu and Andrew Wallender, Bloomberg Law)
---
About us: This newsletter is a daily effort from The Atlantic's politics writer Elaine Godfrey, with help from Christian Paz. It's edited by Shan Wang.

Were you forwarded this email? Sign yourself up here. We have many other free email newsletters on a variety of other topics. Browse the full list.