Mitch McConnell's (Un)certain Fate
Amy McGrath will try to do what Beto O'Rourke couldn't: Remove a high-profile Republican from a deep-red state.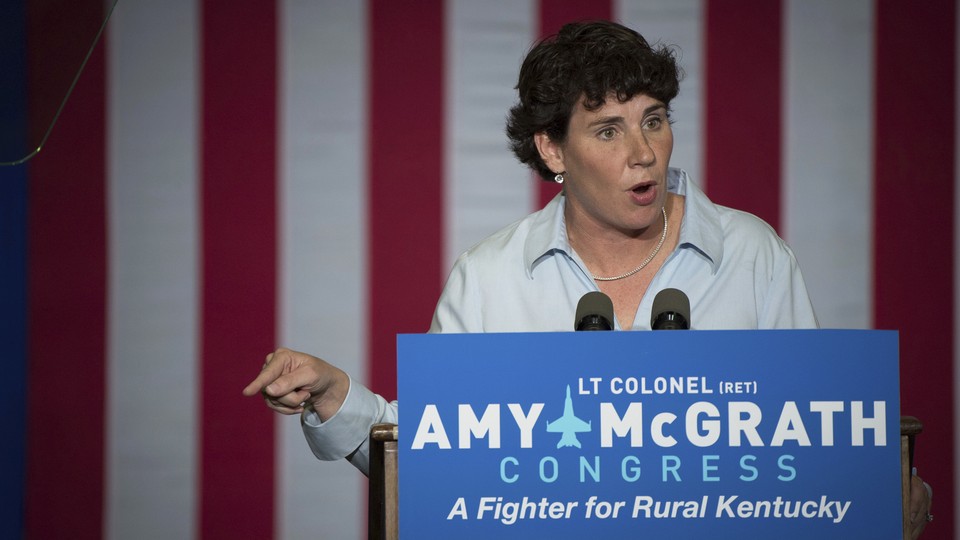 It's official: "Cocaine Mitch" has a 2020 challenger.
The Democrat Amy McGrath, a former fighter pilot turned congressional candidate who starred in one of the most viral political ads of 2018, will take on Senate Majority Leader Mitch McConnell for his Kentucky seat. Her campaign is only two days old, but already the outline of a strategy has emerged: On a few choice issues, McGrath plans to position herself as a sort of pro-Trump Democrat, while framing McConnell as the poster child for a swamp in dire need of draining.
It's going to be a struggle. Defeating the six-term incumbent Republican in the ruby-red state would be an incredible upset in the world of politics—so unlikely as to be almost laughable. It would require a stunning feat of political acrobatics as well as an outrageous amount of money for McGrath to pull it off. And yet, Democrats have hope.
McConnell's approval rating in the state is low, noted Representative John Yarmuth, a Democrat who represents Kentucky's Third Congressional District, and McGrath will have "all the money she needs to compete with Mitch," he told me. "There's an opportunity."
Many were first introduced to McGrath during her high-profile challenge to the Republican Andy Barr in Kentucky's Sixth Congressional District last year. Her aforementioned viral campaign ad, "Told Me," referenced the 44-year-old's military background and her experience as the first woman to fly in a combat mission for the Marine Corps.* Yet despite securing endorsements from party leaders and raising $8.5 million—an incredible amount for a House race—McGrath lost to Barr by three percentage points. (The McGrath campaign did not respond to a request for comment.)
Losing a House race and returning for a Senate challenge may seem less than intuitive, but Senate Minority Leader Chuck Schumer's persuasion efforts must have worked: McGrath announced her return to politics in a new video, where she pins the country's political polarization on McConnell, describing him as a politician who has, "bit by bit, year by year, turned Washington into something we all despise." A response video from Team McConnell welcoming McGrath to the race frames the Democrat as too progressive for Kentucky, and flashes the grinning faces of Senator Bernie Sanders of Vermont, the former Democratic nominee Hillary Clinton, and Representative Alexandria Ocasio-Cortez of New York across the screen.
McConnell doesn't appear worried—at least, not yet. The Bluegrass State is mostly white and rural, and even many Democrats are socially conservative. It's about 23 points more Republican than the rest of the country, and has voted for Republican presidents in eight of the past 10 presidential elections (the state went for Bill Clinton twice). Trump carried Kentucky by 30 percent in 2016, and he still enjoys a net positive approval rating there. (Since Trump's inauguration in 2017, nearly 400,000 new voters have registered as Republican.) McConnell was first elected to the Senate in 1984, and has won easily in every reelection since. Which is to say, as the University of Kentucky journalism professor Al Cross told me, a Democrat would "have to reverse a 20-year political trend" to win here. (McConnell's campaign did not respond to a request for comment.)
But where some people see a dead end, McGrath sees an opening: Kentuckians, by and large, don't like McConnell. The majority leader's approval rating is only about 36 percent, compared with the 50 percent of voters who disapprove of him, according to the most recent data from Morning Consult. By those numbers, McConnell is the most unpopular senator in the country. And McGrath's strategy will aim to exploit that: She'll frame her opponent as the consummate political insider, while at the same time offering a welcoming embrace to Trump supporters by pushing for an end to corruption in Washington. "If you think about why Kentuckians voted for Trump, they wanted to drain the swamp, and Trump said that he was going to do that," McGrath said Tuesday on Morning Joe. "And you know what? Who stops them along the way? Who stops the president from doing these things? Mitch McConnell," she continued. "And I think that that's very important, and that's going to be my message—the things that Kentuckians voted for Trump for are not being done."
To beat McConnell, McGrath will have to fare extremely well in Louisville and Lexington, the two largest cities in the state. She'll have to attack McConnell ruthlessly, tout her military background, and develop a moderate policy agenda focused on wages, veterans' issues, and the opioid epidemic ravaging the state.
Most important, though, she'll have to persuade a sizable number of Trump voters in Kentucky's redder regions to fill in the bubble beside her name next November. And parroting Trump's catchphrases while avoiding endorsing his policies puts the Democrat in a slippery situation. "She has to be very careful in playing that angle," Yarmuth said. "She cannot give the impression that she's supporting the Trump agenda." Scott Jennings, a GOP strategist who has worked on McConnell's previous reelection campaigns, echoed the lawmaker's sentiment. "You're talking about trying to thread a needle so tight," he told me. "You'd have to be the most skilled political person out there, and she's already proven she's not."
Jennings cited a Wednesday interview where McGrath appeared to already be struggling to walk the line between appealing to Trump voters and betraying her party. The Kentucky Democrat told the Courier Journal that she "probably" would have voted to confirm Trump's second's Supreme Court nominee, Brett Kavanaugh, last fall. "There was nothing in his record that I think would disqualify him in any way," she said. But later that night, McGrath changed her mind, tweeting: "I was asked earlier today about Judge Brett Kavanaugh, and I answered based upon his qualifications to be on the Supreme Court," she wrote. "But upon further reflection and further understanding of his record, I would have voted no."
The flip-flop is bound to strike many Kentuckians as inauthentic, Jennings said: "I'd be shocked if she didn't have a primary." He predicted that another Democrat, such as the Lexington-based sports-radio host Matt Jones, might run against her. "I don't think she's up to this based on her earlier performance," he told me. Even Yarmuth yesterday said that McGrath's Kavanaugh mistake was "pretty significant," and suggested that a primary challenge "might be helpful."
Democrats have gotten their hopes up before. The party keeps putting up challengers to Republican incumbents in red states, and those incumbents keep on winning. Last fall, despite gaining national attention for their races in Texas, Georgia, and Florida, the rising Democrats Beto O'Rourke, Stacey Abrams, and Andrew Gillum all lost their respective elections in the South.
McConnell himself easily overcame what was supposed to be a steep challenge back in 2014 from Alison Lundergan Grimes, the Kentucky secretary of state. What's to stop McGrath from falling flat in the same way? The fact that McGrath failed to win in Kentucky's Sixth district—which is more favorable to Democrats than Kentucky as a whole—doesn't bode well for her 2020 statewide bid.
However, because it's a general-election year, this election will also have a higher turnout than for McGrath's midterm challenge to Barr. Her military background and baggage-free outsider status in some ways give her a leg up on Grimes. And Democrats—ever the optimists—are already prepared to shell out big bucks to help her take down the majority leader. In the first 24 hours of her campaign, McGrath brought in $2.4 million, with more than 69,000 individual donations, according to her campaign. All told, she expects to raise $40 million to $50 million, according to one former Democratic official in the state, who was granted anonymity in order to speak candidly about the race.
"Democrats all across the country, from New York to Los Angeles, are gonna be throwing money at Amy for the chance to, at a minimum, give McConnell a black eye—but maybe defeat him," the official said.
"I'd give her a 20 percent shot at it."
---
* A previous version of this article incorrectly stated that McGrath was the first woman to fly an F-18 fighter jet.