Adam Schiff Is Back From the Wilderness
The House Intelligence Committee chairman opens up about the Mueller investigation.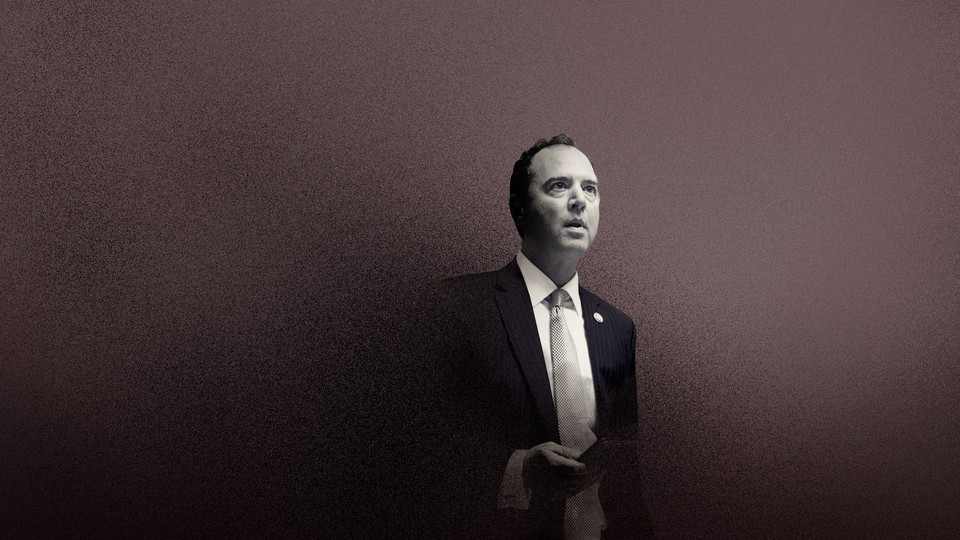 Adam Schiff was everywhere, until he was nowhere.
In nearly 20 years as a Democratic congressman from Southern California, Schiff has grappled with issues from national security, to intellectual property, to the Armenian genocide. But for the past two years, he has been perhaps the most visible face of ongoing inquiries into Russian meddling in the 2016 election, the scourge of the White House, and the darling of cable-television bookers from coast to coast.
That is, he was until he wasn't—when the release of Special Counsel Robert Mueller's report last spring left Schiff's sails luffing. Mueller's conclusion that there was insufficient evidence to charge members of Donald Trump's campaign team with conspiring with Russian entities to tip the election was a blow to Schiff and his fellow Democrats, who were becalmed by the underwhelming public, political, and media reaction to the end of an investigation that so many of them had hoped would pack a bigger punch.
This week, with Mueller's planned testimony before the House Judiciary and Intelligence Committees (Schiff chairs the latter), the congressman, 59, will return to the spotlight once more as he prods Mueller to expound on his findings. Schiff is keeping his expectations measured.
"Well, you know, my expectations, I think, are realistic," he told me in a recent interview. "The special counsel's going to try to confine his comments to the report. There are questions that we have that go beyond the report, and there is no legal prohibition on his answering them, so there may be areas that go beyond the report. But it is our hope that we can inform the American people of the full facts, that they can appreciate the degree to which the Russians interfered in a presidential election to help Donald Trump, the degree to which the president welcomed that help, knew it was going on, welcomed it, and then lied about it and covered it up. And the degree to which those actions and his actions since continue to put us at risk, because it encourages the Russians to get involved again."
Trump has derided Schiff as a "little pencil neck." The Republicans' congressional-campaign arm has circulated doctored photographs on Twitter with Schiff's face covered in white clown makeup and a bulbous red nose. All nine of his GOP colleagues on the Intelligence Committee signed a letter asking him to step down, charging that he got out over his skis by insisting that there was "ample evidence of collusion in plain sight" between the Russians and the Trump campaign.
But Schiff, a soft-spoken, pragmatic former federal prosecutor, remains unrattled, insisting that the Mueller report more than vindicated his claims. "We now know that the Russians offered to help the Trump campaign; the president's son accepted that help and said he would love to receive it," he told me. "They set up secret meetings to obtain that help and they made use of the help, which the Russians in fact provided. All of that, I think, most Americans view as quintessential collusion with a foreign adversary. And that it didn't meet the requirements of the criminal law doesn't make it any less corrupt."
Schiff, whose district stretches the four points of the compass around the Hollywood sign, is no stranger to partisan tumult—his congressional career was born in it. In 2000, he unseated the Republican incumbent, James Rogan, one of the House managers in the impeachment of Bill Clinton. They spent a combined $10 million in what was the single most expensive congressional race in history to that point.
"He was just what the doctor ordered," Bill Carrick, a veteran Democratic consultant who has worked for candidates from Ted Kennedy to Dianne Feinstein, told me. "Voters were sick of impeachment. They were sick of hyper-partisanship. They were just worn out."
---

Schiff, a graduate of Stanford University and Harvard Law School,* quickly won a reputation as a serious, sober lawmaker. His national standing got a big boost in 2015 when his fellow Californian, Nancy Pelosi, made him the ranking Democrat on the Intelligence Committee. That same year, as a member of the House select committee investigating the terrorist raid on the U.S. consulate in Benghazi, Libya, he became a prominent interlocutor in hearings into Hillary Clinton's role in the raid, and a steady foil to Republican Chairman Trey Gowdy's superheated questioning. Schiff's prominence only expanded when the Democrats retook the House last fall and he became the Intelligence Committee's chairman.
Schiff's low-key, usually unflappable demeanor has served him well not only as a TV talking head, but also on the Intelligence Committee, which has been divided since Trump's election by bitter partisan feuding. Traditionally among the most professional and bipartisan of panels, the committee was plunged into turmoil in early 2017 after its Republican chairman, Devin Nunes, stepped aside from leading its Russia investigation amid an ethics inquiry into his alleged mishandling of classified information. Nunes told reporters that he had obtained details of American-intelligence monitoring of foreign officials that may have "incidentally picked up communications of Trump transition-team members." Eight months later, the House Ethics Committee closed the case without taking any action, but it was never able to gain access to the actual intelligence Nunes was accused of divulging.
Nunes and Schiff had served together in the California delegation and were once friendly, fellow fans of the Oakland Raiders, and in the beginning of Nunes's tenure as chairman, the two men held joint news conferences and vowed to cooperate. That all changed following their intense divisions over the Russia investigation. But the infighting hasn't hurt Schiff politically.
"Two years ago, Adam Schiff was a very respected but largely anonymous member of Congress," says Dan Schnur, a former longtime Republican political strategist who is now a professor at the University of Southern California's Annenberg School for Communication and Journalism and Berkeley's Institute of Governmental Studies. "Today he's a Democratic Party folk hero, and no matter what happens with the investigation going forward, he'll have that status for as long as he wants it. There's no downside for him."
Indeed, there is little evidence that the Republican attacks on Schiff are hurting him at all. From January to March, he raised nearly $1.9 million for his reelection next year, the second-biggest haul of any House Democrat, The Sacramento Bee reported, and the Democratic Congressional Campaign Committee appointed him finance chairman for its most vulnerable incumbent members. By spring, he had already raised roughly $1 million for the committee.
After years of diligent toil in the trenches, Schiff is now theoretically well placed to run for higher office. He considered running for the Senate in 2015 after Barbara Boxer announced her retirement, and again two years later, before Feinstein declared that she would run for reelection last year. His experience in national-security matters could also position him for a senior appointed post in a future Democratic presidential administration.
His challenge, in a state where the Democratic electorate is growing ever younger, more diverse, and more liberal, is that he is just one among many 50-to-60ish white, male liberals (including California Governor Gavin Newsom and Mayor Eric Garcetti of Los Angeles) who could find himself competing in a nonpartisan primary field in which his strengths would be a wash. Worse, given the state's rules that send the top two finishers to the general election—regardless of party—he could find himself battling a younger, edgier fellow Democrat for any statewide post.
Meanwhile, bad feelings have festered on the Intelligence Committee, with one Republican member, Mike Turner of Ohio, accusing Schiff this spring of harboring a "personal vendetta" against the president. The Republican National Committee also got in on the act, toting up Schiff's television appearances on a webpage last year called "The Schiff Show," and calculating that from January 2017 to February 2018, he had participated in 227 TV interviews, totaling 26 hours, four minutes, and 10 seconds—all while speaking on the House floor for about 36 and a half minutes.
But Schiff is unapologetic. When I asked him whether he felt vindicated by the Mueller report, he said he did, "in the sense that each of the episodes that I've been talking about for some time"—the offer of Russian assistance and the subsequent meeting in Trump Tower; the former Trump-campaign manager Paul Manafort's conversations with individuals linked to Russian intelligence; Trump-campaign advisers' links to WikiLeaks—"all of that is now borne out by the Mueller report."
"And you know," Schiff added, "I advised many times before the report that while the evidence of collusion is in plain sight, whether that rises to the level of proof beyond a reasonable doubt of the crime of conspiracy would be something that Mueller would have to decide, and that was a different question entirely. And I think the president has made an effort to say, as have his supporters in Congress, that if it's not criminal, then we're going to do everything we can, no matter whether it's unethical, unpatriotic, or corrupt—as long as it doesn't cross the line into criminality—or even beyond that, as long as the criminality can't be proven beyond a reasonable doubt. That is not the standard the president of the United States should set for his behavior, or that the country should expect in their president."
Whether Trump obstructed justice in his efforts to derail the Mueller investigation is the bailiwick of the Judiciary Committee, but Schiff thinks there is no doubt that the president did so. He told me that "the White House campaign in the wake of the report to discredit anyone who was pointing out the president's collusion with Russia was a good communications strategy, but not much more than that."
Schiff said he hopes Mueller's day-long public appearances before the two committees—and intelligence testimony in executive session—will help clarify and amplify the findings of the report in the public imagination. "I think the public became acquainted with the facts over a two-year period in dribs and drabs, and when you learn something that way, it's very difficult to see the significance of all those facts put together. Had that information over the two years not come out the way it did and had come out all at once in a report by a special counsel, I think the president would have been quickly forced from office."
"But again," Schiff cautioned, "I think we need to set expectations at a realistic level. Public attitudes are very hardened on this subject, and so the degree to which Bob Mueller can bring this to life for people who haven't had the opportunity to read the report—which is most Americans—is yet to be seen."
---
* This article has been updated to clarify that Adam Schiff graduated from Stanford University before attending Harvard Law School.