It's a Precarious Time for Any Official in Trump's Orbit
Alexander Acosta's exit gratifies those who wanted him gone for his role in the Epstein plea deal. But the president's advisers fear how more turnover reflects broader turmoil within the administration.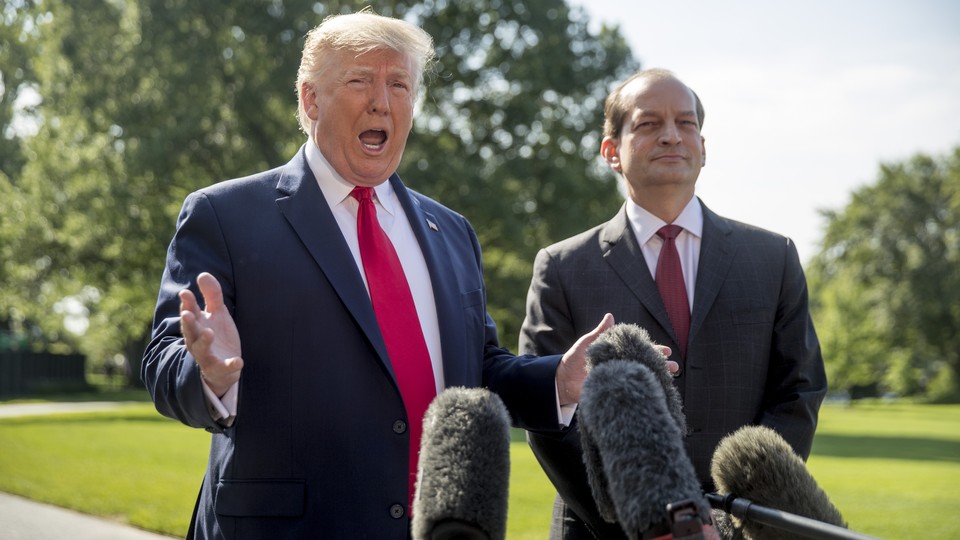 It's a moment in Donald Trump's presidency that has become all too familiar: another round of bloodletting.

Labor Secretary Alexander Acosta had gambled that his news conference on Wednesday would appease an audience of one: Trump. But Acosta's defense of how, as U.S. attorney in Florida, he handled a sex-crimes case against the financier Jeffrey Epstein failed to dampen accusations that he had gone easy on a rich and powerful predator. Amid mounting calls for his resignation, Acosta announced yesterday he would step down. His departure gratifies critics who believed he deserved a comeuppance. Yet political advisers fear the broader tumult inside the administration could also roil Trump's reelection bid, feeding long-standing criticism that he hasn't properly vetted his appointees, nor met his promise to recruit the best people. And Acosta's fall creates a fresh vacancy in an administration that has already seen record-setting turnover.
Relying on a string of officials holding jobs on a temporary basis, Trump is sitting atop a hollowed-out administration that is lacking in the permanent leadership needed to manage escalating foreign and domestic crises, good-government experts told me. Signs suggest the churn isn't about to stop. Trump has been calling friends and advisers lately about National Security Adviser John Bolton, looking for their impressions of his performance and asking whether he needs to go, according to people who have been briefed on the calls and who, like others I spoke with for this story, requested anonymity to discuss private conversations. Meanwhile, Axios, among other news outlets, reported yesterday that Trump has told confidants he wants to replace Dan Coats, the director of national intelligence, with whom the president has had an uneasy relationship.
Acosta was the president's first and only labor secretary. But should Trump oust Bolton—whose hawkish approach to foreign policy clashes at times with his own reluctance to use military force—he'll have cycled through four national security advisers in less than three years. Predicting anyone's future in the Trump White House is chancy, in part because Trump's public demonstrations of support don't mean much. Trump told reporters on Tuesday that he felt "very badly" for Acosta and that the plea deal he struck with Epstein in 2008 shouldn't mar his reputation. (Another illuminating example: A year ago, then–Chief of Staff John Kelly walked into a senior-staff meeting and said that Trump had assured him he'd be sticking around through the 2020 election. Five months later, Kelly was gone.) As for Bolton, a person familiar with the matter said his job is secure and that Trump wants him to appear more frequently on television as a surrogate, laying out the administration's foreign-policy positions.
Still, the upheaval worries both Trump partisans and good-government groups, albeit for different reasons. Trump's campaign advisers believe that high-profile firings reinforce perceptions that the administration is in upheaval, just as the 2020 election gets into full swing. And when it comes to Bolton in particular, they worry that his removal would touch off a purge within the National Security Council that Trump can't afford. "The guys who talk to Trump are looking for less, less chaos in the building," a person close to the president told me.

Senator Mitt Romney, a Utah Republican, is no fan of Trump. But he told me he'd like to see Bolton stay put. "He has a different perspective from other folks in the White House, but he's a very thoughtful, very experienced person," Romney said. "While I certainly disagree with him from time to time, having a thinker who's willing to express himself is a good thing." Republican Senator Marco Rubio of Florida offered similar sentiments in a prepared statement yesterday: There is "no one better" to serve as national security adviser than Bolton.
At the halfway point in Trump's term, many federal departments are leaderless or headed by people serving in an acting capacity, which is tantamount to a substitute teacher trying to run a classroom, said Max Stier, the president of the Partnership for Public Service, a nonprofit group focused on the workings of the federal government. "Leaders matter, and permanent leaders matter a lot," Stier told me. "This is an unprecedented level of temporary leadership across the entire federal government, but concentrated in places that are acutely worrisome." He cited key vacancies at the Departments of Defense and Homeland Security, "where there are issues at stake right now of high consequence.
"It's not as if there's no one there," Stier added, "but you have folks serving in acting roles across these critical functions who are restricted in their ability to function as well as they were meant to."

Replacing Acosta, for now, is Patrick Pizzella, the deputy secretary who was tapped for the top job yesterday on an acting basis. As Stier mentioned, other Cabinet members working in a similar acting capacity include Defense Secretary Mark Esper (at a time when tensions are escalating with Iran), and the Homeland Security chief Kevin McAleenan (amid reports that migrants, including many children, are being detained in squalid conditions at the southern border). Inside the White House, Mick Mulvaney remains the acting chief of staff seven months after he was named to the position. He also never relinquished his title as director of the Office of Management and Budget, which he has nominally led since 2017. Russell Vought is heading that shop on an acting basis, at a moment when the government is close to running out of money.
A recurrent management problem in the administration is Trump's inability to find qualified people for top jobs and to stick with them once they're installed. His habit is to restlessly sample people of varied backgrounds. Since taking office, he has surrounded himself with military generals and civilians, campaign loyalists and political foes, conservative ideologues and apolitical technocrats, Fox News celebrities and complete unknowns. Many have washed out, and the only ones he seems to fundamentally trust are family members, even as he's mused about sending his son-in-law, Jared Kushner, and daughter Ivanka Trump back home to New York. Stier's group found that just 57 percent of Trump's nominees have been confirmed by the Senate. At a comparable period in Barack Obama's presidency, the figure was 75 percent. Trump has withdrawn more than twice as many nominees as Obama had at this point in their respective presidencies.

That's translated to a parade of people coming and going. Kathryn Dunn Tenpas, a nonresident senior fellow at the Brookings Institution, has studied "serial" turnover in Trump White House jobs, what she casts as a "common phenomenon." When Stephanie Grisham replaced Sarah Sanders as Trump's press secretary last month, she also took on the role of communications director—the fifth person to hold that job. (Anyone in a job that involves getting Trump good press is in a precarious spot, his concern about media coverage being bottomless.) Apart from the volatility atop the NSC, five different people have served as deputy national security adviser, Tenpas noted—a position crucial to coordinating foreign-policy decisions across the government.

Acosta had hoped to hang on, counting on Trump's loyalty. Trump praised his performance yesterday as the two spoke with the press outside the White House. "He's Hispanic, which I so admire," Trump said, "because maybe it was a little tougher for him, and maybe not." But Acosta had other run-ins with the White House. Some officials had attended meetings with his deputies over the past year and complained that he wasn't moving quickly enough to carry out Trump's deregulatory agenda within the Labor Department, former administration officials told me. Asked for comment, Mulvaney said in a prepared statement: "I push all of the Cabinet secretaries on the deregulatory agenda, as it is a top priority of the president. That in no way should be interpreted as displeasure with any Cabinet member, including Secretary Acosta."
With abuse, money, and power at the heart of the Epstein case, it's no surprise that Acosta's resignation is getting enormous coverage. But the drama surrounding high-profile administration departures obscures what's happening at lower levels of the government, whose power over people's lives is no less profound. Virtually no attention was paid to an announcement in May that a lingering hole inside Acosta's department would remain unfilled: Scott Mugno, a former FedEx official, pulled his name from consideration to be the permanent head of the Occupational Safety and Health Administration. OSHA doesn't deal in trivialities; its mandate is workplace safety: life and death. Mugno had been waiting more than a year to be confirmed by the Senate and wanted to move on, Bloomberg Law reported. What that means is that OSHA isn't likely to have a permanent chief for the entirety of the president's four-year term. That's never happened since OSHA opened, in 1971.

"There's really no one in charge there. With the circumstances at the Labor Department being what they are, I don't know anyone at this point who would be willing to take that job," John Martin, who practices workplace-safety law at Ogletree Deakins, a labor-and-employment law firm, said in an interview. "If they're going to offer the position to someone, I would assume the person would want to know at the very least who my boss is going to be—who's going to be the Secretary of Labor for the duration." That question may be unanswerable. Trump's track record is clear. Whoever gets the job probably shouldn't expect to keep it.